Original URL: https://www.theregister.co.uk/2009/02/17/mobintech_pdg/
Hardware hack caught watching telly on the job
All in the the name of a good story, honest
Posted in Personal Tech, 17th February 2009 13:44 GMT
MWC If watching telly on your iPhone's getting tiresome, how about watching it using a funky pair of glasses that'll stream films to your eyeballs from your mobile phone?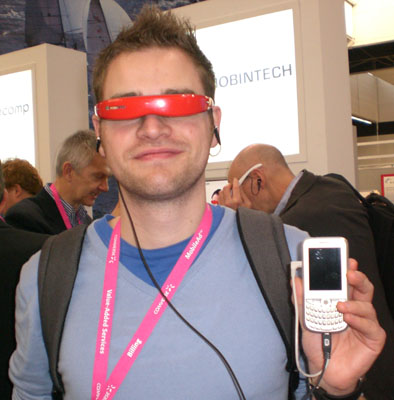 Reg Hardware hack tries out Mobintech's telly goggles
The Personal Display Glasses (PDG) from maker Mobintech project a 30in screen in-front of the viewer's eyes, at a distance of two metres.
Our roving hack (pictured) tried the glasses out at Mobile World Congress in Spain earlier today, but he found the displayed 320 x 240 image to be a little grainy. The specs were very comfortable, though.
Boffins on the stand promised that the PDG draw their power from the phone, using an MDDI interface. Although this removes the need for a PDG-mounted battery pack – making the specs light – it could also mean that your handset runs out of juice quite quickly.
One cool feature is that the glasses can be fitted with vision-correcting lenses, making them suitable for a four-eyed viewer. Although headphones are supplied, they can be removed so that your own choice of cans can be slotted in.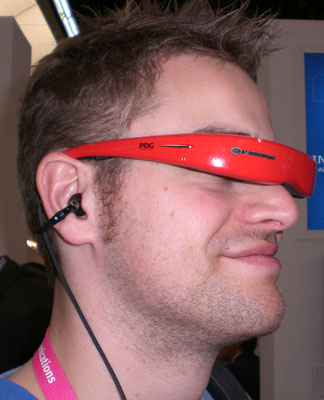 The specs project a 30in image in-front of your eyes
It's worth noting that PDG aren't an inherently new idea, though. Vuzix already has a pair out – the iWear AV230 XL – reviewed here.
Mobintech PDG will be available in the UK by Christmas, with a price tag of €250 (£230/$300). ®