Original URL: https://www.theregister.co.uk/2009/02/17/gsmart_s1200/
Gigabyte touts 'world's first' phone with Flash UI
One small problem: the claim's boll*cks
Posted in Personal Tech, 17th February 2009 13:08 GMT
A phone sporting what its maker has claimed is the first mobile equipped with an Adobe Flash-based UI is on its way to the UK.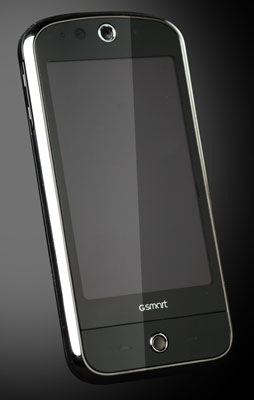 The GSmart S1200 has a Flash-based UI
According to Gigabyte, the company behind the GSmart S1200, Flash provides a basis for creating fluid, dynamic new user interfaces.
A Gigabyte spokesman told Register Hardware that Flash only requires a minimal amount of phone power, meaning users can benefit from a funky UI without running out of juice.
Maybe, but Gigabyte is not the first company to use the Adobe technology. Readers may recall UK company Pogo Technology, which launched a GPRS-based handheld internet tablet phone way back in 2002. OK, so Pogo subsequently stopped making it less than a year later, but its Flash-based phone was (briefly) on the market long before Gigabyte's offering.
The S1200 is actually based on Windows Mobile 6.1 – with a 6.5 version to follow later on. Users can flick between the standard UI and Gigabyte's Flash front end using the small circular button at the bottom of the rather iPhone-esque handset.
Elsewhere on the 105 x 52 x 11.4mm device you'll find HSDPA connectivity and Wi-Fi support. Bluetooth 2.0 and mini USB provide alternative ways of moving data to and from the phone's Micro SD memory card.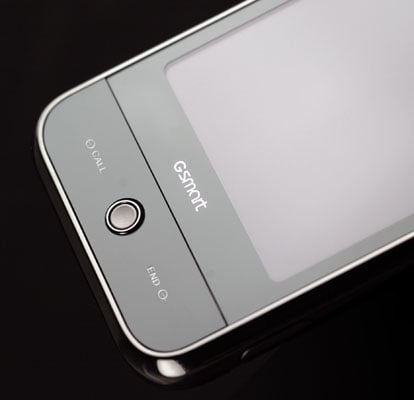 Switch to Windows Mobile at the flick of a button
The 3.1in screen can display snaps captured using the rear-mounted 3Mp camera.
Gigabyte's GSmart S1200 will hit the UK during Q2. A Price hasn't been set. ®