Original URL: https://www.theregister.co.uk/2009/02/16/review_netbook_samsung_nc10/
Samsung NC10 netbook
The new mini-laptop champion
Posted in Personal Tech, 16th February 2009 13:02 GMT
Review The NC10 is Samsung's take on the Small, Cheap Computer but unlike many 'me too' netbook competitors, the South Korean giant has clearly put a bit of thought into differentiating its offering from the other Eee-alternatives out there.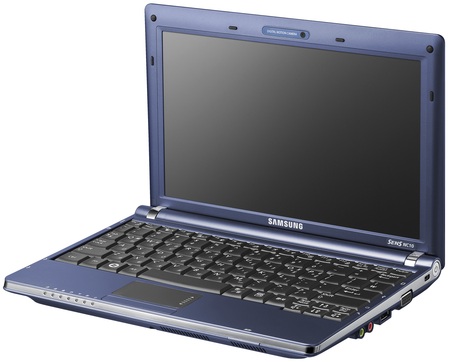 Samsung's NC10: not a bad looker
Perhaps the most distinctive thing about the NC10 is its keyboard. Samsung has managed to cram in impressively large-sized keys, so unlike some models it doesn't take that long to get up to a decent typing speed. It also has the feel of a proper laptop keyboard, rather than a slimmed down one, so if you need to do a lot of typing it's ideal.
That said, the space bar is a little on the small side, and the arrow keys have been slightly squeezed into the bottom right corner, but the main keys are all a good size and the layout is sensible so you shouldn't end up hunting too much for symbols.
The downside of the large keyboard, however, is that there's not much room left for the touchpad. It's very small - 60mm wide by just 30mm tall - which means if you need on-screen accuracy then you're better off using a mouse, although for just moving around Windows and documents it's fine. And - let's be honest - there are very few netbooks with good touchpads - it's a weakness they all share.
Another slightly usual feature of the keyboard is that it's covered with an antibacterial layer. Its coating of ionic silver particles will apparently prevent bacteria living and breeding on the keyboard, effectively eliminating 99.9 per cent of all know germs within 24 hours, according to Samsung. If you've actually managed to track back the source of an infection to a computer keyboard, then this will no doubt appeal, but we reckon it's a gimmick.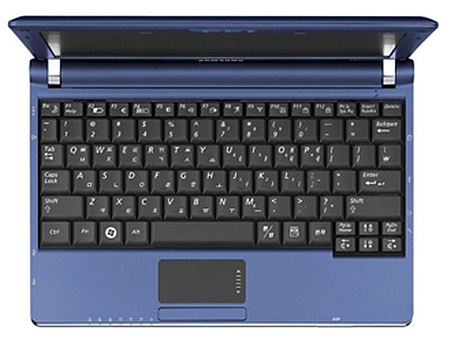 Germ-proof (almost) keyboard, anyone?
Like many machines of this size, Samsung has opted for a 10.2in LED backlit display with a netbook-standard resolution of 1024 x 600 pixels. One thing that sets the NC10's screen apart from much of its more recent competition, however, is that it's non-glossy. If you find glossy displays too reflective, then you'll be happier with the screen on the NC10.
Sit with sunlight directly behind you and you'll still see some reflected back in the screen, but it's much less pronounced and not so distracting. The downside, however, is that colours are a little muted compared to those you see on a glossy screen. The customary webcam - 1.3Mp in this case - sits above the display.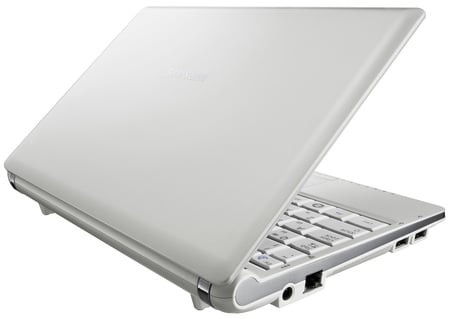 Decent dimensions
Style-wise, the NC10's a bit of a looker. The lid is finished off in glossy piano-black plastic and there's a shiny metallic silver stripe running down the sides and across the front of the machine. The downside of all these reflective surfaces is that greasy fingerprints soon spoil the sheen. If black isn't your thing, the NC10 is also available in blue and in white.
It's footprint stretches to 261 x 186mm and it's 40mm thick at the back when closed, tapering down to 30mm at the front. It weighs in at a travel-friendly 1.3kg.
As you'd expect from a machine this size and weight, it's powered by the now netbook-standard 1.6GHz Intel Atom N270 processor with 1GB of DDR 2 memory. While many manufacturers have opted for solid-state drives, Samsung has stuck with traditional spinning disks - it may make it more susceptible to bumps and bashes, but you do get a hefty 160GB of space to store your files.
Wireless data runs to 802.11b/g and Bluetooth - there's no 3G built in so you'll need to stay within Wi-Fi coverage or resort to dongles if you're out and about a lot and need to stay in constant internet contact.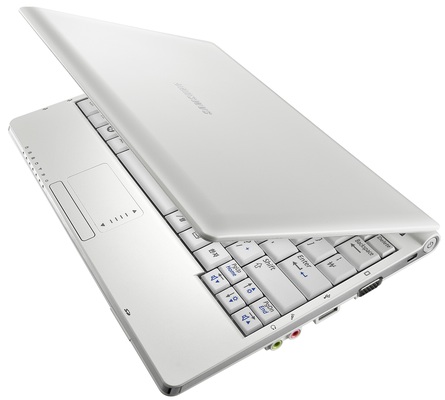 The trackpad could be better...
The three USB ports are split between both sides of the machine - two to the left, one to the right - providing plenty of flexibility to position peripherals. The left-hand edge also houses the wired 10/100Mb/s Ethernet port and power connector, while over on right you'll find 3.5mm headphone and microphone sockets plus VGA. The front edge is home to the various blue status LEDs to the left, with an SD card slot situated over on the right.
Running it through our standard set of benchmarks showed that the NC10 could easily keep up with the competition. It's CPU and Memory scores for PCMark05 edged it ever so slightly ahead of the other machines we've seen - but not by a drastic margin. Its hard drive performance also placed it near the top of the pack, with it only beaten by the astonishingly fast SSD in Asus' Eee PC S101.
PCMark05 Results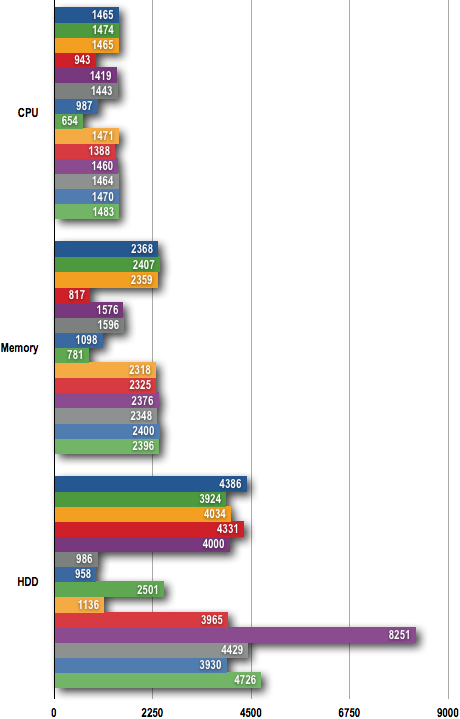 Longer bars are better

The Gimp Results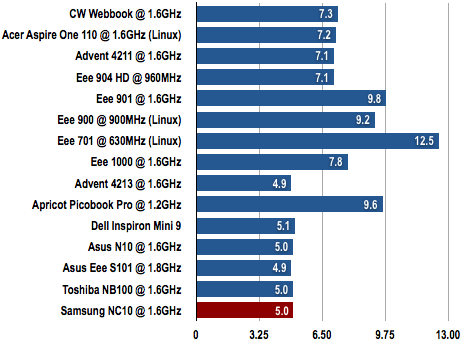 Time in Seconds (s)
Shorter bars are better
The NC10 was equally well equipped when it came to the Gimp Gaussian Blur test, with its 5.0s score placing it among the fastest machines we've tested.
Battery Life Results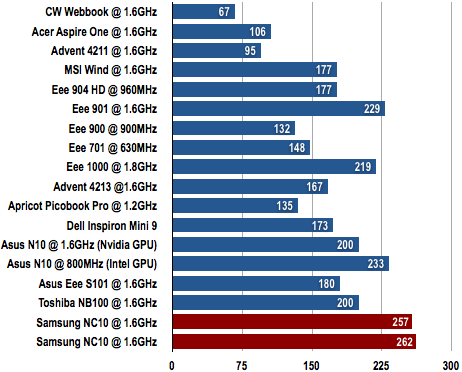 Time in Minutes
Longer bars are better
Battery life, however, is where the NC10 really stands out from the competition. In full power mode - with the Atom chip running at 1.6GHz - it managed to keep going for an impressive 257 minutes playing our standard-definition test video on a loop.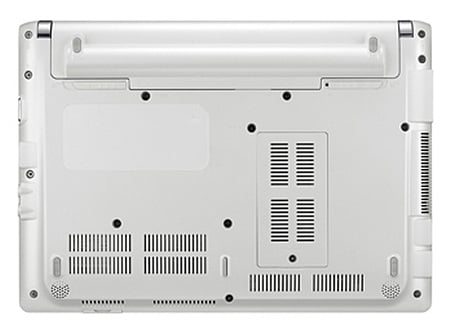 Accessible innards
Flipping it into power saving mode - essentially, cutting the CPU speed back to 800MHz - and it managed to last a little bit longer at 262 minutes, with both results pushing it through the four-hour barrier by a healthy margin. As this is an extreme test, with the screen set to maximum brightness and the CPU tied up decoding H.264 video, this would translate to around six or seven hours' typical netbook usage.
Unlike many netbook rivals that also offer a Linux flavour, Samsung is sticking with just Windows XP Home for the NC10. Samsung has also thrown in a data recovery tool, so you can make snapshots of the hard drive that you can easily restore should things go wrong. There's also the usual anti-virus nagware trial, with McAfee doing the honours this time round.
Netbooks come into their own when travelling, and it's on the road that you'll most appreciate what the NC10 offers over the competition. The large keyboard is great to type on and its bright, non-glossy screen should make it easy to find a spot where you're not battling with screen reflections.

All the customary netbook ports
Its number-crunching performance is up there with the best, but its battery life is ahead of the crowd and means you can concentrate on getting some work done without having to worry about when you next see a power socket. Its main downside is its small touchpad and its £323 price tag, making it a little bit more pricey than some of the other models out there.
Verdict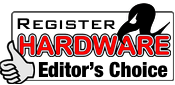 The Acer Aspire One has a great keyboard but poor battery life. The Asus Eee PC 1000 has a great runtime but a just-too-small keyboard. Anyone who's waited for netbook makers to combine the best of these two leading mini-laptops into a single product have had their prayers answered, by Samsung with its NC10. All hail the new netbook champ. ®
More Netbook Reviews...
| | | | |
| --- | --- | --- | --- |
| LG X110 | Toshiba NB100 | Asus Eee 1000 | Dell Mini 9 |