Original URL: https://www.theregister.co.uk/2009/02/13/review_storage_nas_cisco_linksys_media_hub/
Cisco Linksys Media Hub 500GB home NAS
The wireless router company does NAS
Posted in Personal Tech, 13th February 2009 09:02 GMT
Review Linksys has always been one of those dull, boring companies that makes dull, boring networking products for business users. But since its takeover by networking titan Cisco in 2003, Linksys has slowly tried to turn itself into a more consumer-friendly firm - all the better to grab a slice of the burgeoning home networking market.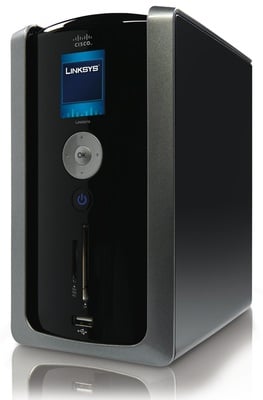 Linksys' Media Hub: ready to take on ReadyNAS?
In fact, Linksys' official name these days is 'The Cisco Consumer Business Group', though it's kept the Linksys brand to slap on its packaging as that sounds a bit catchier.
As part of its move into the consumer arena, Linksys recently released a range of wireless routers with trendy flying-saucer designs, and even took the unprecedented step of acknowledging the existence of the Mac. Now Linksys is making a serious bid for the 'digital home' market with its new range of Media Hubs.
In essence, the Media Hub is a glorified NAS drive that can be shared by multiple users on a home or office network. Once it's installed you can treat it as an ordinary network drive and copy files back and forth simply by dragging and dropping. If you're using a PC, the installer program can automatically assign the Media Hub a drive letter, and the Media Hub showed up automatically on our Mac desktop. So you don't need to fiddle around with IP addresses in order to get the drive up and running. Linksys also bundles a utility called Shadow so you can schedule regular back-ups of all your files.
However, the Media Hub's emphasis is very much on storing media files and on playing those files through its custom web interface.

Dinky status display included - but the memory card slots are more useful
Our review unit was the NMH405 model, which costs £350 and is equipped with a 500GB hard disk, but there's also a 1TB model called the NMH410 that costs £430. Apart from the disk size, the two models are identical – there's a Gigabit Ethernet interface tucked around the back for connecting to your network, two USB 2.0 interfaces for plugging in additional storage devices, and a memory card reader so that you can quickly transfer photos from a digital camera.
The units are neatly designed in the glossy black-and-silver that's currently flavour of the month for Linksys' consumer products. It stands about 20cm high, 11.3cm wide and 16.3cm deep, so you can sit it on your desk or on a shelf without it taking up too much room. The internal fan makes a worryingly loud noise when you first turn the power on, but quickly calms down to an unobtrusive hum.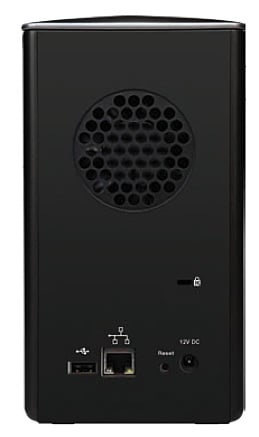 It's loud when it starts up, but it soon settles down
They also have a small LCD screen on the front that displays information such as the amount of space used by music, photos and video files. We found that we barely looked at the screen during our tests, so you can save some money by buying the 500GB NMH305 model, which omits the LCD display and comes in at a more affordable £300.
One handy feature is a button on the top of the Hub. This pops open the lid of the unit to reveal a spare drive bay so that you can quickly drop in a second hard disk to add some more storage. The Media Hub supports RAID 1 'mirroring' mode to store identical copies of your files on each drive. That's the only RAID configuration available, and the drives aren't hot-swappable in the event of drive failure. But at least RAID 1 gives you the option of providing some extra protection for your important files.
The only real omission from the hardware is the lack of an HDMI interface that would allow you to play your files on an HD TV. This means that playback has to be done primarily through computers on your home network. The Media Hub does support both UPnP and DLNA networking, though, so you can also play your files through other devices which also support these standards, such as an Xbox 360, PS3 or Nokia N95.
Setting up the Media Hub is fairly straightforward for PC owners, as Linksys includes an installer program that guides you through the process one step at a time, sets up a password and then copies all your files onto the Hub. By default, the installer program simply copies the contents of the 'My Documents' folder on the Media Hub, but you can specify different folders if you want. After the initial transfer of files the Media Hub software continually monitors those folders and automatically updates the Media Hub whenever the content of the folders changes. It took us about two hours to copy 20GB of music and video files over Ethernet wiring. Linksys says that it's working on a Mac version of the installer for future release.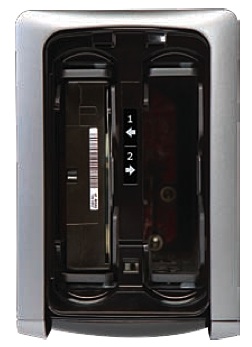 Pop the lid to add an extra HDD
Once you've gone through the initial installation, the Media Hub can then be used by anyone on your network – regardless of their computer or operating system – simply by opening their web browser and typing 'mediahub' in the browser's address bar. As well as accessing files on your home network you can also connect to the Media Hub across the internet by logging into the Media Hub web site and using the password that you created during the initial set-up process.
When you connect to the Media Hub through your web browser the Hub displays its own Media Browser web page. This shows you a brief list of the most recent files copied on to the Media Hub, and also provides links to further browser pages where you can view your files and adjust other settings. Music files can be organised by album title, artist name or individual song titles, while photos are arranged into albums or listed by date or file name. Video files are simply listed by file name.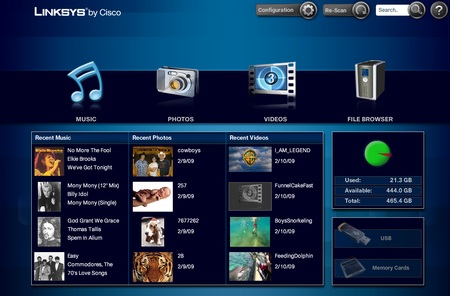 Control the Media Hub through its web-browser interface
The Media Browser interface also includes a File Browser option that can be used to transfer individual files from the Media Hub to your computer. If you want to transfer multiple files, it's faster to just access the Media Hub from your desktop and treat it like an ordinary network hard disk.
This browser-based interface is tidy and easy to use, and it also provides a 'Remote Access' option that allows you to connect to the Media Hub over the Internet, as well as just your local home network. That's handy as it allows you to download or view files remotely when you're away from home, although you'll obviously need access to a decent broadband connection for playing video or large file transfers.
However, internet remote access requires you to log on to a special web site set up by Linksys, and while this is free for the first year, Linksys told us that there will be an annual "maintenance" fee of €10 (£8.95/$12.90) after that. That's a bit disappointing, especially as there are rival products that provide similar Internet access options free of charge.
We also encountered a few rough edges when using the Media Browser web interface to play some of our files. When you select a music album there's a 'Play Entire Album' button that tells the Media Hub to simply play straight through all the songs on the album. This option works with MP3 or WMA audio files, but it didn't work properly with our collection of AAC music files, so we had to keep clicking on songs one at a time in order to play them. We had almost 2000 AAC songs in our library, so the idea of clicking each one individually didn't exactly endear us to the Media Hub.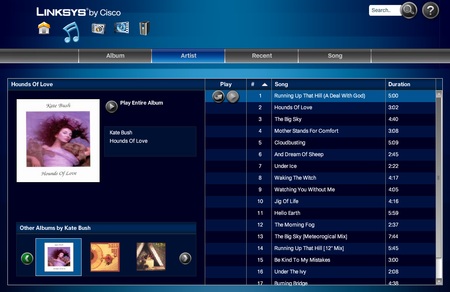 The Media Hub plays MP3s and WMAs OKO, but had problems with AACs
A phone call to Linksys confirmed that the Media Hub needs a firmware update in order to handle AAC files properly, although the company didn't say when that update's arrival is imminent. That's annoying – especially as AAC is listed as a supported file format on the Media Hub's spec sheet. However, the Media Hub does have an iTunes server option that allows it to stream music files to iTunes on any Mac or PC on your network. If you have iTunes installed on your computer, you'll see the Media Hub listed as part of your iTunes Library, allowing you to use any of iTunes' normal playback controls for listening to your music.
Thankfully, the iTunes server worked perfectly well on both Macs and PCs when we tried it out - although it doesn't allow you to play copy-protected songs purchased from the iTunes Store. But this does assume that you're already using iTunes as your main audio app – in which case you could use iTunes' existing network sharing options to stream music around your network without needing the Media Hub, though you would need at least one of your computers kept on.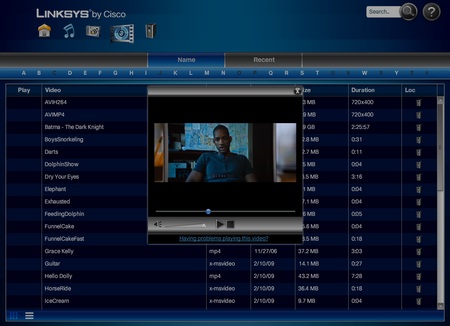 Wil Smith stars in 'I am Legible'...
We also encountered some problems with video playback. The Media Browser relies on web browser plug-ins from video players such as Windows Media Player or Apple's QuickTime Player for its video playback capabilities. So if you want to play formats such as DivX or Xvid you'll need to make sure you've got a suitable player or codec already installed on your computer.
Video files are initially played in a small preview window that's about 350 x 250 pixels in size. Most files also display a 'Full Screen' button that allows you to expand the video image to fill the screen. However, there's no option to simply play video files at their original native resolution, and we also found that some files didn't display the 'Full Screen' button either – which left us squinting to watch Will Smith's I Am Legend in the 350 x 250 preview window.
Playback of MP4 files was rather erratic too, with some files playing perfectly well while others wouldn't play through the Media Browser at all. Linksys says that full-screen playback and MP4 playback depends on the specific codec used to compress a particular video file, but if that's the case then the company needs to be more specific about exactly which video formats the Media Hub can handle.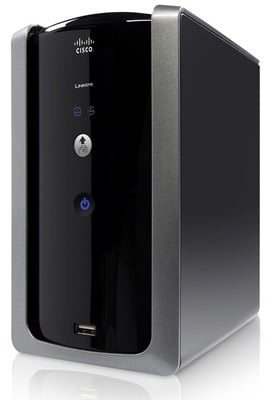 It' cheaper without the screen
Of course, you can get round these playback problems simply by abandoning the Media Browser interface and treating the Media Hub as a conventional network hard drive. This will allow you to play any media file simply by double-clicking on it on your desktop and playing it through the Windows Media Player or any other suitable video player. However, the Media Browser is one of the key features that sets the Media Hub apart from an ordinary NAS drive, so its erratic audio and video playback is something of a weakness.
Verdict
To be fair, there are plenty of other media players and storage devices that struggle when faced with the confusingly wide range of audio and video file formats that are in use these days. However, you can get a no-frills NAS drive with 500GB storage for less than £150 at the moment, so you're paying quite a premium for the Media Hub's headline multimedia capabilities. Some of its features, such as the iTunes server and remote internet access, do work very well. But until basic problems such as AAC and full-screen video playback have been tackled, the Media Hub can't quite live up to its hype. ®
More Storage Reviews...
| | | | |
| --- | --- | --- | --- |
| Addonics NASU2 | Clickfree Backup | WD ShareSpace | DroboShare |