Original URL: http://www.theregister.co.uk/2009/02/10/psystar_suit_continues/
Hackintosh maker lands Apple punch
Judge approves Psystar for more fight
Posted in The Channel, 10th February 2009 21:37 GMT
In its on-going legal battle with Apple, upstart clonemaker Psystar has won its first victory in many a month.
It was a minor victory, to be sure: a US District Court judge has allowed Psystar to continue copyright - but not monopoly - arguments in its countersuit against Apple.
But hope springs eternal for the Doral, Florida clonemaker.
It's been a tough seven months for Psystar. Last July, Apple filed a complaint in US District Court, accusing the company of "copyright infringement, induced copyright infringement, breach of contract, trademark infringement, trade dress infringement, and unfair competition."
Apple told the Hacintosh maker: "Stop installing our operating system on computers you sell, stop making people who buy your stuff criminals for using it, and stop using the term Mac OS X and its good-looking logo to sell your products."
In the seven months since Apple filed the suit, Psystar has had little to celebrate. In August, the company countersued, wielding the big stick of the Sherman Antitrust Act and Clayton Antitrust Act and claiming that Apple was indulging in "restraint of trade" by tying its operating system to its hardware.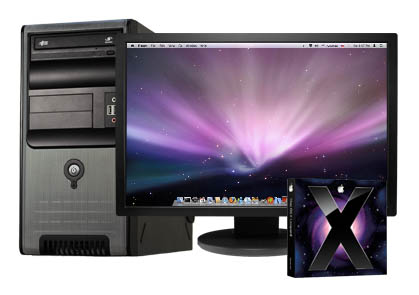 If Psystar wins, $554.99 will buy you an ugly-but-serviceable Hackintosh
Of course, Apple didn't agree. In late September, the company filed a motion to dismiss Psystar's countersuit, claiming that the cloner was "ignoring fundamental principles of antitrust law, and the realities of the marketplace."
The big blow came in November, when the US District Court Judge handling the case, William Alsup, agreed with Apple and dismissed Psystar's countersuit. In sum, Alsup said that Psystar's claims that Apple was a monopoly were baseless since Apple is not alone in the personal computing business - there are plenty of other competitors, both of hardware and operating systems.
How accurate was Alsup about a thriving world of operating-system competitors? We'll let Linux fans chew on that.
Alsup did give Psystar one final shred of hope, however, by allowing the company to provide a counter-argument by early December, which he would respond to in early 2009.
However, less that a week before Psystar's counter-argument deadline, Apple muscled-up their original complaint by adding the allegation that Psystar was in violation of the Digital Millenium Copyright Act (DCMA). This amendment asserted that Psystar had hacked Apple's copyrighted software-protection schemes.
And that's when things started to get odd.
The John Does
In its DCMA amendment, Apple also asserted that Psystar may be in cahoots with third-party supporters, identified in Apple's amendment only as "John Does." While Messrs. Doe could have simply been third-party coders helping Psystar staffers crack Apple's software-protection code, a geyser of speculation erupted that there were more-sinister players involved.
Since Psystar had appeared from out of nowhere in early 2008, there had been speculation that someone was bankrolling them. After Apple brought the Does into the mix, some observers began speculating that observation such as "the possibility that other parties are backing the company" and that there were "external forces trying to undermine Apple's intellectual property rights." Terms like "conspiracy" were bandied about.
But no evidence has since emerged about whom those dark forces might be. Yet.
While that speculative storm was winding down, Alsup quietly continued his deliberations. Last Friday, he issued his ruling - one that provides Psystar with a glimmer of hope.
Although Alsup stuck to his guns about his previous denial of Psystar's right to challenge Apple as unfairly holding a monopoly position - which, by the way, Psystar didn't even challenge - he allowed the company to proceed in its efforts to prove that Apple is being overly protective of its copyright.
In his ruling, Alsup wrote: "Apple contends that copyright misuse may only be asserted as a defense, not as a counterclaim. This order is unconvinced, however, that misuse may never be asserted as a counterclaim for declaratory relief. PsyStar [sic] may well have a legitimate interest in establishing misuse independent of Apple's claim against it."
Translation: "Continue with your copyright arguments, Psystar."
Alsup also wrote: "Apple responds that it is within its rights to determine whether, how or by whom its software is reproduced and how it is to be licensed, distributed or used. This may ultimately prove to be true. Apple, however, identifies no reason to bar the claims as a matter of law at the pleading stage."
In other words, "Let's take this to trial and decide the question once and for all."
When - or if, seeing as how a settlement has yet to be ruled out - this matter finally makes it before a jury, the outcome will be a major one, both for Apple and for Psystar and nascent clone vendors such as OpeniMac and HyperMegaNet UG.
In one possible future, Apple will continue to be a monopoly-that-isn't, and Psystar and its fellows will fade away as did Power Computing and its fellows when Apple killed its licensed clone program back in 1997.
If Psystar wins, Apple will instantly be pestered by a welter of Hackintosh makers, each trying to chew its way into some niche market, some building fine machines that challenge Apple offerings and some building craptastic junkers that dilute Apple's brand.
Our money is on Apple in this battle - but it's never wise to bet on something over which outcome you have zero influence, so we'll cross this bridge when we come to it.
And if said bridge leads to a Hackintosh future, we'll check if its construction was funded by John Doe and his cronies. ®