Original URL: https://www.theregister.co.uk/2009/02/10/allchin_post_microsoft/
Windows Vista man channels Neil Diamond with debut album
Allchin salves your his soul
Posted in Bootnotes, 10th February 2009 22:43 GMT
Where do you go after you've given the world Windows Vista? Music, apparently.
Former Windows chief Jim Allchin has eschewed the post-Redmond path trodden by other ex-Microsoft executives. He has dumped IT entirely, having capped his 17 years with Microsoft by delivering Windows Vista in 2006.
Allchin has done this by returning to his first love - music - and he's sealed the deal with a debut album.
Called Enigma, the album offers an "intoxicating mix" of genres, according to Allchin's web site. Enigma spans pop, rock (and metal), modern country, latin, and blues.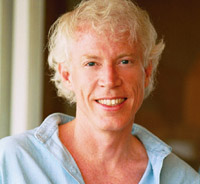 Free of Microsoft: the new Allchin
Don't worry if you're feeling a little disappointed by this rather limited selection. Allchin admitted it was a challenge trying to squeeze in so many features styles, so a certain number of capabilities tracks have been bumped into a follow-up operating system album.
"To avoid even more diversity several songs were eventually removed from the CD because they included even more styles. (They will show up on the next CD for sure.)," Allchin wrote.
This being (ex) Microsoft, there's no free samples or snippets of the music itself. You can preview tracks with a complete description from Allchin here. Subjects span love, loss and, er, Nazi Germany's Enigma Machines.
The web site itself shows Allchin free from the concerns of both Windows and the company he left in 2007, as co-president of the platforms and services division. Gone are the corporate suit and tie. In are the open-necked, denim-shirted Neil-Diamond-style portraits and the dark, casually-suited man-on-stage-with-axe look
He even confesses the love that dare not speak its name. No, not for a Mac. For computer science.
According to the site, Allchin has managed teams of up to 20,000 at Microsoft but: "My heart lies with small teams with a common vision and passion." So that's where Windows Vista went wrong: too many people.
Pre orders for Windows 7 Enigma start on February 13. ®