Original URL: http://www.theregister.co.uk/2009/02/09/review_inkjet_printer_brother_mfc_5890cn/
Brother MFC-5890CN inkjet all-in-one A3 printer
A big printer for big paper
Posted in Personal Tech, 9th February 2009 09:02 GMT
Review If you need to print on paper bigger than A4, your choices of printer are severely reduced. If you need colour and can only afford an inkjet, they're smaller still, and if you'd like an all-in-one, you're down to half a dozen possibilities. Make that seven - Brother now has its MFC-5890CN, coming in at a touch over £150.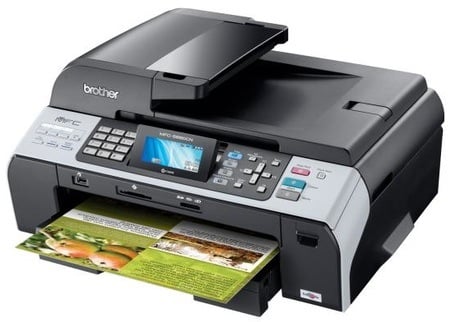 Brother's MFC-5890CN: tank like?
There are more uses for A3 print than you might think. As well as proofing larger documents, you can, for example, print posters and spreads for folding down to A4 newsletters. Brother must have done its market research, as it's introduced two new A3 inkjet all-in-ones to its range. The MFC-6490CW does A3 print, scan and copy, but the MFC-5890CN is a halfway house, with A3 print, but only an A4 scanner.
Although A3 paper has twice the area of A4, it's width is the same as A4's length, and it's only 1.41x longer. This means an A3 printer only needs a carriage 1.41x wider, and Brother makes good use of this by building an all-in-one which isn't monstrous on the desktop. It's about the size of an A4 photocopier of a few years back and is comparatively squat to the desktop.
Its black and silver livery makes it look a bit tank-like too. A fairly tall, 50-sheet Automatic Document Feeder (ADF) sits on top, with a peculiarly high-angled feed tray which flips closed when not in use. Paper loads from a 150-sheet feed tray at the front, but there's no multipurpose feed for envelopes or special media. However, Brother has thoughtfully made both the paper tray and its cover telescopic, so you only need to extend them when printing A3 sheets.
Plenty of room for the wide screen
The extra width of the machine is used well to differentiate the various functions on the control panel. At its left-hand end are function keys for fast-dialling fax numbers, and to the right of these is a number pad for people you don't know so well.
In the centre is one of Brother's trademark, double-width LCD displays. The main advantage of this is that you can preview photos from a memory card while simultaneously seeing a menu of options for things to do with them. There's a lot more space for information alongside the images.
The machine has a pair of memory card slots, which between them can take CompactFlash, Memory Stick, SD/MMC and xD cards in most of their variants. There's also a USB drive slot, so overall the Brother provides a flexible photo capture system. To the right of the display is a set of illuminated mode-selection keys, a set for menu navigation, and job start and stop buttons.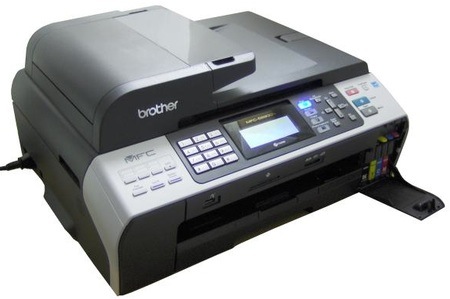 Dead easy access to the ink cartridges
The four ink cartridges slot in behind a cover which folds down from the right front of the machine and are therefore very easy to install and replace. USB and Ethernet cables have to be threaded round inside the machine, as is common with Brother devices, to internal sockets, just behind the control panel, but phone and fax connections, as well as mains power, plug in at the left-hand side, which is less tidy than having them at the back.
Brother makes the usual over-enthusiastic claims for the MFC-5890CN's print speed, claiming 35ppm for mono and 28ppm for colour. These are for A4 printing, but must have been achieved under very special conditions. It's a bit like claiming the top speed of a new milk float is 160mph - by dropping said 'leccy vehicle from a C-17 transport at 20,000ft.
Our five-page black text document completed in 1m 14s, giving a print speed of 4ppm. Increasing the print run to 20 pages, which reduces the proportion of time spent processing and rasterising pages, still only increased it to 4.5ppm. A five-page text and colour graphics document gave 2.6ppm, less than a tenth of the rated speed.
If you take the page size up to A3, speeds are a bit better, proportionately. A five-page text document took 1m 52s, and the text and graphic equivalent took 2m 57s. However, a full A3 photo took 14.5 minutes - and a lot of ink, too. A single-page photocopy took just over 40 seconds and a five-page copy, from the ADF, took 1m 14s.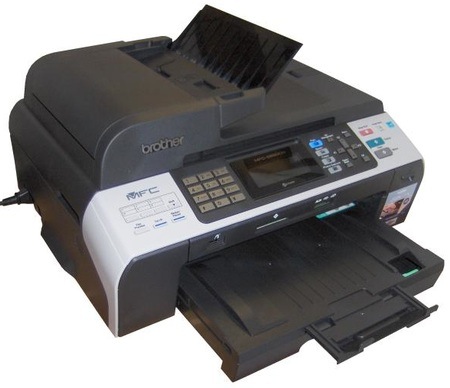 Pull out the tray only when you need A3
Brother can claim its speeds are for draft print mode, but how often do typical customers print in draft mode? We believe many don't realise there's more than one standard of print and most don't like the dotty look of draft print. An ISO standard for measuring print speeds is well overdue. The one now adopted by all the major printer makers for page yields has made a big difference to like-for-like comparisons.
The print quality of the MFC-5890CN is fair, but not exciting. Black text is reasonably clean though there are some signs of feathering into the paper, which is slightly odd, as in other places ink coverage is light, with some serifs left barely attached to their strokes. This is clearly visible under low magnification, but even to the naked eye the text looks fragile.
Good colour output - but fragile-looking text
Colour graphics are good, with smooth areas of solid colour and good registration of black text over coloured backgrounds. Colours are a little pale compared with those on-screen and those from a colour photocopy are more so, but our sample photos reproduced well, in the lighter hues. Dark colours, such as those in areas of shadow, merge to black in places, though detail throughout is good, thanks to the machine's high resolution of 1200 x 6000dpi. Overall, results are workable, but not as good as from the likes of Canon and HP.
Scans from the machine's flatbed or its ADF reproduced well, though colours again ended up lighter than the originals. The scan resolution is 1200 x 2400ppi, high enough for scanning photo prints, but there are no facilities for transparency scans.
Decent cartridge costs
The only consumables are the four ink cartridges and they are each available in two capacities, with the black cartridge running at 450 or 900 ISO pages and the colour ones at 325 or 750. These yields result in page costs of 2.0p and 5.4p for black and colour prints, respectively, using the more economic, higher yield cartridges. These costs are good for an inkjet in this class, with the colour cost one of the lowest we've seen in a while.
Verdict
If you need the facility to print A3 pages, this machine can save you around £70 over the full A3 scanning and copying model. It produces reasonable print, but not nearly as quickly as Brother would have you believe. ®
More Printer Reviews...
| | | | |
| --- | --- | --- | --- |
| Kyocera FS-C5200DN | Lexmark C543DN | Epson Stylus Photo PX800FW | Samsung ML-1630W |