Original URL: https://www.theregister.co.uk/2009/02/09/review_cpu_amd_phenom_ii_am3/
AMD Phenom II Socket AM3 processor
The chip maker's back in the game
Posted in The Channel, 9th February 2009 13:01 GMT
Review The first two models of AMD's Phenom II processor showed that the move from 65nm to 45nm was thoroughly good news. It reduced power draw and waste heat while allowing AMD to increase clock speeds, which is very jubbly indeed.
Now it's time for the other half of the story, as AMD unveils Socket AM3 with its support for 1333MHz DDR3 system memory.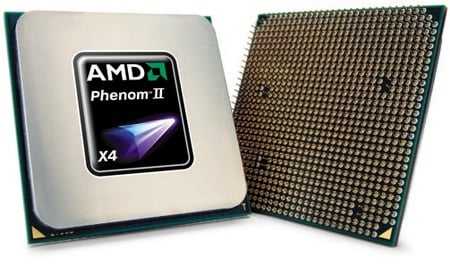 AMD's Phenom II: now with DDR 3 support
AMD has launched five new models of Socket AM3 Phenom II, with three models in both retail and tray packaging, and two models that are only available in trays for system builders. The retail parts are:
AMD Phenom II X4 810 (2.6GHz, quad core, 4MB L3)
Available in PIB at AMD's suggested 1KU price of $175 each (£160 retail)
AMD Phenom II X3 720 Black Edition (2.8GHz, triple core, 6MB L3)
Available in PIB at AMD's suggested 1KU price of $145 each (£131 retail)
AMD Phenom II X3 710 (2.6GHz, triple core, 6MB L3)
Available in PIB at AMD's suggested 1KU price of $125 each (£113 retail)
While the two tray parts are:
AMD Phenom II X4 910 (2.6GHz, quad core, 6MB L3)
AMD Phenom II X4 805 (2.5GHz, quad core, 4MB L3)
Because these are tray parts we do not have prices. But here are AMD's official specs for the parts:
Model Number
Frequency
L3 Cache Size
Nominal Voltage
OPN(s)
X4 810
2.6GHz
4MB
0.875-1.425V
Tray: HDX810WFK4FGI
PIB: HDX810WFGIBOX
X3 720 BE
2.8GHz
6MB
0.850-1.425V
Tray: HDZ720WFK3DGI
PIB: HDZ720WFGIBOX
X3 710
2.6GHz
6MB
0.875-1.425V
Tray: HDX710WFK3DGI
PIB: HDX710WFGIBOX
X4 910
2.6GHz
6MB
0.875-1.425V
Tray:  HDX910WFK4DGI
X4 805
2.5GHz
4MB
0.875-1.425V
Tray:  HDX805WFK4FGI
Common AM3 Processor Specifications
L1 Cache Sizes 64KB of instruction and 64KB of data cache per core (512KB total L1 per processor)
L2 Cache Sizes 512KB of data cache per core (2MB total L2 per processor for X4s, 1.5MB total L2 per processor for X3s)
Memory Controller Type Integrated 128-bit wide memory controller
Memory Controller Speed Up to 2.0GHz with Dual Dynamic Power Management
Types of Memory Supported Support for unregistered DIMMs up to PC2 8500 (DDR 2 1066MHz) and PC3 (DDR3 1333MHz)
HyperTransport 3.0 Link: One 16-bit/16-bit link @ up to 4.0GHz full duplex (2.0GHz x2)
Total Processor Bandwidth Up to 33.1GB/s total bandwidth
Packaging Socket AM3 938-pin organic micro pin grid array (micro-PGA)
Process Technology 45nm DSL SOI (silicon-on-insulator) technology
Approximate Transistor count 758 million
Approximate Die Size 258mm²
Max Ambient Case Temp - X4 CPUs 71° C
Max Ambient Case Temp - X3 CPUs 73° C
Max TDP 95W
Those part numbers suggest that the numbering system works thusly:
X3 is triple core and X4 is quad core
X4 800 series has 4MB of L3 cache, X4 900 series has 6MB of L3
x05 runs at 2.5GHz
x10 runs at 2.6GHz
x20 and x25 are clocked at 2.8GHz
x40 is clocked at 3GHz
Added to that we hear rumours that the next models to be released will be Phenom II X4 925, X4 945 and 950 with respective speeds of 2.8GHz, 3GHz and 3.1GHz. This makes life horribly confusing as the Phenom X4 920 and 925 and the X4 940 and 945 will be identical apart from the processor socket. This means that there is the possibility that some poor so-and-so will buy an AM2+ CPU and an AM3 motherboard when ne'er the twain shall meet.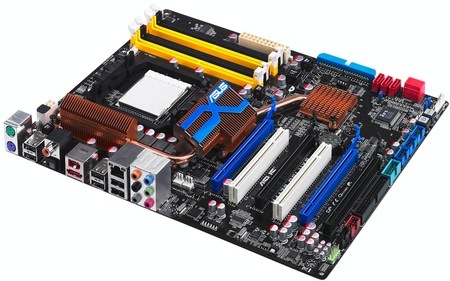 Asus' M4A79 Deluxe: based on the AMD 790FX chipset
It's something of a mystery why AMD will sell the Phenom II X4 810 with 4MB of L3 cache to the buying public while it reserves the X4 910 with 6MB for OEMs.
AMD sent us two of the new AM3 processors to review in the shape of a 2.6GHz X4 810 and a 2.8GHz X3 720 Black Edition that has an unlocked multiplier. The obvious problem is that we have already reviewed the 3GHz X4 940 and there is no way that a 2.6GHz 810 will be capable of making up a 400MHz deficit even if it has DDR 3 memory. On the bright side, the X4 940 has a TDP of 125W, while the five new CPUs have a TDP of 95W.
We were able to test both processors back-to-back with a pair of Asus motherboards that use the AMD 790FX chipset. The M4A79 Deluxe is an AM2+ model that supports up to 16GB of 1066MHz DDR 2, while the M4A79T Deluxe supports up to 16GB of 1333MHz DDR 3, which rises to 1600MHz if you overclock.
AMD doesn't seem to be charging a premium for the DDR 3 goodness of Socket AM3 over AM2+. However, there is a small cost consideration when you select your motherboard and memory. The Asus M4A79 sells for £159 while the M4A79T cost £20 more. When it comes to memory you can buy two bars of 1GB DDR 2-1066 for £40, while 2 x 1GB DDR 3-1333 typically costs £55. We were able to find a basic 2GB kit of DDR 3 for £36 online.
This means that there is only a tiny difference between the cost of a Phenom II set-up with DDR 3 instead of DDR2. That leaves the question of performance, so we lined up the two processors, along with a Phenom II X4 940, and gave them a damn good thrashing. We used all three processors on the AM2+ Asus with DDR 2 and also ran the AM3 processors on the DDR 3 Asus motherboard. We added a Core 2 Quad Q9300 on an Intel DX38BT motherboard into the mix with the same Kingston DDR 3 memory that featured in the AM3 test systems.
Other common components in the test systems are an AMD ATI Radeon HD 4870 X2 graphics card, an 80GB Intel X25-M SSD and Windows Vista Ultimate Edition.
PCMark05 Results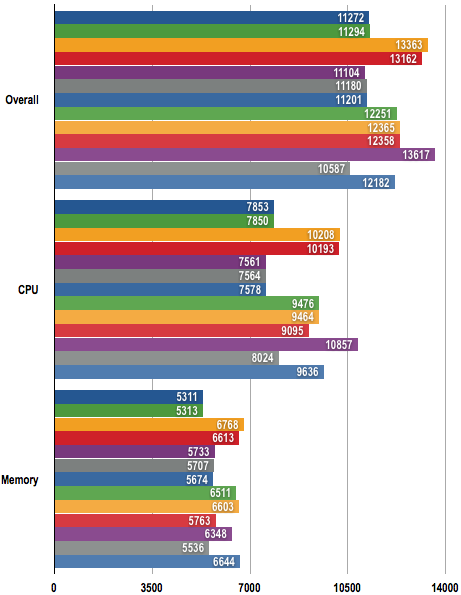 Longer bars are better

3DMark Vantage Results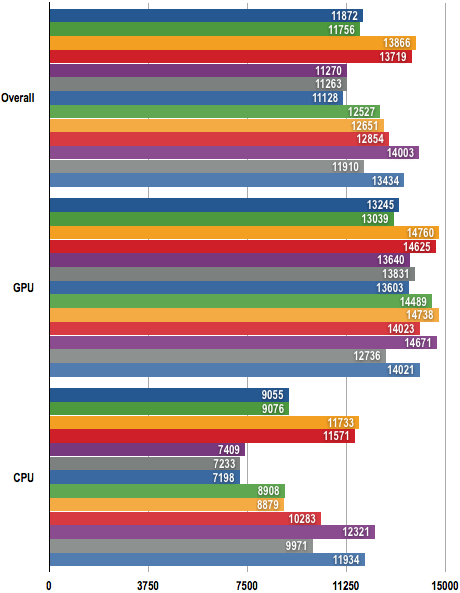 Longer bars are better

SiSoft Sandra Results
Cache Bandwidth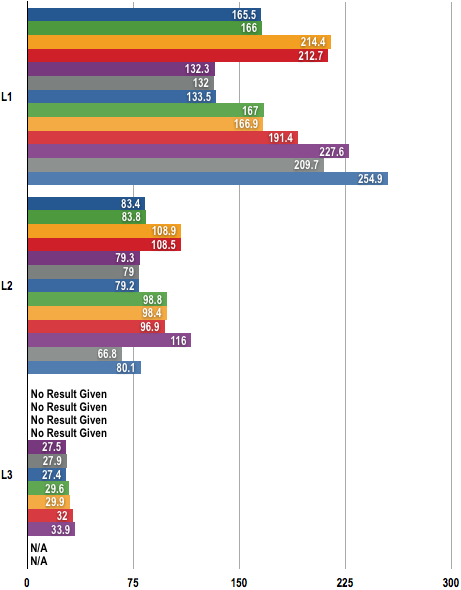 Cache bandwidth in gigabytes per second (GB/s)
Longer bars are better
System Memory Bandwidth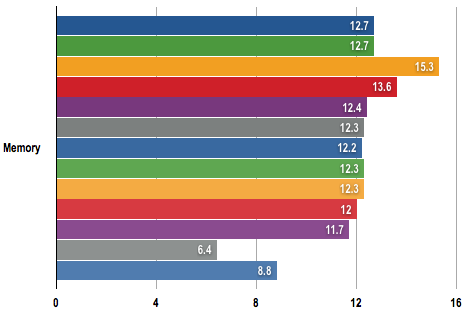 System memory bandwidth in gigabytes per second (GB/s)
Longer bars are better
System Memory Latency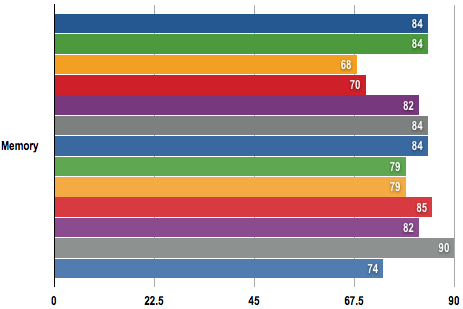 System memory latency in nanoseconds (ns)
Shorter bars are better

PoV Ray 3.7 Results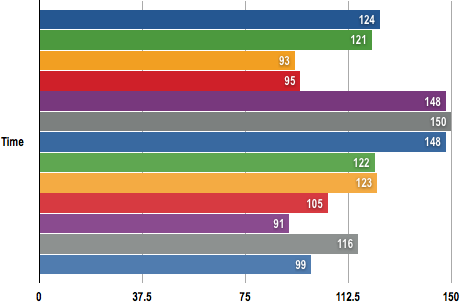 Rendering time in seconds (s)
Shorter bars are better
Power Draw Results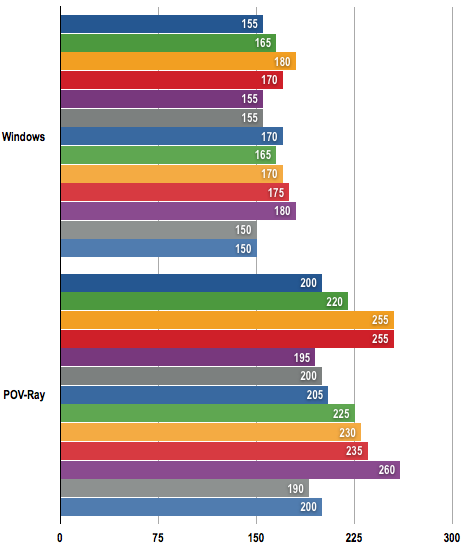 Power draw in Watts (W)

Despite running stacks of tests and generating reams of figures and charts, the results are fairly simple to summarise. One word of explanation about our results first though: SiSoft Sandra doesn't recognise the L3 cache in the Phenom II X4 810, although it worked properly with the X3 720 and X4 940.
Our main finding is that DDR 2 and DDR 3 deliver the same performance with Phenom II, and it doesn't matter whether you use DDR 3 at 1333MHz or 1600MHz. If you're running your CPU at stock speeds then DDR 3 saves some 10W, but when you overclock the CPU the difference in power draw is negligible.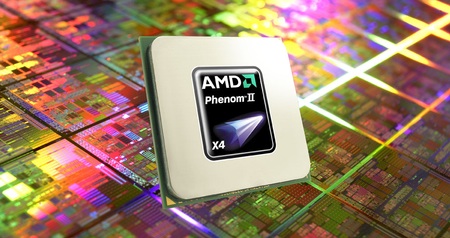 Watch out, Core 2...
The key feature for performance is clock speed rather than the number of cores or the type of memory, and the X4 940 rules the roost here as it starts at 3GHz and overclocks to 3.6GHz. It costs £190 and is worth the extra £30 over the X4 810. When you overclock the two processors, the difference shrinks from 400MHz to 220MHz, which brings the new X4 810 into contention.
By contrast, the triple core X3 720 loses out in CPU-intensive benchmarks that stress all of the processor cores but is superb in the real non-threaded world. It delivers plenty of speed and overclocks to 3.5GHz, which, at £131, makes it a champ.
These new processors make AMD highly competitive against Intel's Core 2 Quad. The Q9300, for instance, retails for £171 and Phenom II gave it a good kicking. That's a phrase your reviewer hasn't used since the glory days of the Athlon 64.
Make no mistake about it, if you want high performance you should get a Core i7 920 and clock it to 4GHz. In the mid-range, Phenom II is taking the fight to Core 2, although another round of Intel price cuts may, once again, upset the balance.
Verdict
The introduction of DDR 3 doesn't make a fundamental difference to Phenom II, but the new Socket AM3 processors deliver plenty of bangs for your buck and put AMD right back in the game. ®