Original URL: https://www.theregister.co.uk/2009/02/05/iphoto_09_review/
Apple iPhoto gets in your face
You look great. It's getting old
Posted in Software, 5th February 2009 01:14 GMT
Review iLife has arrived. Again. And there are questions to be answered.
Is this five-app pack of ease-of-use worth $79? Are the hyper-hyped new capabilities of its two marquee apps, iPhoto '09 and iMovie '09, all they've been cracked up to be? Is the new Learn to Play feature in GarageBand '09 useful for anyone other than a musical noob? Do iWeb '09's new widgets make it finally worth using? And is iDVD '09 really necessary?
As with any tool more complex than a rubber doorstop, the answer to these questions is: "It depends."
On January 6, Apple announced the latest version of its consumer-level creativity suite, iLife '09. And on January 27, it shipped. Since that day, we've toyed with every button - or thereabouts. And here's what we think.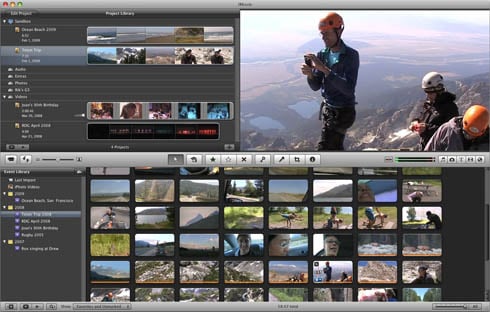 iMovie '09 is a great improvement over '08 - but it's no FCP
iPhoto is an increasingly competent photo organizer, but no substitute for true photo-editing software. iMovie will let you easily slap together a quickie video, but it's a toy compared to Final Cut Express - let alone Final Cut Studio. GarageBand is surprisingly powerful deep inside its editing innards, but we defy you to use its Magic GarageBand Jam with a straight face. Finally, iWeb is serviceable if you're terrified by a href, and iDVD is about as complex as that aforementioned rubber doorstop.
Let's start with iPhoto '09, then work our way through its compatriots in later postings.
Growing old, but not gracefully
Before there was iLife, there was iPhoto. iLife - which was first a bundling of iPhoto, iMovie, and iDVD - didn't enter the Mac pantheon until January of 2003. iPhoto first appeared in January of 2002.
iPhoto is now in its eighth iteration - if you choose iPhoto > About iPhoto from the menu bar, you'll be informed that iPhoto '09 is actually version 8.0. And it's not aging gracefully.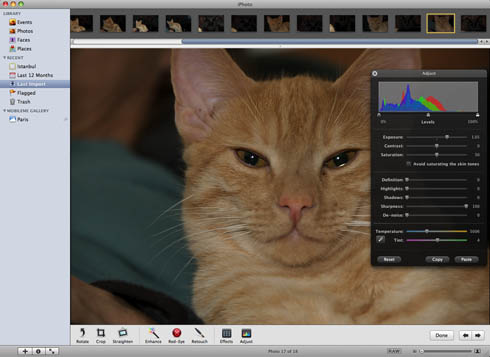 iPhoto works well, but is beginning to feel like a bit of a kludge
These ongoing upgrades have given this latest version the distinct feel of an app that has accreted rather than matured. The look, feel, and function of new features are more mature - or, at least, different - than those of older features.
For example, Faces and Places, the stars of iPhoto '09 (more on them in a minute), have a distinctly more modern look-and-feel than do older features such as keyword tagging.
Unlike iMovie '09, which contains new features that appear to have been planned before the all-new iMovie '08 was ever released, iPhoto '09 is a hodgepodge of legacy and innovation. And sometimes the old looks, well, old next to the new.
But some of that new stuff is quite impressive.
Before you can get to the iPhoto's new goodies you must, of course, install iLife '09. Installation is straightforward, but be forewarned that you can only install the suite on the same volume upon which Mac OS X is installed and running. If you want it to reside on a drive other than your main boot drive, you'll need to install Mac OS 10.5.6 on that drive, and boot from it.
Yes, we did say Mac OS 10.5.6 - iLife '09 won't run on earlier versions of Mac OS X. Being a multi-app media suite, its list of system requirements is complex, but suffice it to say that iMovie has the steepest requirements in general, and GarageBand's Learn to Play feature requires an Intel-based Mac.
After about 10 minutes of progress-bar crawling, our installation was complete, and true to Apple's annoying habit, all three of our test Macs' Docks were stuffed with iLife icons after installation. Apple, could you please offer a toggle that would allow us to skip the step of having to drag-and-poof all of those icons out of the Dock to keep our Docks pristine?
Getting in your face
The ease of importing photos into iPhoto depends upon where they're coming from.
The simplest way is to drag a folder full of photos out of a Finder window, then drop it into iPhoto's main workspace. The folder will be added as an Event, which is iPhoto's way of automatically grouping photos. If you drag a folder that contains nested folders, each will be added as its own event. Each Event will be named with the folder's name.
It doesn't matter what Library you're in when you drag-and-drop to import photos. iPhoto will automatically switch into import mode.
You can also upload photos directly from your digital camera. If that camera stores its images in memory - either a removable card or, as with the iPhone, internal memory - iPhoto will display all the photos before import and ask which you want to import.
Once your first photos are imported, you can begin using one of iPhoto '09's most-ballyhooed features, the face-recognition system called Faces.
To begin using Faces, click the Faces icon in the Library list to the left of the main workspace. You'll be greeted with a brief set of instructions (below) on how to get Faces up and running.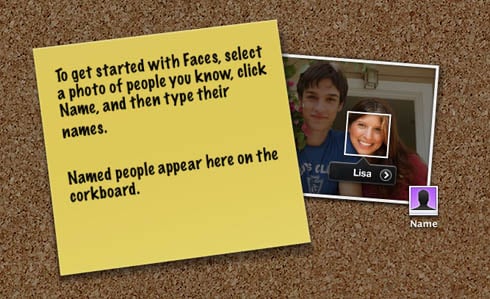 Once you first use Faces, you'll never see this cheery note again
After you select and name your first Face, it will appear as a named thumbnail on the corkboard background of the Faces workspace. The next time you import photos, iPhoto will scan them for matching faces, and add the matches to the Faces group for that individual.
We discovered that although Faces seems to be remarkably dunderheaded at first, it can be taught to recognize faces rather quickly and efficiently. Click on a Faces thumbnail on the corkboard, and iPhoto will display the photos you have identified, and below them photos that it thinks are of the same person. You then click the Confirm Name icon in the bottom toolbar, then single-click the photos that are correct and double-click the ones that aren't.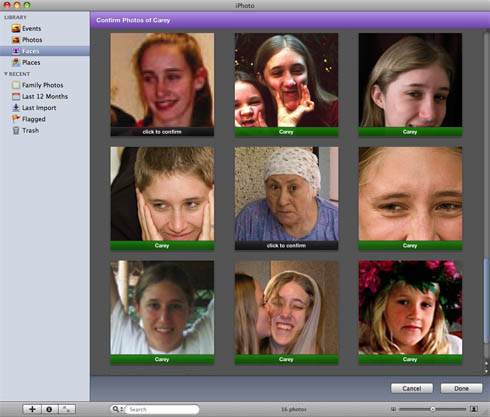 Before training, Faces mistook an all-American girl for a 70-year-old Turkish peasant
Our first iteration or two of this training regimen were disappointing, with results well under 10 per cent correct in most cases. Early results could also be alternately comical and intriguing - you may be discomfited, as was true in our case, when Faces mistakes you for Bill Gates.
As we iterated the Confirm Name sequence two or three more times, we discovered Faces to be clearly influenced by family resemblances, routinely grouping family members out of our hundreds of test photos.
After a half-dozen or so iterations, Faces smartened up. After that amount of training, it did a surprisingly good job of selecting photos taken over a wide range of a person's years, even when those photos were scans of less-than-sharp, aging snapshots.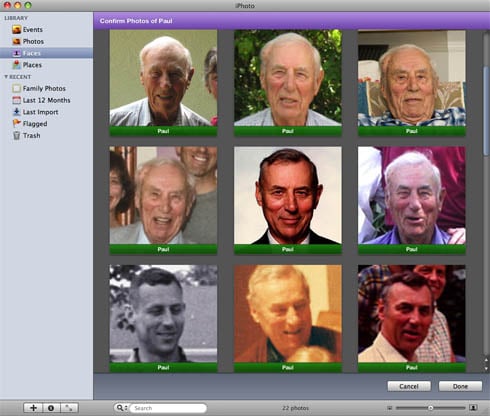 Faces found photos of Paul throughout his 92 years
Even after a good amount of training, however, Faces still had trouble with sunglasses and photos of folks looking off to the side - although we did discover that if an individual wears the same pair of sunglasses in a large amount of photos, Faces will eventually catch on.
Faces doesn't actually move any photos from their individual Events in the iPhoto Library. Instead, it works like iPhoto's familiar Smart Albums and creates pointers to them - pointers that assemble all photos of a Faces-identified person into his or her named group.
The same Smart-Album mimicking is performed by iPhoto '09's other major new feature, Places.
Putting you in your place
Places is iPhoto '09's way of organizing your photos based on where they were shot, using geotagging information either provided by your GPS-equipped camera or cameraphone, or entered manually.
When you first launch iPhoto '09, you're given a hint as to how Places identifies a photo's location - and why when you import photos on a Mac that isn't connected to the internet, you won't get location information:

Polite of them to ask, though, don't you think?
As the screenshot suggests, Places sends your photos' lattitude and longitude data to Apple, which responds with information in a form that's friendlier than degrees, minutes, and seconds of latitude and longitude.
Manually entering Places info is a simple process that also works with Apple's database. "Simple" is a good thing, but if you have thousands of images in your iPhoto library, we doubt that you'll be entering location information for many individual photos.
Entering location for an entire Event, however, is often an acceptable substitute. Know, however, that if you later split an Event into two or more smaller Events, the location information you've entered will only transfer to the first section of the split event. You'll have to re-enter it for the remainder. It would have been nice had Apple provided an option for both segments to retain the same location information.
To enter location information, mouse over a photo's or an Event's thumbnail in the Photos, Events, or Faces libraries and click the "i" icon that will appear in its lower-right corner. The thumbnail will flip over and expand, and you'll be prompted to Enter Photo Location or Enter Event Location.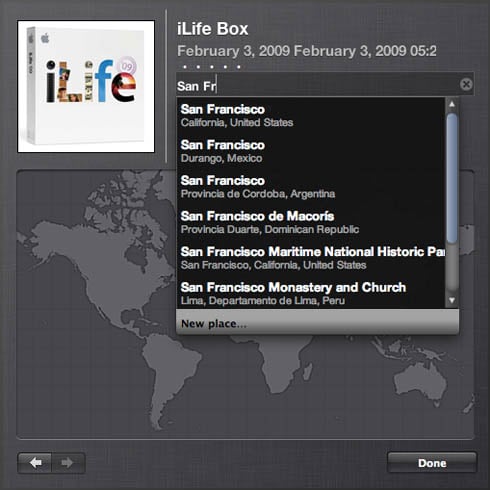 Start typing, and Places will start guessing
As you begin typing a location, the database will narrow down your choices. Pick the right one, and you're good to go.
If you enter a location that isn't in the database, the list will say merely New Place - click that, and the Edit My Places dialog will open, in which you can create a custom location. Doing so is not nearly as intuitive as it might be, but you'll figure it out after a few false starts. We did.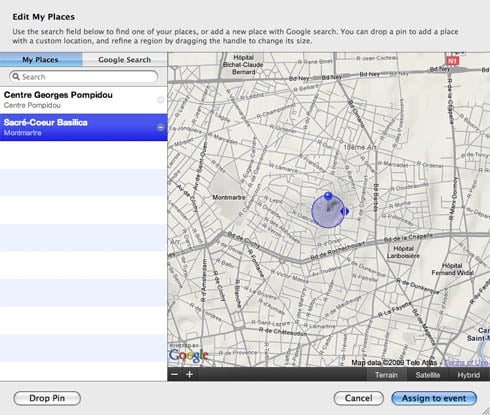 We're hoping this dialog gets an update in iPhoto '10
You won't be entering many new locations in Edit My Places, however - the database that Places uses is surprisingly complete. When manually entering the locations for photos from our recent trip to Paris, for example, we discovered that the database had entries for Notre Dame de Paris, Eiffel Tower, Louvre, Jardin du Luxembourg, Place des Vosges, and Arc de Triomph. Neither the Centre Georges Pompidou nor the Basilique du Sacré-Coeur were so honored, however.
Where in the world did I take that shot?
Places takes all the location information, no matter how it was acquired, and works with Google Maps to show you exactly where your photos were taken. You can choose map, satellite, or hybrid view.
For example, when you click the "i" icon in the lower-right of an Event that contains Places-enabled photos - whether those photos were geotagged by a camera or had their location information entered manually - the thumbnail will flip over, expand, and display a map with pins pointing out the photos' locations.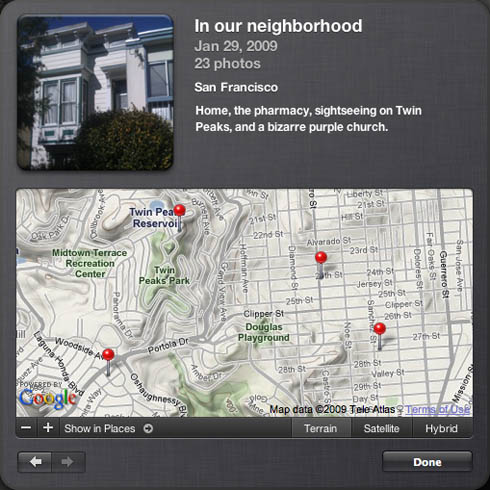 An Event, when flipped, can show you the locations of all its photos (map view)
Clicking the Places icon in the Library list turns iPhoto's main working area into a map of the world - well, if not of the entire world, then at least the parts of it where you've taken pictures. As you might expect, you can zoom and drag the map to your heart's content.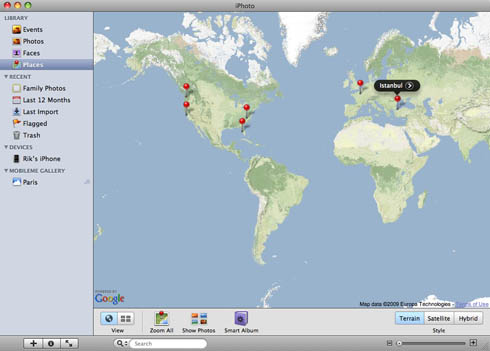 If we ever shoot photos in China, this map will expand accordingly
Interestingly, countries are named using their native alphabets or kanji, with their English names listed below, but countries with multiple alphabets such as India have their names listed in English only.
Mousing over a Google-map pin displays a label identifying that location. Clicking on that label's arrow icons brings up all the photos associated with that location.
Alternatively, you can drill down to your desired location using Places' column view, which - much like the Finder's similar view - lets you refine your selection level by level. You don't have to enter all the stages of selection level when defining a photos location, since the database fills them in for you - a true time-saver.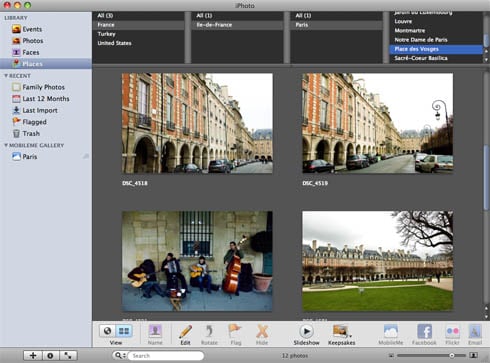 As you select a tighter location range, the number of photos displayed shrinks
Although Places is an entertaining way to organize your photos - and possibly one reason to make sure your next digicam has GPS - it's not as useful as Faces. The automatic gathering together every image of a loved one into a single Faces album is far more time-saving and potentially surprising ("I forgot taking that one of li'l Suzie Q!") than gathering every photo you have of New York City. Odds are you remember when you went to New York, and odds are those photos are already in a time-sorted Event.
And a few more tweaks
In addition to Faces and Places, iPhoto '09 also improves - or, at least, changes - a few other items that were already available in iPhoto '08 or earlier.
Take photo editing, for example. iPhoto was never intended to be a full-on image-editing app like Photoshop, but it has for years offered some basic image-enhancement tools.
One-click Enhance is still available - and it's still hit-or-miss. You'll also find simple Red-Eye correction and a basic Retouch blemish-buster. Basic image Effects such as Sepia, Antique, Vignette, and more haven't changed at all.
The Adjust dialog sports a new Avoid Saturating The Skin Tones check box - which works decently - and adds a new Definition slider, which Apple says will "improve clarity and reduce haze in your photos" by limiting contrast changes to an image's background. Its success is subtle, but noticeable.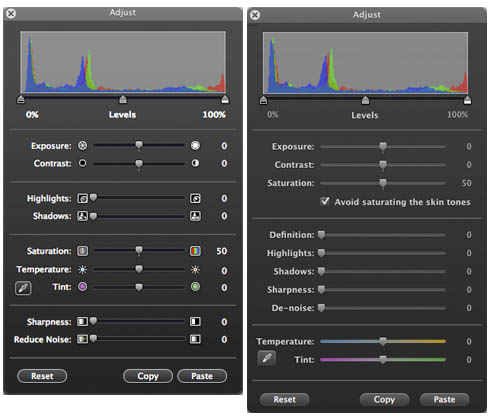 The image-editing Adjust dialog picks up two new tricks ('08 left, '09 right)
Keywords, used to tag and group photos (but not Events), were introduced way back in iPhoto 2.0, part of the original iLife bundle. Zero-to-five-star photo-rating appeared in iPhoto 4.0, part of iLife '04. Both are still there, still operating in much the same way - which is to say that they're time-consuming to use and often ignored by all except the most anal-retentive iPhoto users.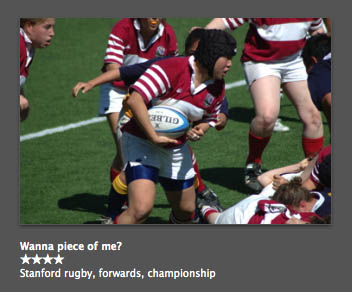 You can still title, rate, and apply keywords to your photos - should you ever want to
Slideshows, on the other hand, have been gussied up noticeably. The most obvious improvement is the addition of Themes to other controls such as adding music and tweaking slide durations and transitions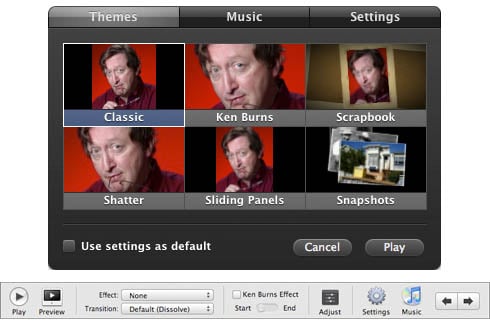 iMovie '08 (bottom) allowed only basic tweaks to slideshows; '09 (top) ups the ante with Themes
Among the six bundled Themes are an animated Scrapbook that unfortunately crops images a bit too drastically. There's a psuedo-psychedelic Shatter that you'll use once, exclaim "Oh wow!," and never use again. And there's a tasteful Sliding Panel slideshow that slips multiple images onto and off your display.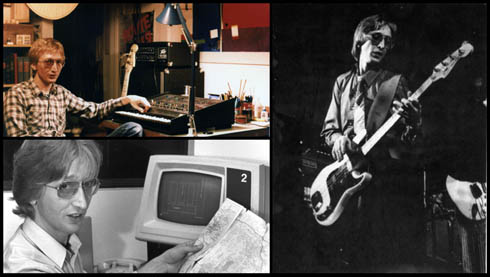 Relive your youth using the multiple-image Sliding Panels slideshow Theme
One last bit of new niftiness: You can now upload photos and albums from iPhoto to Facebook or Flickr with a single click once you've set up an account on those services and informed iPhoto of your account details. When we uploaded a load of vacation photos to our Facebook page, the operation went without a hitch. Expect to see even more cameraphone-shot teen-party shots on Facebook in the near future.
The final word
iLife '09 adds one truly useful new feature (Faces), and one fun-but-less-than-compelling one (Places). It also upgrades a few other familiar elements, most notably Slideshows.
Some of its older photo-organizing elements, such as Keywords, Ratings, and Flags, are holdovers from earlier versions - and it shows. Perhaps Apple left them in for folks who have spent tons of precious time hyper-organizing their photo collections and who would have a coronary if all that work were to be rendered useless.
Still and all, iPhoto '09 is a worthy upgrade, if not worth the entire $79 fee Apple asks for iLife '09. Whether the entire five-app creativity suite is worth that price is a question we'll answer as we trip through the other four apps - iMovie, iWeb, iDVD, and GarageBand - in coming days. ®