Original URL: https://www.theregister.co.uk/2009/02/04/review_music_transmitter_arielle_i2i_stream/
Aerielle i2i Stream 2.4GHz music streamer set
Wireless music streaming for dummies
Posted in Personal Tech, 4th February 2009 09:02 GMT
Review While policemen may not be getting younger and British summers may not be getting colder one thing that most certainly is true is that streaming music wirelessly is getting a lot easier and a lot cheaper.
California based i2i's pitch for its new Stream wireless music transceiver is straightforward: you can use it to easily send high-quality audio from any device with an audio output port to any device with an audio input port, or to a pair of headphones.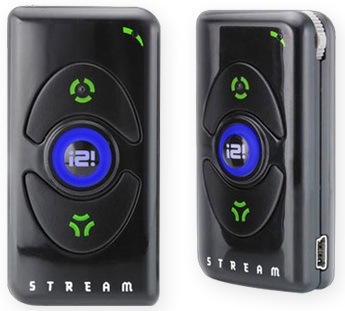 Aerielle's i2i Stream: matchbox sized
In the starter pack, you get two Stream modules, two 30cm and two 70cm 3.5-2.5mm audio cables, two USB cables, two pocket clips and two neck lanyards. The only things really lacking are RCA-to-2.5/3.5mm audio cables but since you can pick those up for a lot less than a fiver, we won't hold that against i2i.
The Stream modules themselves take the form of plastic boxes measuring a matchbox-like 60 x 30 x 15mm and weighing around 60g. At the top of each module is a 3.5mm audio output socket while at the bottom is a 2.5mm audio input. On the right side sits an on-off-volume rocker control and a mini USB port for charging.
On the front of each module are the three main controls: the top one sets the module to transmit, the bottom one to receive, while the third, central button lets you select one of seven colour-coded operating channels.
Somewhat annoyingly, the central button rattles about in its housing which makes the modules sound and feel a bit on the cheap side, though they seem well enough stuck together. According to the technical data that i2i supply, the Stream transmits uncompressed 48kHz, 16-bit audio over the 2.4GHz frequency band. Total harmonic distortion is quoted as less than 0.007 per cent and audio latency as less than 20 milliseconds - i2i calls this "HD Quality Audio", but since its spec is only slightly above CD's 44kHz, 16-bit quality and a lot less than the 24-bit, 192kHz you can get off DVD Audio, we think the use of the initials 'HD' is more about hopping on bandwagons than real high-definition audio.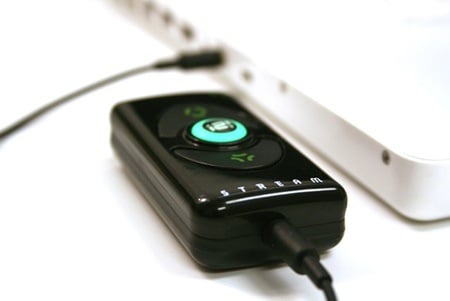 No streaming while charging
Anyway, it all sounds hunky-dory for CD listeners, but does it work? Well, in a word, yes.
To start with, set up is simplicity itself. Once you've charged up both Stream modules you simply plug in the relevant audio cables, press the send key on one, the receive key on the other and the central channel key on both until they are showing the same colour.

Mini USB for charging
By way of a test, we used our Streams to turn a pair of Sennheiser HD 25 headphones into wireless cans and to send a signal from a stereo amplifier to some Edifier MP300 Plus powered speakers.
Using the headphones and a Sansa Fuze that we had in the office – loaded up with 256Kb/s MP3 files - we switched back and forth between a wireless and cable feed and frankly found it impossible to tell which signal was which.
With the headphone cord bundled up and the Stream dongle hanging around our neck from its lanyard we may have looked like a bit of a twerp, but we had great sound and could roam about at will.
Incidentally, i2i makes no mention of the Stream's audio power output, but it certainly drove our Sennheiser's all the way up to 11.
When we took a feed from a Cambridge Audio CD player and amplifier, the sound wasn't quite as good: it lost just a little in the way of warmth and tone, though a quick fiddle with the bass and treble controls on the amp got things back on track.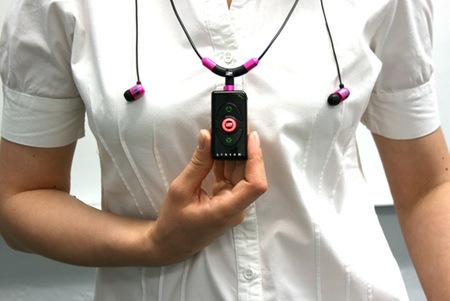 The Connection Doctor will see you now...
Using the Streams to send music from the same CD and amplifier combo to the Edifiers - now placed in the bathroom – we were again impressed by the reliability of the signal, the speed of set up and quality of the sound.
Of course, we'd be the first to admit that pumping music through an amplifier's headphones jack, two i2i Streams and a fifty quid pair of powered speakers is hardly likely to keep the folk at Sonos or Logitech awake at night, but the results were still very far from shoddy for an all-in outlay of under £120.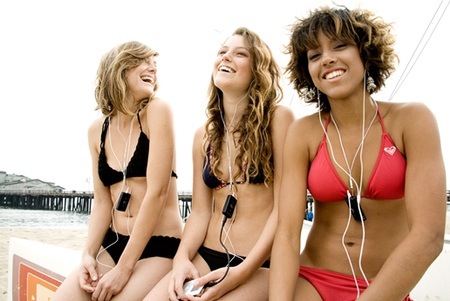 i2i streaming among friends
Maximum range is quoted as "30+ feet" or nine metres, a number we take no issue with. In practical terms, this meant that no matter where we set up a network in a three-bedroom semi, we got a clear signal and suffered no interference from the five Wi-Fi networks – including our own – in the vicinity.
One of the handy things about the Stream is that you can keep adding to the network as long as each receiver is set to the same channel colour as the transmitter. i2i also reckon that up to three Stream networks on separate channels can co-exist quite happily within the same 30ft radius but you will have to take its word for that.
The user guide states that a full charge is good for between five and seven hours but we found this to be just a touch optimistic. When tested, our transmitting Stream died after 4.5 hours though the receiving module only soldiered on to the 6.5 hours mark.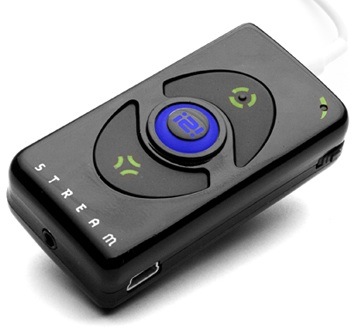 Wireless music streaming for dummies
Since charging takes an average of five hours and the modules will bizarrely neither transmit nor receive while being charged, keeping a Stream network up and running throughout the day is a tough gig unless you have spare – and charged - modules. i2i say its optional DC 6V adaptor will reduce the charge time to two hours, but not having one on hand to test we can't vouch for that.
Verdict
As a twit-proof way of getting audio from A to B, the i2i has a lot going for it. Set up is very easy, signal quality and range more than acceptable and the price is right too - the two-module Stream pack costs £68.51, which is pretty fair value for such a versatile bit of kit. Shame you can't use them while charging, should you just want to keep them plugged in. ®
More Music Streamer Reviews...

AudioEngine AW1

Logitech Squeezebox Boom

Creative SoundBlaster X-Fi
ExpressCard

Logitech Squeezebox Duet
Music Wireless Streamer Group Test