Original URL: https://www.theregister.co.uk/2009/02/04/review_mobile_phone_nokia_6600_fold/
Nokia 6600 Fold clamshell phone
Style over substance?
Posted in Personal Tech, 4th February 2009 13:02 GMT
Review What swings it for you? First-in-class features? Terrific usability? Value for money? Or is it pure design style? While some mobile makers have been cosying up to top fashion houses for the kiss of designer cachet, Nokia has been busy doing its own thing, and the 6600 Fold is its latest model to sashay that fine line between style and substance.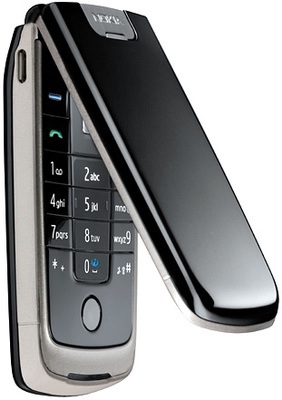 Nokia's 6600 Fold: smooth with a capital 'smooth'
Although carrying a similar name to the 6600 Slide, the 6600 Fold has its own distinct personality. The clamshell design is one smooth-on-the-eye number, with a graduated mirrored shell that opens neatly using a button-triggered release mechanism.
Clearly, heavyweight features aren't its chief selling point. Based on Nokia's commonly used S40 user interface, the 6600 Fold has a middle-of-the-road set of functions, steering clear of high-end stuff like Wi-Fi and GPS, though it does have 3G.
The 6600 Fold is quite a swish, compact clamshell model measuring 87.7 x 44 x 15.9mm closed. It weighs in at a heavier-than-you-expect 110g, and feels solid and robust in the hand. The casing comes in either black- or purple-on-silver finishes, with a gradation running up the bodywork. There's a brushed metal bevel by the hinge that's continued over to the glossy back cover, which, with the 2Mp camera poking out, looks almost like a front panel.
Nokia's drawn on another fashionable trend with a 'hidden' LCD display under the mirrored surface of the front. It comes to life, glowing through the panel, when you get a call or message, and shows the time when activated. It also provides music or radio info when those features are in full swing. A small light strip under the bevel can also be set to pulse.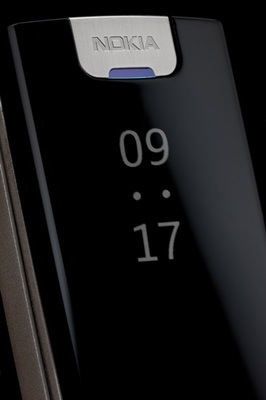 Nokia's take on the 'hidden' LCD
While there's no touch control, the 6600 Fold does have tap control. With a quick double-tap on the front panel, users can bring up the LCD status - so you can see if there are any missed calls or texts, or check out the time. You can also double-tap the shell to mute incoming calls or alarms, and do it again to reject calls or snooze the alarm.
It's all very smooth and refined. Opening the clamshell is smartly done too. Press the key near the hinge and the phone opens slickly, with the back and front covers matching neatly together around the hinge for an elegantly near-continuous look from the back.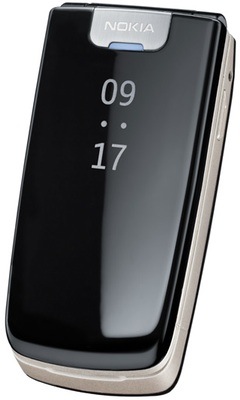 Available in black...
There's minimal buttonry on the sides: just the flip release, along with a micro USB port and a charger socket. There's no separate 3.5mm headphone port.
The numberpad is a neat affair too. The central column of numbers and the navpad are slightly indented from the rest and finished in a matte surface to differentiate them the other, glossy buttons. It actually works very well for feeling your way around the keypad. The buttons are nicely responsive.
The central navigation select button is coloured to stand out. Large-fingered folk certainly aren't going to dig the navpad, though we found it worked fine. The screen is reasonably proportioned for this size of handset: a bright and shining 2.13in, 320 x 240 OLED display, showing up to 16m colours.
No surprises with the S40 user interface - it's a typical Nokia experience. Users can opt for a minimalist home screen, with the navpad offering conventional shortcuts to a quartet of features. Nokia's Active Standby option provides a busier standby display - you can have a choice of five shortcuts ranged along the top of the screen, and/or a mix of additional information updates and function controls – such as calendar, memos and music player status - ranged down the screen.
Once you're past the external tapping and button-pressing, you get a solid set of Nokia mid-tier features. The music player is one such app, though it still manages to put in an impressive audio performance controlled using the navpad.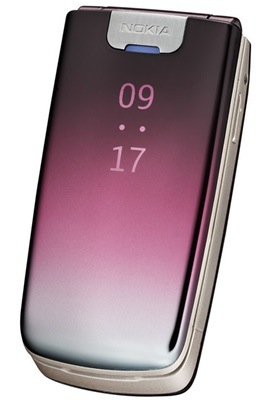 and... er... silvery-purple
All the standard file formats are supported, and tracks can be copied over to the phone easily using the supplied USB cable and Nokia PC Suite software, or dragged and dropped with the phone in Data Storage mode. Nokia supplies a 512MB Micro SD card to supplement the tiny 15MB of on-board storage.
Cards up to 8GB can be used on the phone. Unfortunately, there's no easy-access slot for hot-swapping memory cards, so you have to remove the battery and back panel – not an easy job, thanks to the smooth, seamless design, and you run the risk of bending that brushed metal bodywork.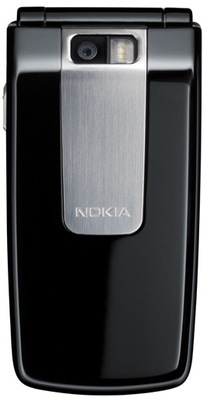 Not an impressive camera
The supplied set of earphone that slip into the micro USB port are a two-piece set with a 3.5mm adaptor on the remote control. They're a better-than-average set for a phone, anyway, with the snugly fitting in-ear buds producing a well-balanced sound with bass in all the right places.
Although it's part of the smooth design, the positioning of the connector is a bit annoying. It's more snaggable in the pocket than a top- or bottom-mounted port. And with the earphones plugged in, the phone doesn't quite fit into the soft pouch Nokia supplies with the phone. The onboard FM radio does a decent job, storing up to 20 stations, though, as usual, it requires the earphones plugged in.
Less satisfactory is the somewhat basic 2Mp camera. Indeed, it's surprising that Nokia has given this style-oriented phone such an entry-level shooter. The cheaper 6600 Slide, for instance, has a 3.2Mp autofocus snapper, which is quite limited in itself, but has got more going for it than this phone's.
If you want to take quick snap'n'send picture messages, it does the job adequately, if it's not particularly refined. Image detail is very limited though colour reproduction is reasonable in strong light. The dual-LED flash does provide a bit of welcome extra illumination in dark environments, but it hasn't a great effect over a metre or so away from the subject, and images tend to be grainy. The lens positioning isn't ideal - as you cradle it for shooting in upright mode, you have to watch for fingers straying into shot.
The UI is basic too, with menu lists of options and a small number of standard lower-level cameraphone settings available, such as white balance, brightness, effects and a self-timer. You can also upload shots directly to a Flickr account. Overall, though, this isn't the sort of handset to go for if you're concerned about getting high-quality images.

Near-continuous back panel
Video footage can be shot at up to 640 x 480 resolution, though at 15f/s, recorded clips don't play back particularly smoothly. The phone can play video content in the H.263, 3GPP, H.264 or MPEG4 formats.
Although there's no GPS here, the 6600 Fold does have Nokia Maps software. This can be used for looking up directions or finding places and services - maps are updated over the air - but it even lacks the approximate local area triangulation you get with Google Maps on some mid-tier mobiles. You can connect a Bluetooth GPS pick-up, though.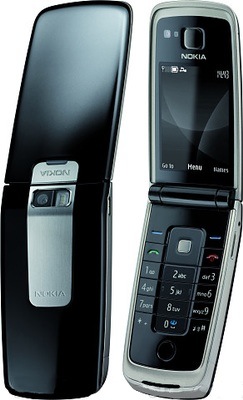 Text-friendly keypad
Nokia's own-brand internet browser does a reasonable job at getting around websites, though it can take time rendering complex pages and isn't as sophisticated as S60 smartphone browsers. Fortunately, Nokia has again included Opera Mini, which offers an alternative, easier-to-use browser experience.
Nokia also includes a Flickr client, its WidSets widgets-based application and Yahoo! Go. Both WidSets and Yahoo! Go bring web-based updates, news and information services, messaging, location-based searches, blogs and other services, all together on one screen. Another online Search app is included too, plus Nokia's Download! tool, from which users can find a selection of apps for the handset.
There are no surprises within the phone's organiser toobox. It has regular calendar, to-do list, notes, calculator, convertor, voice recorder, a world clock and various other timekeeping functions. Half a dozen Java games are pre-loaded too.
Form may be high on the agenda for the 6600 Fold, but Nokia hasn't ignored the basics of taking and making calls – they sound perfectly loud and clear. It's a good texting phone too. Our tests gave us a comfortable three days' usage between charges with typical quantities of calls, music playing and web browsing.
Verdict
Does the 6600 Fold's eye-catching design seal the deal for you? If not, it's highly unlikely that the phone's features alone will make you swoon. Its functionality is mostly standard mid-tier Nokia S40 fare that you can find on plenty of other handsets that cost less. Should you fall for the looks, the features are no worse than rival offerings, disappointing camera aside. It's well-built, easy to handle and does what it does well enough. But you'll be paying a premium for style over substance. ®
More Phone Reviews...
| | | | |
| --- | --- | --- | --- |
| LG Prada II | Walkman W302 | Nokia 6600 Slide | HTC Touch Viva |