Original URL: https://www.theregister.co.uk/2009/02/03/review_colour_laser_printer_kyoceramita_fs_c5200dn/
Kyocera Mita FS-C5200DN colour laser printer
Impressive running cost
Posted in Personal Tech, 3rd February 2009 09:02 GMT
Review Kyocera Mita isn't perhaps one of the first names to trip off your tongue when considering a new laser printer, but it deserves to be. The company has sold lots of its big-business printers to corporates for many years and its range of smaller mono and colour lasers includes the newly released FS-C5200DN.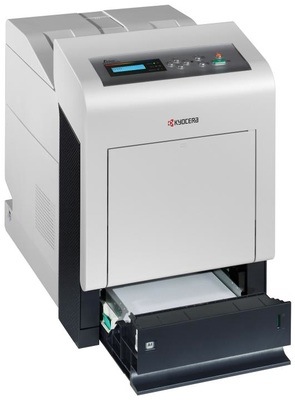 Kyocera Mita's FS-C5200DN: clean and upright look, courtesy of Herr Porsche's less well-known son
The company's main claim to fame is the running costs of its machines. Nearly all of its printers use a unique photoconductor drum – the component on which the page image is built up during printing – with a secret coating which makes it a lifetime component. Under normal use, you should never need to replace the drum, meaning the only running cost is toner. Of course, if the toner's more expensive than everybody else's, a manufacturer's printers may still not be that cheap to run, but Kyocera Mita has always made a lot of its low cost of ownership.
The FS-C5200DN is part of a new range of colour laser printers and although it's billed as a small workgroup machine, by the time you've added the various options, it should cope with sizeable throughput. For a start, it has a main paper tray which holds a full 500-sheet ream of A4 paper.
Too many colour laser printers are provided with much lower-capacity trays than equivalent mono machines selling into the same market. Where's the logic in this? If you've a printer which can print both black and colour, surely you're likely to use it as much or more than a mono-only machine?
As well as the 500-sheet main tray, there's a 150-sheet multipurpose tray which folds down from the front of the machine, so you can load envelopes, transparencies or odd paper sizes. If this is still insufficient, up to three optional trays can be added underneath the machine, though by then it's getting pretty tall and will probably be more convenient to use with the optional stand and paper cupboard.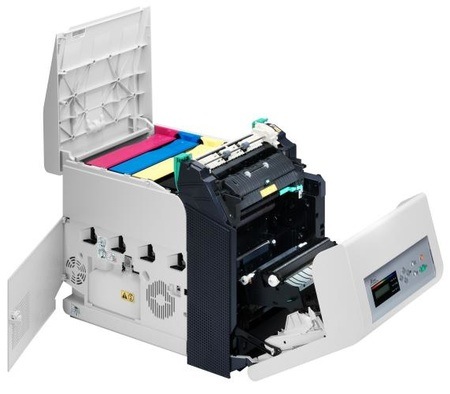 Easy to work on, though most of the time you'll only need to raise the lid
The rather angular lines of the FS-C5200DN are the result of an industrial design by FA Porsche and the simplified control panel consists of a two-line by 16-character, backlit LCD display and a set of eight buttons, for menu navigation and to start and stop print jobs.
There's a walk-up USB print facility on the machine but, bizarrely, Kyocera Mita has positioned the socket at the back of the left-hand side panel. Hardly the most convenient place to plug in a USB stick, and it means you have to keep the whole of the left side of the machine clear and accessible to use the facility. When it comes to direct printing, the printer can handle PDF, JPG and TIF files.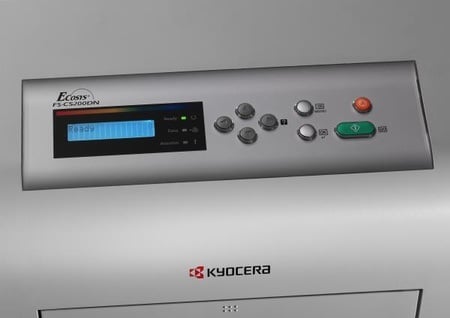 A clean design to the buttons and a backlit display make for easy control
The FS-C5200DN comes as standard with USB and 10/100Mb/s Ethernet and has good network monitoring software provided. Both PCL 6 and Postscript Level 3 are provided in emulation, as well as Kyocera Mita's Prescribe language, so it should be relatively easy to run this machine with a mixed network of PCs and Macs.
Setting the printer up involves lifting the top cover and inserting the four toner cartridges, one each for cyan, magenta, yellow and black. Each of the colour cartridges is good for 6000 pages and the black cartridge can produce 7000, which should keep maintenance down. The drum is rated at 200,000 pages, so may well last the lifetime of the printer, though oddly its warranty covers it for that number of pages or just three years' use, which is a bit skimpy.
We had some trouble with a flashing alert on the printer's display indicating it was set to "envelope mode" and despite quite a lot of searching through manuals it was almost by chance we found a switch inside the machine which flicked from envelope to paper print. Something a bit more up-front in the manual or on the printer could have saved us some frustration.
Kyocera Mita rates the FS-C5200DN at 21ppm for black or colour print, and you may get somewhere near that if you're printing longer documents. Our five-page black text test took 25 seconds, which comes to 12ppm, but when we ran a 20-page document this rose to just under 18ppm. Switching the machine to duplex - a standard function on this model - brought it back down to 10.2ppm. A 15 x 10cm print on A4 paper took 13 seconds when printed from a PC, but 25 seconds from a USB drive.
Stack up those paper trays...
Overall, for a colour laser printer costing around £500, these speeds are reasonable and it's good to see a printer where printing colour really doesn't drop the speed back from the speed of a straight black print. Our five-page text and colour graphics print took exactly the same time as the black text document, so you won't be waiting by the water cooler every time you print a colour page.
Print quality from Kyocera Mita printers has always been high and that's true here. Black text is crisp and dark with no signs of toner spatter around characters, which can produce fuzziness. Colour business graphics are also well reproduced with a good range of vivid colours producing attention grabbing documents. There were some slight registration problems with black text over colour backgrounds, but you have to look closely to see this.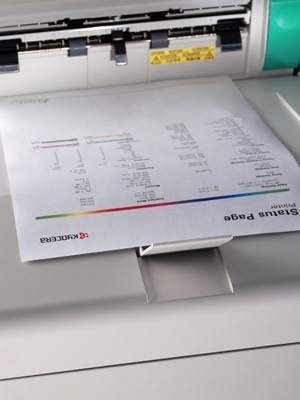 Print quality is good for colour as well as black
A photographic print came out particularly well. Colour laser printers have a much smaller colour range than a typical inkjet, and photo prints can look over gaudy with a sort of 'seaside postcard' effect, but improvements to the toner in this machine give it a wider than normal gamut, resulting in a more natural colour mix.
There's a move among several printer manufacturers to improve the regularity and shape of colour toner to give better colour control and this has made quite a difference over the last year to the quality of colour laser print-outs. More toner is 'grown' these days, rather than being chipped or ground off large chunks of base material.
Assuming the drum is a lifetime component, running costs on the FS-C5200DN come down to the toner cartridges which, at internet prices, are around £75 mark for colour and £95 for black. This gives costs per page figures of 5.9p for colour and an impressive 1.1p for black text. Given the relatively high capacity of the toner cartridges and paper trays, maintenance costs should be low, too.
Verdict
Kyocera Mita is aiming the FS-C5200DN at small workgroups, but with its high capacity consumables and paper trays and the range of optional extras, it should be able to grow with a successful team over time. Good quality print, reasonably quick throughput and built-in duplexing make this printer which starts as, and should remain, good value. ®
More Printer Reviews...
| | | | |
| --- | --- | --- | --- |
| Lexmark C543DN | Epson Stylus Photo PX800FW | Samsung ML-1630W | Polaroid PoGo |