Original URL: https://www.theregister.co.uk/2009/02/03/microsoft_flight_simulator_partners/
What's next for Microsoft's Flight Sim partners?
Redmond clips ACES wings
Posted in Software, 3rd February 2009 06:23 GMT
Flight Simulator developers have called on Microsoft to clarify quickly its plans for the massive flight franchise that's found its way into the defense sector.
Failure to act could see Microsoft lose a familiar and successful operation to open-source and cross-platform competitors as partners drift away in search of alternatives.
Developers who bet their entire businesses on Flight Simulator feel they've been left in limbo by Microsoft's decision to - without warning - close its ACES Studio, which developed the simulator series. The ACES Studio was shut and its 150 staff laid off as part of 5,000 planned layoffs to control costs.
Individuals are putting a brave face on the decision to close ACES, saying they can continue to build add-ins for the current versions of Flight Simulator. After that, though, the future is uncertain.
Scott Phillips, Just Flight marketing manager, told The Reg: "We are just going to carrying on as we were." The reason? "Because FSX [Flight Simulator 10] is still very new and selling well, there are a hell of a lot of new adopters."
Twelve-year-old Just Flight has more than 150 titles, releasing 15 titles in 2008 and plans in the pipe for another 15 this year. Phillips remarked Microsoft's decision could make life easier, as each new edition of Flight Simulator created problems in backwards compatibility of titles.
Beyond that, though, Phillips refused to be drawn and said simply it's "too early" to comment on what might happen in the long term.
Phillips put his faith in Microsoft - faith that could be misplaced. "I don't think it's the end of Flight Simulator. I think Microsoft will come back in some guise as an online version or if they don't someone else will buy the rights," he said.
One ACES insider who was cut, a Reg reader who wished to remain anonymous, appeared to caution against such optimism. He told us via email after the ACES closure emerged Microsoft had killed the studio in the wake of its most successful release - Flight Simulator 10, or X, released in 2006 with 1m units sold. "Microsoft claims of ever bringing back are doubtful. It can never be what it was again. They'd just be branding something else as flight sim [simulator] to sell product," he said.
Flight One Software president Steve Halpern echoed Phillips on targeting existing versions of Flight Simulator. "We've got a pretty good sim in flight sim X... we can't panic yet. We have to see where Microsoft is going to go with this," he told us. Flight One has a catalog of 30 of its own titles, while it resells another 100.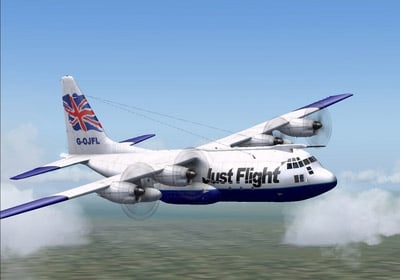 Just Flight's 150 titles add to the basic Flight Simulator fleet
Halpern called on Microsoft, though, to clearly state in the next few months what it's got planned for Flight Simulator so that his company can begin planning accordingly. So far, Microsoft's only issued a bland statement that it's "committed to the Flight Simulator franchise," hinting at turning Flight Simulator into an online service and game.
That's not enough for Halpern.
"We cannot wake up at the end of three years... we have to overlap a shift to another technology if - and it's a big if - we have to do that," Halpern said.
"We have to take some resources a year from now, even tomorrow, and start looking because without Microsoft saying what they are going to do what Microsoft has said in its statements doesn't give us any satisfaction. That's worse, there's been zero reaching out."
Partners clearly feel like they've been left out in the cold by Microsoft who has courted them in the past to help make Flight Simulator a success on Windows XP and Windows Vista.
"We took the bait, and now we don't know where we are standing. And we are talking about a big company that's not about to fold [Microsoft]. We almost feel like someone is not really paying attention," Halpern said.
Flight Simulator is one of Microsoft's oldest running products and something of a quiet successes. Flight Simulator has established itself - like Windows - as a platform that partners like Just Flight and Flight One add value to through plug ins.
Massive ecosystem
A massive ecosystem of companies and titles has sprung up. Partner companies range in size and add ins supply additional aircraft - from Messerschmitts to 747s - and landscapes and routes that manage to tempt customers into spending hundreds of additional dollars on top of the $50 or so they paid for just the basic Flight Simulator.
Partners feed a dedicated market of enthusiasts and professionals. Such is Flight Simulator's power that in 2007, Microsoft made the basic engine available for use specifically by the civilian and military market as Microsoft ESP, to train pilots, run specific missions, and provide post-flight analysis. Early adopters include Lockheed Martin.
The secret to Flight Simulator's success is that it provided a solid and well-featured platform on Windows for value-add partners like Just Flight and Flight One.
Running on the PC meant that it could serve both enthusiasts and professionals alike. For amateurs, Flight Simulator put flight within their reach. For professionals learning to fly or running specific missions, it meant a relatively low-priced system for their employers.
The future looked bright.
Version 11 was coming in a year and a half, which would have catered increasingly to a gaming crowd, not just the current enthusiasts and professionals.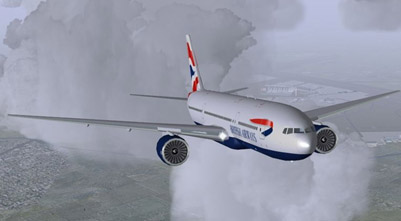 FlightGear.org - the open-source liferaft for Flight Simulator partners?
Planned features included voice recognition with air traffic control, first-person mode, a full fledged career mode with a job board and a currency system, a lighter-then-air aircraft class, and skydiving. "We were starting to focus more on the game aspect of it than just the simulation," the ACES insider told us.
All of which would make Microsoft's decision to kill Flight Simulator difficult to swallow. It's particularly hard to swallow when you consider that ACES was a known product with a target audience in Microsoft's home turf of the PC market and that Microsoft has committed itself to spending even more money on new products in a market where the company is weak: ads-based search and services on the net.
According to our ACES contact: "I personally thought with everything that was planned FS11 [Flight Simulator] would have been the biggest improvements and changes Flight Sim [ulator] has every seen."
The problem seems to be Microsoft lost patience with the old and cut budget accordingly. With Flight Simulator 11 one and a half years off: "We weren't going to be bringing new money in right away, even though it was pretty much going to be a guaranteed success," the ACES source told us.
The cut, though, has created a vacuum around Flight Simulator and ESP, into which rivals could now be sucked. All it needs is for partners to re-tool away from Windows and the PC.
Already, there exist cross-platform alternatives to the PC- and Windows-only Flight Simulator, with X Plane for PC, Mac, and Linux and the open-source, multi-platform FlightGear.org. Given the inroads Linux has made in government, it wouldn't take much for companies serving sectors such as aerospace and defense like Lockheed to move over to Linux and open source in the absence of Microsoft - if they haven't done so already. The only thing lacking so far are the add-ins.
Asked by The Register simply whether work on ESP is continuing, a Microsoft spokesman said: "We are currently exploring options for the future of ESP and will announce details at the appropriate time."
If Microsoft doesn't promptly break through this fog and provide more commitment, then it risks seeing partners slowly drift away and the closing of a successful niche. ®