Original URL: http://www.theregister.co.uk/2009/02/02/review_phone_lg_prada_ii/
LG Prada II fashionista phone
Something more practical this season
Posted in Personal Tech, 2nd February 2009 09:02 GMT
Review Times have certainly changed since Prada's first touchscreen phone strutted into UK stores back in early 2007, bringing minimalist chic touch control to the fashion conscious, cash-splashing phone buyer months ahead of the iPhone's arrival.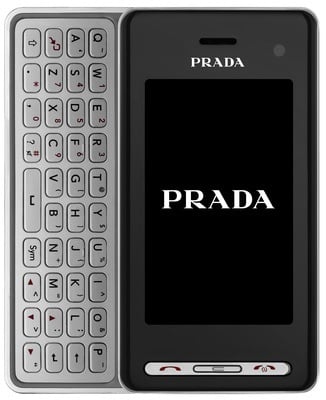 LG's Prada II:
It's taken a while for Prada II to land, but LG's second venture with the high-end fashion house has now arrived as the re-modelled and upgraded LG KF900.
Presumably, Prada thinks LG got it right first time with the stylishly minimalist design, as this model is almost identical to the original. What is strikingly different though is a slide-out full Qwerty keyboard that slips into play from the side of the phone, adding bulk to the bodywork: it's now 16.8mm thick to the original's svelte 12mm.
Two years is a long time in mobile technology, so the phone's features have been overhauled to keep it up to speed. The Prada II supports Wi-Fi and 7.2Mb/s HSDPA 3G, and packs a 5Mp camera.
Centrestage is the phone's 3in, 400 x 240 pixels, 262,000-colour display, which gives ample room for tapping and swiping plus a decent amount of viewing space for browsing. The only front panel keys are call, end and clear buttons on a sliver of chrome panelling beneath the display. A secondary, low res camera takes care of any video calling requirements you might have.
Alongside the volume, screen lock and camera keys on the side, is a button that pops up a list of open apps you can switch between and a list of favourite functions.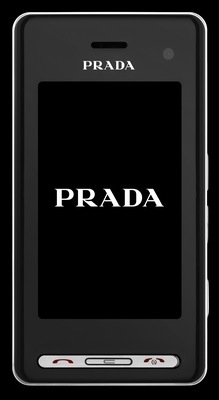 Time for the new black?
The body has a solid, well-made feel, and the metallic slide out keyboard feels suitably robust. There is a motion sensor built into the phone - of course - which automatically switches between portrait and landscape in certain apps, depending on how the phone's being held. Sliding out the keyboard also rotates the screen and presents a carousel of features, such as new emails, messages or memos, on screen. The flat, rectangular keys are large enough and sufficiently well spaced to allow reasonably quick, error-free typing with thumbs.
Most of the Prada II's play is inevitably touchscreen based. While the monochrome themes you can use on this phone – black on white or white on black – give the display a somewhat austere feel, the operating set-up is based on the system used for recent LG touchscreen phones such as the Renoir and Cookie.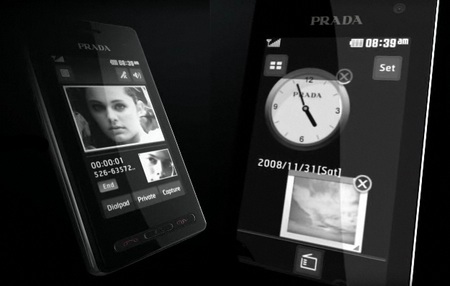 Widgets abound...
The early review sample we handled was reasonably responsive without being as slick or smooth as Apple's efforts. Haptic feedback, which can be adjusted for sensitivity, provides confirmation when a button's been pressed or the screen swiped.
The basic standby screen has a four buttons in a row at the bottom of the display. These give one-press access to the dialling pad, contacts list, messaging and the main menu. At the top of the screen, a press on the status bar pulls up a handy set of information on memory usage and battery life, plus buttons for Wi-Fi, Bluetooth, ringtone profiles and the phone's music player.
All these buttons remain as you swipe a finger across the display to 'turn' to the other two standby screen views. One allows you to populate a grid of shortcuts – you can add or delete entires at will – while the other screen brings up a selection of application widgets. These can be dragged and dropped from a toolbar that pops out at the bottom of the screen. You get a world clock, a calendar, an analogue clock, a memo pad, a music player, a radio and an image gallery, but no online-updated tools, like a weather read-out.
The main menu organises functions and application into four categories, represented by icons on a tabbed sidebar to the right of the screen: Communicate, Entertainment, Utilities and Settings. Tap on these, and the selection of feature icons on the main part of the screen changes according to category. It's a clever set-up, and a clear way to find your way around the options.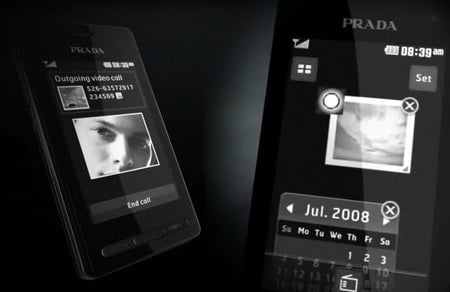 ...though the theme's a mite monochrome
While the touchscreen is generally good, we didn't enjoy texting with the virtual numberpad, something users may do if they don't want to slip out the Qwerty keyboard each time they text. Dialling numbers is no problem, but in text mode, LG squeezes the alphanumeric keys by not using the full width of the screen. Instead, there's a column of control options on the right of the screen, which can be too easily activated accidentally by straying fingers.
One welcome addition is pinch-to-zoom multi-touch control, which can be used when you're swiping through the phone's image gallery or looking at files opened by the Picsel document viewer. But it really makes a difference in the browser. It's so much simpler to work your way around pages and zoom in and out of screens just by using two fingers.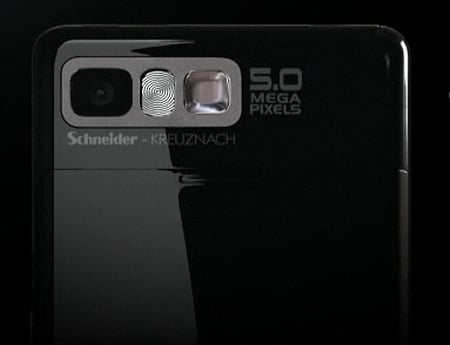 The 5Mp camera's a nice upgrade on the original Prada
The browser provides tabs for flicking between websites, and can auto-rotate to a widescreen view for more screen space. It works well for a mainstream mobile browser, though Flash isn't fully supported, and we occasionally experienced memory issues with some data-heavy sites.
The 5Mp camera puts in a decent enough performance. It may not have all the frills of LG's 8Mp Renoir, but it can take some high-quality snaps in good lighting conditions, the phone handling colour rendition and exposure well. The two-step autofocus locks on to subjects smartly, though you should watch out for a momentary lag if you're just taking a quick one-press snap. Close-up shots were particularly pleasing, with crisp and detailed results. Low light shooting was less satisfactory - the LED flash has limited effect in dark conditions.
The touchscreen controls are easy to operate, with clearly illustrated options appearing when the camera fires up and auto-rotates the screen into landscape mode. All the usual cameraphone picture adjustements - white balance, image stabilisation, effects and so on - are present if you want to override the auto settings. The camera has a lens certified by optics specialist Schneider-Kreuznach, though there's no cover for it and none of the smile and blink detection, and touch-to-focus tricks you get on the Renoir.
The camera puts in a better-than-normal showing for video shooting. It has a slow-motion capture mode, plus smooth regular shooting – it can record at 30f/s in 640 x 480 or 720 x 480 resolution. Footage isn't bad for a mobile phone, provided there's good lighting,and there's a decent set of editing facilities to splice clips with transitions, add a soundtrack and so on.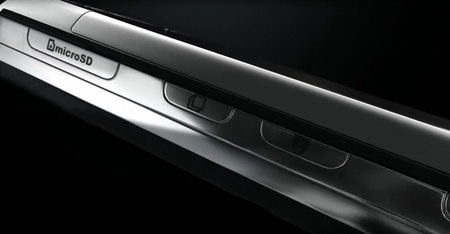 The Micro SD card slot's conveniently placed
The Prada II's screen is good for video playback. The handset supports DivX, with PC DivX conversion software bundled on the same CD as LG's PC Suite syncing software. PC Suite can also be used to transfer music to the phone, or you can drag-and-drop files. Left the bundled USB cable at home? Use Bluetooth 2.1+EDR. All the standard audio and video formats are supported.
LG bundles the phone with a 1GB Micro SD card which adds much-needed storage capacity to the phone's 60MB of on-board 60MB user memory. Cards of up to 8GB can be handled by the phone's side-mounted memory card slot.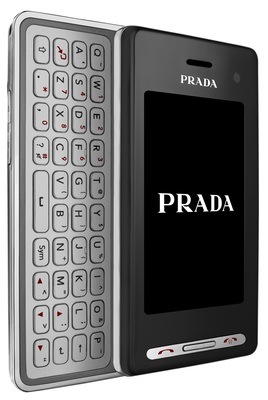 YOUR_CAPTION_HERE
The music player sports a no-frills UI, though its audio performance can be very pleasing. Ditto the FM radio. The player's serviceable without being particularly flashy or innovative. The Prada-branded headset plugs into a regulation LG multi-connector on top of the phone. But it's headset's one of LG's higher-end two-part sets, with a 3.5mm socket on remote control module.
The usual mobile phone organiser and email tools are supplied, along with Picsel for opening Word, Excel, PDF, JPEG and text files. Three motion-controlled or touch-operated games are pre-loaded too, including touch golf.
More usefully, you also get a rather nifty leather case for the handset, and a screen cloth to keep the phone looking suitably smudge-free - all part of the Prada luxury package.
Voice-call quality is excellent, and we found setting up and using Wi-Fi to be trouble free. Battery performance was reasonable too. LG quotes standby figures of up to 400 hours, and talktime of up to three hours in optimum conditions, although how often you hit features such as Wi-Fi and video playback will knock this back. We managed 2-3 days between charges with typical usage.
Verdict
The Prada II maintain all the style of the original but packs in a more refined touchscreen user interface, a very usable slide-out keyboard, Wi-Fi and HSDPA connectivity, and a 5Mp camera. It certainly has plenty of fashionista appeal, even if that black minimalist look doesn't have quite the head-turning impact it once did. For the price, we'd have liked to have seen GPS included too, but then how hard is it to get lost on a catwalk? Yes, it's a nice phone, but behind the premium brand, it's an off-the-peg handset. ®
More Touchscreen Phone Reviews...
| | | | |
| --- | --- | --- | --- |
| Nokia 5800 | LG Cookie | BlackBerry Storm | HTC Touch HD |