Original URL: https://www.theregister.co.uk/2009/02/02/review_cpu_amd_phenom_ii/
AMD Phenom II Socket AM2+ CPU
Core i7 killer?
Posted in Personal Tech, 2nd February 2009 13:02 GMT
Review AMD has updated its quad-core Phenom processor with a die-shrink from 65nm to 45nm. The first fruits of this labour are the 3.0GHz Phenom II X4 940 and the 2.8GHz Phenom II X4 920, which are both clocked higher than the 2.6GHz Phenom X4 950 so the die shrink has an immediate benefit in terms of raw clock speed.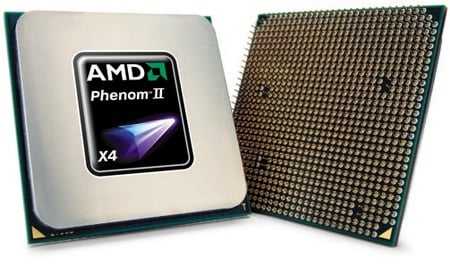 AMD's Phenom II: clock-speed boost...
Despite the process shrink, the die area of Phenom II has barely decreased in size from 285mm² to 258mm&sup2, thanks to a hefty increase in the amount of L3 cache. Phenom X4 has 2MB of L3 cache, but Phenom IIs have either 4MB or 6MB, depending on the model. Both the X4 920 and 940 have 6MB of L3.
One of the more significant changes has been made to the memory controller. AMD has added support for 1333MHz DDR 3 in addition to the support for 1066MHz DDR 2 (PC2-8500) memory that has been carried over from the old Phenom.
This change has the potential to cause problems as the memory controller in the processor has to be matched to the memory slots on the motherboard. AMD has adopted a new 938-pin processor socket called AM3 which is the same as AM2+ but with two pins removed. This means that an AM3 CPU will fit onto a 940-pin AM2+ motherboard with DDR 2 memory to give existing AMD customers an upgrade path, but you can't insert an AM2+ processor in an AM3 motherboard.
If the processor fits in the socket then it ought to work just fine, always provided the Bios recognises the CPU.
When AMD launched Phenom it positioned the quad-core processor as part of the Spider platform, along with a 7-series chipset and ATI Radeon HD 3800 graphics. Phenom II also gets a beastly reference: it's called Dragon when it is used in conjunction with an AMD 790GX chipset and Radeon HD 4000 graphics.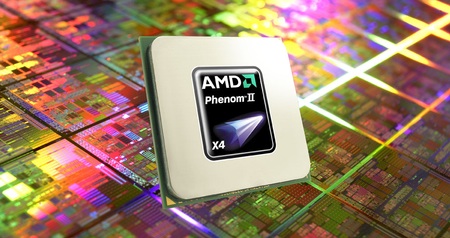 ...thanks to the die shrink
Another benefit of the new fabrication process is that the thermal envelope has been reduced from the 140W we saw with high-end Phenom X3s and X4s to a rating of 125W for Phenom II. TDP isn't exactly the same thing as power consumption, and we found in our testing that Phenom II X4 940 consumes 20-30W less than the Phenom X4 9950 at idle and a whopping 45-50W less when the CPU was fully loaded.
This is significant because Phenom has a horrendous reputation for sucking too much power, producing too much heat and delivering inadequate performance. The Phenom X4 9950 has power requirements that are very similar to Intel's Core i7 920, but Phenom II is a different proposition, and this brings us to the question of a suitable comparison for the new processor.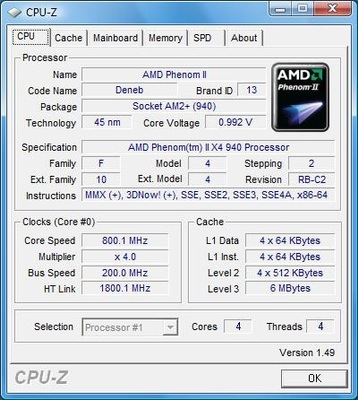 AMD states: "We are not focusing on Core i7 as our current competitive target. We feel that this is currently a niche product, likely selling in small volumes in the immediate future. We're targeting the Core 2 Quad products and going for a price/performance comparison whilst highlighting our much better power consumption (idle) and thermal characteristics of the Dragon platform. Also, we have some great overclocking headroom with our Phenom II CPU using our new 45nm process."
The problem is that the official pricing per 1000 units at launch was $275 for the Phenom II X4 940 and $235 for the 920. This worked out at £245 and £210, respectively, with Phenom X4 9950 2.6GHz at £155, which made the Phenom II X4 940 £10 more expensive than Intel's Core i7 920.
After a flurry of price reductions, the X4 940 is on sale at £195, the X4 920 at £170 and the Phenom X4 9950 at £115, which makes it valid to compare Phenom II with a £170 2.5GHz Core 2 Quad 9300.
We ran tests on three platforms, with Core i7 on an Asus P6T Deluxe motherboard, Phenom and Phenom II on an MSI DKA790GX Platinum, and Core 2 on an Intel DX38BT. Common components were a Radeon HD 4870 X2 graphics card, a 1TB WD Caviar Black hard drive and Windows Vista Ultimate Edition.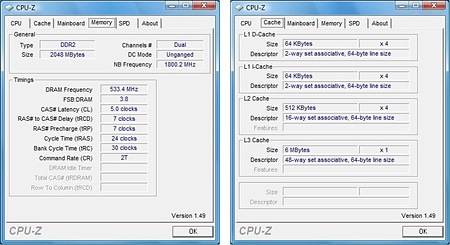 Click for full-size image
Working with Phenom II is a very similar experience to the 65nm Phenom, except that the clock speeds are a little higher, the power draw is a little lower, the heat output is significantly lower and the gentle rush of the cooling fan is quite tolerable.
PCMark05 Results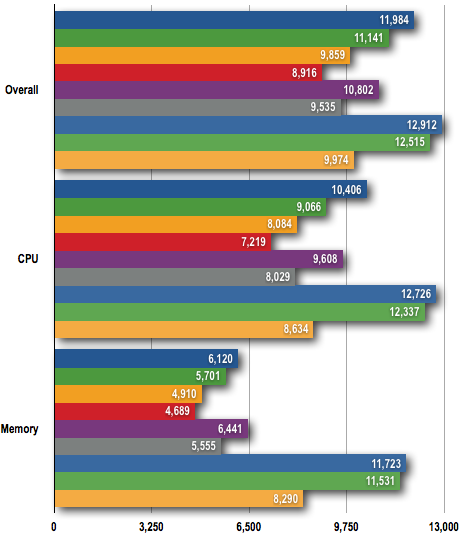 Longer bars are better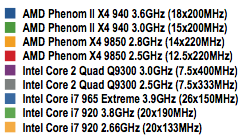 SiSoft Sandra 2009 SP2 v15.72 Results
Cache Bandwidth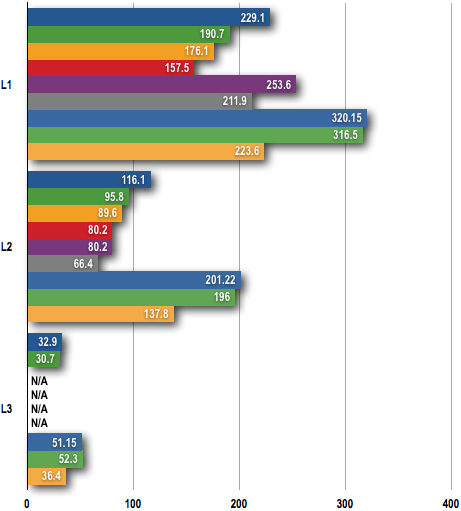 Cache bandwidth in gigabytes per second (GB/s)
Longer bars are better
SiSoft Sandra 2009 SP2 v15.72 Results
Memory Bandwidth and Latency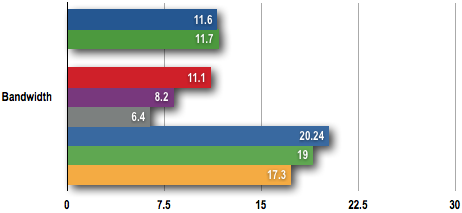 Main memory bandwidth in gigabytes per second (GB/s)
Longer bars are better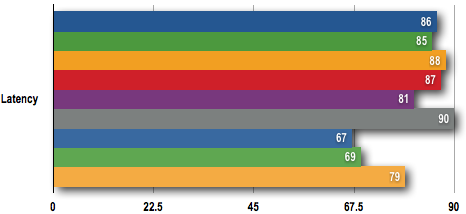 Main memory latency in nanoseconds (ns)
Shorter bars are better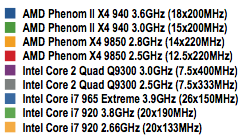 POV-Ray 3.7 Beta 30 Results
3D Image Rendering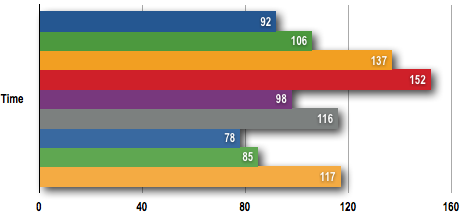 Time in seconds (s)
Shorter bars are better
3DMark Vantage Results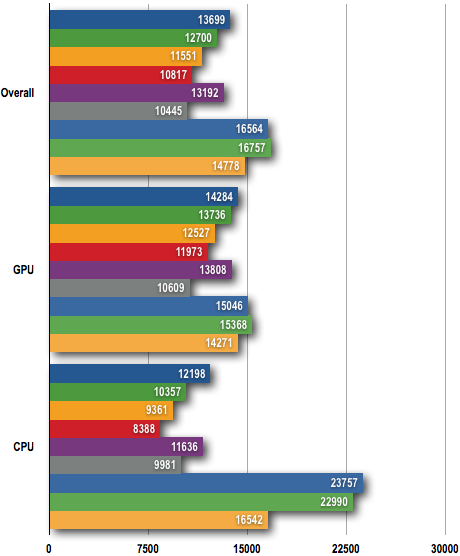 Longer bars are better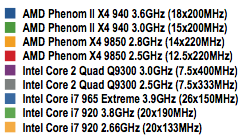 Far Cry 2 Results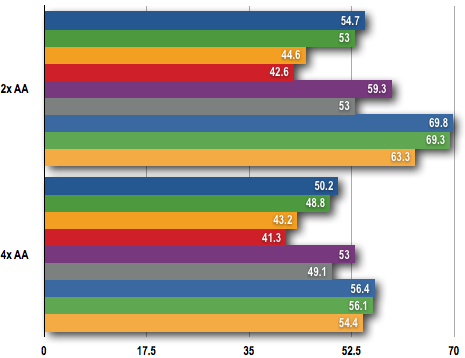 Average framerate in frames per second (f/s)
Longer bars are better
We overclocked Phenom using AMD's OverDrive utility as it's slightly easier than monkeying around in the Bios. Overclocking a Phenom used to be a painful experience as you have to use a certain amount of trial and error with the voltage settings and all the while you require a rorty cooler pounding away at full chat. Overclocking Phenom II takes a similar amount of work but you can carry over any settings that work with Phenom so the process is quicker and the noise level is significantly lower.
The results of overclocking Phenom II are impressive and we managed to hit a stable speed of 3.6GHz - an increase of 600MHz. With a 65nm Phenom, you'd be lucky to overclock by 400MHz.
Power Draw Results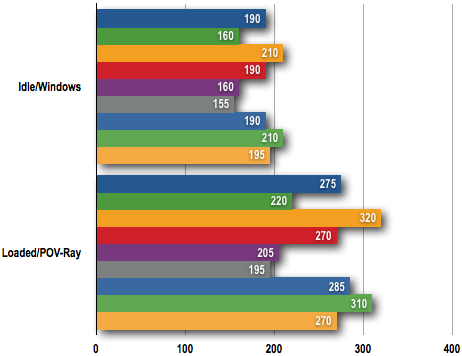 Power draw in Watts (W)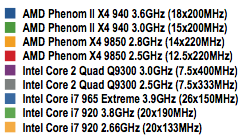 The bad news is that Phenom II needs all the clock speed it can get as our 3GHz Phenom II had very similar performance to a 2.5GHz Core 2 Quad Q9300 at stock speeds. When we overclocked the Phenom II to 3.6GHz and the Q9300 to 3.0GHz, the Intel processor overtook the AMD in Far Cry 2, which suggests that clock-for-clock Intel has the edge. Part of the answer may lie in the use of DDR 2 memory rather than DDR 3, and you can be sure we 'll investigate this further when we look at the AM3 version of Phenom II.
Further up the performance scale, Phenom II X4 940 compares well with Core i7 920 at stock speeds. However, the 920 can overclock to 3.8GHz which lifts it far beyond the reach of Phenom II.
That positions Phenom II squarely in the mid-range and it gives AMD something of a problem. Phenom II offers an expensive upgrade path for existing AMD desktop customers that pushes the limits of value for money. But anyone building a new performance PC should have Core i7 on their shopping list.
Phenom II has made useful advances over Phenom, and we have to hope for AMD's sake that DDR 3 memory gives a further boost to performance.
Verdict
AMD's Phenom II is better than Intel's Core 2 Quad Q9300 but not a patch on Core i7 and that's a problem. AMD is playing catch-up with a die-shrink and a move to DDR 3 while Intel is busy changing the world. ®
More CPU Reviews...

Intel Core i7

VIA Nano
Preview

Atom 230

AMD Phenom X3 and X4