Original URL: https://www.theregister.co.uk/2009/01/29/review_graphics_nvidia_geforce_gtx_285/
Asus ENGTX285 TOP overclocked graphics card
Nvidia's new GeForce GTX 285 makes its debut
Posted in Personal Tech, 29th January 2009 09:02 GMT
Review Asus' ENGTX285 TOP graphics card is based around Nvidia's latest graphics chip, the GeForce GTX 285. This is the GT200b core, which is a die-shrink from 65nm to 55nm of the GT200 that was the basis for last summer's big Nvidia release, the GeForce GTX 280.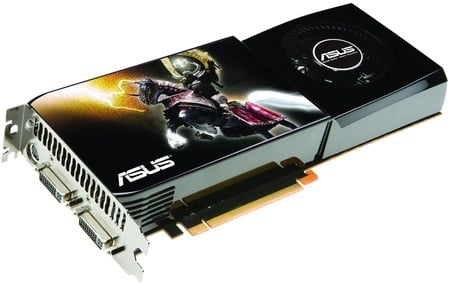 Asus' ENGTX285 TOP: factory overclocked GTX 285
All of the features in the older chip have been carried over to the new one, so the GTX 285 still supports DirectX 10.0 and OpenGL 2.1, has 240 unified shaders, and memory support runs to GDDR 3 rather than the spiffy GDDR 5 that AMD uses in the Radeon HD 4870. Display processing is still managed by an NVIO2 core with support for twin DVI ports and HDMI. DisplayPort still isn't included.
The smaller fabrication process has reduced the size of the GPU, bringing down the production cost and the power consumption. This has given Nvidia some leeway with the GTX 285's power envelope, and it has to chosen to increase the clock speeds while maintaining the same cooling parameters as the GTX 280. Lay a GTX 280 next to a GTX 285 and you won't be able to tell the two cards apart as the hefty cooling packages look identical.
Surprisingly, Nvidia has been able to reduce the maximum power rating of the GTX 285 to such an extent that it has two six-pin PCI Express power connectors instead of the six-pin and eight-pin connector combo that we've seen in the past. This is a relatively minor change if you only plan on running a single graphics card, but anyone considering GTX 285 in SLI mode should be ecstatic as power supplies with four six-pin connectors are relatively commonplace.
A reference GTX 280 has feeds and speeds for the core, memory and shaders of, respectively, 600MHz, 2200MHz and 1300MHz. These step up to 648MHz, 2484MHz and 1476MHz with the GTX 285 which suggests a ten per cent increase in performance.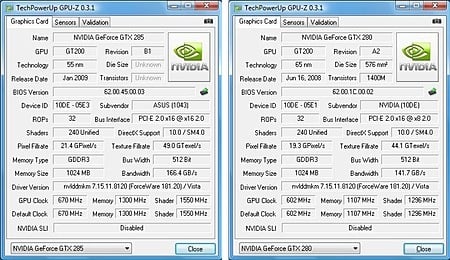 Click for full-size image
The Asus TOP is overclocked at the factory and runs core, memory and shaders at 670MHz, 2600MHz and 1550MHz. That, in turn, suggests that it should be four or five per cent faster than a stock GTX 285 and 15 per cent faster than a reference GTX 280. That is indeed what our test results show, but let's not get ahead of ourselves.
We tested the graphics cards on the same Asus P6T Deluxe motherboard that we previewed last October. The Bios has gone through a number of revisions from version 0604 at the time of the preview to the current version, 1102,and we were able to overclock our Intel Core i7 965 Extreme to 3.9GHz rather than the 3.72GHz we achieved last year. We used 3GB of DDR 3 memory running at 926MHz along with a WD Caviar Black 1TB hard drive and 32-bit Windows Vista Ultimate Edition.
We got the ball rolling with a Radeon HD 4870 X2 which has recently had a price cut to £370, making for a straight comparison with the GTX 285. The HD 4870 X2 performed admirably and beat an overclocked GTX 280 in every benchmark and was level-pegging with a single Asus GTX 285.
3DMark Vantage Results
1280 x 1024, no AA, no AF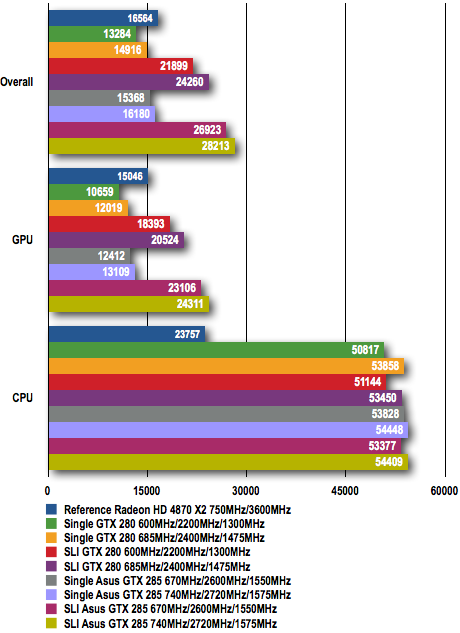 Longer bars are better
In Far Cry 2, we observed a quirk in behaviour with the HD 4870 X2. We used an ultra-high resolution of 2048 x 1536 to push the graphics cards to their limits and when we stepped up the performance quality settings and increased anti-aliasing from 2x to 4x, we naturally saw a drop in frame rate. With all of the different Nvidia set-ups, the drop was a consistent ten per cent but with the HD 4870 X2 it was 20 per cent.
The power draw for the HD 4870 X2 system under load was 360W which sounds rather high but falls between squarely between a single Asus GTX 285 and a pair of the Asus cards in SLI. That isn't too surprising as the HD 4870 X2 carries two graphics chips. We didn't overclock the HD 4870 X2 as our experience is that the reference card has very little scope for extra speed, as we saw when we reviewed the Sapphire Atomic.
3DMark Vantage Results
1920 x 1200, 4x AA, 16x AF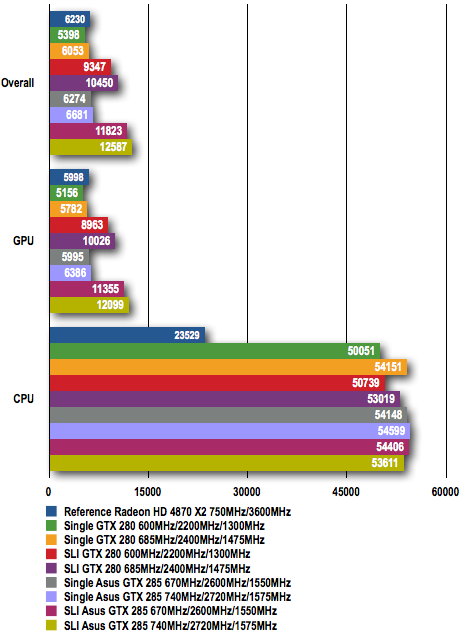 Longer bars are better
Switching to a single GeForce GTX 280 delivered 3DMark Vantage figures that were very similar to the Radeon HD 4870 X2, and that was especially true when we installed Nvidia nTune to overclock the GTX 280. We raised the core, memory and shader speeds from 600MHz, 2200MHz/1300MHz to 685MHz, 2400MHz and 1475MHz which added more than ten per cent to the benchmark results but this bears some inspection.
The latest GeForce drivers move the PhysX workload from the CPU to the GPU, which doubles the score in the CPU element of 3DMark Vantage. This clearly has an effect on the overall result so it is best to focus on the figures for GPU Performance rather than the Overall score. You can see this most clearly in the Far Cry 2 results where the GTX 280 has a frame rate that is some 20-25f/s slower than the HD 4870 X2.
We saw something odd when we measured the power draw of the overclocked Nvidia cards as the power required to display the Windows desktop decreased significantly. The figure under load increased, just as we expected, so we're confident that our testing equipment is working correctly.
Far Cry 2 Results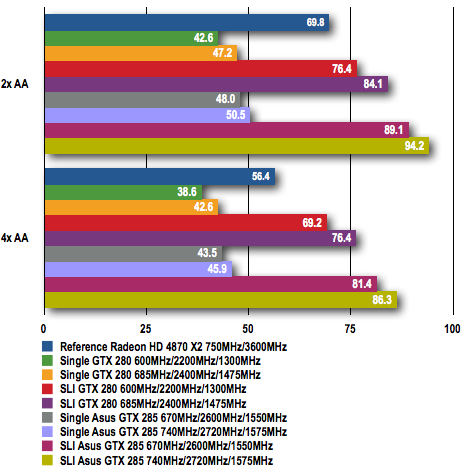 Average frame rate at 2048 x 1536, Ultra-high Quality
Longer bars are better
We saw this effect both with nTune and the Asus Smart Doctor utility, and feel that the likeliest explanation is that overclocking helps the graphics cards to settle down into the low-power state when the workload diminishes. Whatever the explanation may be, this is a strange phenomenon to observe.
Adding a second GTX 280 in SLI made the performance jump by 80 per cent which is impressively efficient and it raised the power draw to 500W under load.
Power Draw Results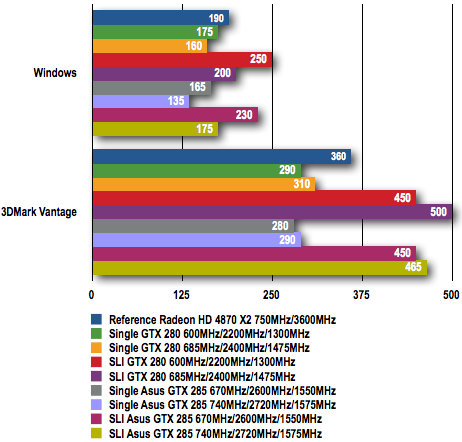 Power draw in Watts (W)
Bangs Per Buck Results
3DMark Vantage

3DMark Vantage Points per Pound
Longer bars are better
Switching to a single Asus GTX 285 TOP raised performance by some 13-16 per cent in our benchmarks over a single GTX 280 at standard speeds. Overclocking the GTX 285 delivered mixed result as we were unable to increase the shader speed by a useful amount. The gap between the Asus TOP GTX 285 and the GTX 280 closed to 7-9 per cent which is worth having but translates to a mere 3f/s in Far Cry 2 on extreme settings.
The power draw of GTX 285 was slightly lower than GTX 280, to the tune of 20W per card. Running a pair of GTX 285 cards in SLI gave us 85 per cent higher performance than a single Asus TOP, and we saw frame rates in Far Cry 2 that would make a grown man weep with pleasure. The differential over GTX 280 SLI increased to a full 10f/s.
Bangs Per Buck Results
Far Cry 2

Far Cry 2 average frame rate per Pound
Longer bars are better
The problem, of course, is the price. GeForce GTX 280 launched at £330 for a regular card or £370 for an overclocked job. Prices have dropped to £250-290 as retailers clear their shelves for the new GTX 285, which comes in at the same range of £330-370. That puts the Asus TOP at the, ahem, top end of the scale.
Verdict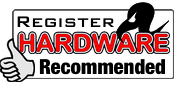 The 55nm die-shrink used in Nvidia's GTX 285 delivers a useful boost in performance, but the accompanying production-cost reduction doesn't seem to have ended up in our pockets. That takes some of the shine off the GTX 285, but there is no denying that it's a truly impressive performer. ®
More Graphics Reviews...

Desktop IGP Shoot-out

Sapphire HD4870 X2 Atomic

Radeon HD 4000 series
Group Test

Sapphire Radeon HD 4850 X2