Original URL: https://www.theregister.co.uk/2009/01/28/review_universal_remote_logitech_harmony_1100/
Logitech Harmony 1100 universal remote control
One to rule them all?
Posted in Personal Tech, 28th January 2009 09:02 GMT
Review The latest in Logitech's line of universal remotes is essentially a revamp of a product the company introduced more than two years ago. The 1100 is all about refining the old Harmony 1000 for the design demands of 2009's consumer rather than 2006's.
First impressions are good. This time round the brushed metal upper surface has been tinted black and together with the soft-touch back gives the 1100 an attractive appearance as well as a comfortable feel in the hand.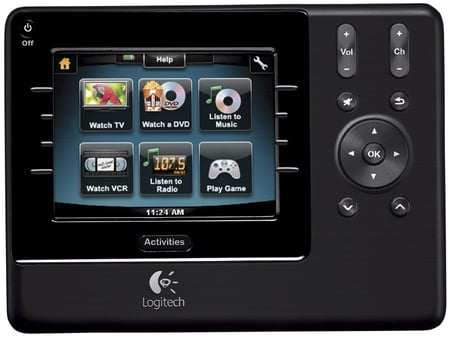 Logitech's Harmony 1100: just like the 1000, only black
What separates the 1100 from Logitech's other Harmony remotes is its big, 3.5in, 320 x 240 touchscreen, which presents a simple menu of activities, such as 'Watch TV', 'Play Game' and 'Listen to Music'. Tap one and provided the unit's been set up, it'll tell all the right bits of equipment to come out of standby and get ready to play.
Like the 1000, the 1100 also has a five-way navpad, along with up and down keys for channel and volume. We can't help think it a shame that Logitech didn't provide all these through the touchscreen UI this time round.
The 1100 comes with a USB-connected cradle that both charges up its built-in battery but also lets it talk to Logitech's set-up software. An initial charge of five hours is necessary to get the unit up and running. Once you have power, it's time to configure the controller with all of your kit.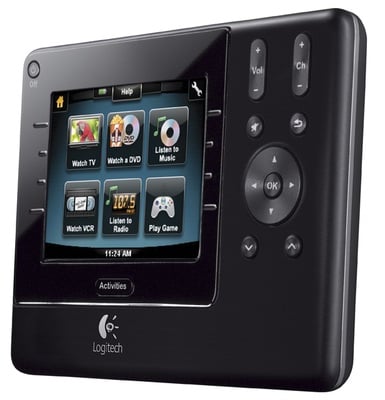 Comfortable in the hand
You do need to get the make and model number of every unit in your stack, which means crawling around on the floor and realising that you really must dust more often.
That done, you can load up the supplied CD into your PC or Mac and follow the step-by-step guide that walks you through adding your equipment to the 1100. Logitech reckons it should take around half an hour to get everything sorted, and we'd say this is about right, although obviously the more stuff you have, the longer it takes.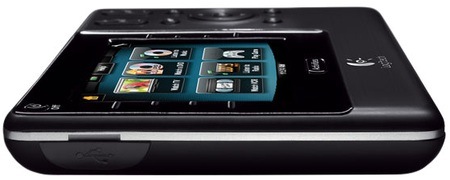 USB connection
Like the 1000 before it, the 1100 can cope with as many as 15 devices. Logitech has a database containing a staggering 225,000 products from 5000 brands - the world's largest, it boasts - so most of your kit should be covered, allowing each item's control codes to be transferred to the remote. However, if you have something either very old, very new or just plain weird, you can teach the 1100 to control the device using the original remote, and there's a tutorial in the CD which takes you through the process.
The flaw with the set-up routine is that, as with all Logitech Harmony remotes, you need to set up an account to do this. Forcing you to register before you can use the product you just spent £349 on seems a bit much to us. Usefully, though, you can create more than one profile, allowing the same unit to be used in different locations or by different users.
Logitech's list of kit doesn't just extend to home entertainment equipment, you can also use it to control lighting and heating systems, a whole range of home appliances, and even your own computer. The home automation side of things only works if you have a suitable system in place already to which the 1100 can send control signals in place of an existing remote.
Incidentally, Logitech also offers an £80 radio-frequency unit that can pick up RF signals sent by the 1100 - as the 1000 could before it - and feed the commands to a rack of kit stored out of sight and beyond the 1100's main infra-red transmitter.

Slimline
We set the unit up to control a Thomson Sky+ box, a Samsung 40in LCD TV, a Bose 3-2-1 GS home cinema system and a curve ball in the form of a Brennan JB7 music server. We found loading the products in and getting them configured very straightforward with an easy-to-follow menu system and well thought out Q and A-based troubleshooting and configuration guides.
The first times you launch an activity like 'Watch a DVD', the 1100 checks that everything is working fine by asking the user if the desired sequence was achieved. If not, it takes the user through a series of Q&As and troubleshooting suggestions to get things moving.
The touchscreen and physical buttons well and proved to be a good way to navigate most of our kits' menus. When not in use, the unit powers down very quickly - you can adjust this if you want - and also comes to life the second you pick it up. The touchscreen responds quickly and positively, and the unit overall scores well in terms of response time, easily keeping pace with something like a Sky remote.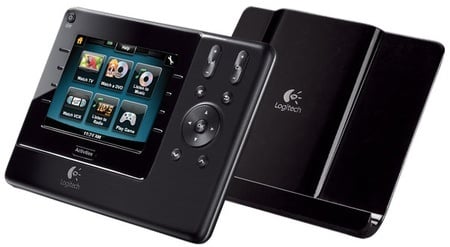 Docking cradle included
The 1100's display is surprisingly open to customisation. You can load your own menu background image, and it's also possible to change the wording of the main activities to your choice: transform 'Watch a DVD' to 'Action!', for instance. You can also replace text-based commands with a list of icons, or mix icons and words. It's also possible to load up icons for your favorite TV channels - but not for items in the main activities menu.
Speaking of which, you can add activities of your own devising, like powering up the TV and swiching straight through to a particular TV channel, or to open the DVD tray when choosing to 'Watch a DVD' rather than play whatever disc happens to be in there.
If you want to be really clever, you can even adjust the length of time a particular command is transmitted. So, if the volume-up command from the remote ups the volume too much with each press, you can make the increase smaller.
The design does mean the 1100 generally requires you use two hands to operate it, but the extra screen size that the design delivers makes it worth this slight inconvenience. A small gripe is that the unit could sit a little more firmly in its cradle, its pretty easy to brush passed it an knock it off, so a little thought is needed when finding a home for the base station.
Verdict
All good stuff, but is it really worth the best part of £350? There's no doubt the 1100 does what it promises to do and does it well - especially the ease with which it can be set up. Logitech's control code database is commendably comprehensive. But that's true of the company's other universal remotes, such as the 525, which will only set you back £50. The difference is down to the big touchscreen, which, while nice to use, doesn't really add a great deal to the user experience. ®