Original URL: https://www.theregister.co.uk/2009/01/27/review_internal_hard_drive_wd_caviar_green_2tb/
Western Digital Caviar Green 2TB hard drive
Very, very quiet - and very, very capacious
Posted in The Channel, 27th January 2009 13:16 GMT
Review Western Digital will break new ground later this month when its 2TB Caviar Green WD20EADS hard drive goes on sale. Seagate packed 1.5TB into its Barracuda 7200.11 drive by using four platters and eight heads, but WD has gone a step better and squeezed 33 per cent more storage capacity into the same space.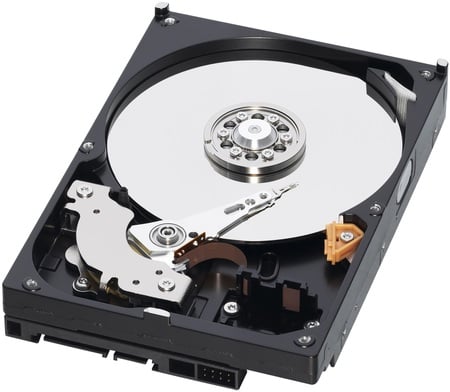 WD's Caviar Green 2TB: capacious, most capacious
This marks the 2TB - 1.81TB once formatted - Caviar Green as the first drive to pack 500GB of raw storage capacity on each platter. It's worth making it clear that this is a single internal SATA hard drive so there's no jiggery-pokery involved, like packing a pair of RAIDed drives together.
The WD20EADS is a one of WD's GreenPower-branded units, complete with IntelliPower motor control which means that some drives in the product range may have a rotational speed of 5400pm while others may operate at up to 7200rpm. In the case of the 2TB Caviar Green, the notional speed is 5400rpm which results in a latency of 5.5ms rather than the 4.2ms you typically see on a 7200rpm drive.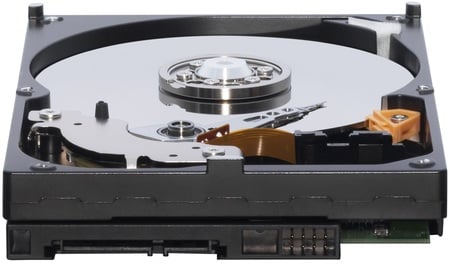 Variable spin speed
This certainly pays off in terms of the sound and vibration levels. The Green has a reasonable idle noise level of 25dBA that only steps up to 29dBA under load. Those noise ratings fall between a typical 7200rpm drive and a really quiet 5400rpm unit, which is a testament to WD as packing four platters into a drive is a sure-fire way to raise noise levels.
WD has also included its "StableTrac" feature, which secures the motor shaft at both ends to reduce vibration and "stabilise platters for accurate tracking during read and write operations".
This is the sort of thing that we'd expect to see on a high-speed 10,000rpm VelociRaptor and it comes as a real surprise in a 5400rpm drive. However, it seems to deliver the desired result.
As you'd expect, WD has done its best to reduce the impact of the low spin speed, so the interface is 3Gb/s SATA and there's a whopping 32MB of cache.
The 2TB Caviar Green's price isn't yet certain but it seems to be settling around the £205 mark, which compares reasonably well with the £91 1TB Green or the £131 1.5TB Barracuda 7200.11. Our experience with WD Green drives is limited to the WD1000FYPS RE2-GP that featured in our four 1TB HDD round-up and which failed to impress us.
By contrast, the 1.5TB Seagate was an absolute gem and we loved it to bits, right up to the point when reports came flooding in that Barracuda 7200.11 drives were dying at an horrendous rate. The 1.5TB model doesn't appear to be affected by the same iffy firmware but there's no denying that high-capacity Seagate drives currently have a question mark hovering over them.
We compared the 2TB Green with a 1TB Caviar Black and also dragged out a few test results for the 1.5TB Barracuda 7200.11, but were unable to run a full comparison as the sample was whisked off by Seagate. We've also included figures for the Intel X25-M solid-state drive, but they're not so much a reference point as an indication of the ultimate performance that can be achieved by a devilishly fast storage device in Windows.
HDTach 3.0.1.0 Results
Random Access

Access time in milliseconds (ms)
Shorter bars are better
Average Read Rate

Data transfer in megabytes per second (MB/s)
Longer bars are better
Average Write Rate

Data transfer in megabytes per second (MB/s)
Longer bars are better
Burst Speed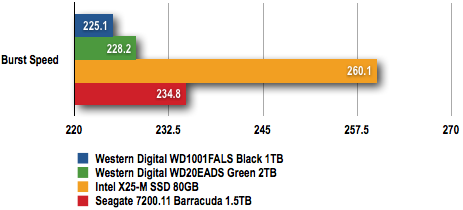 Data transfer in megabytes per second (MB/s)
Longer bars are better
PCMark05 Results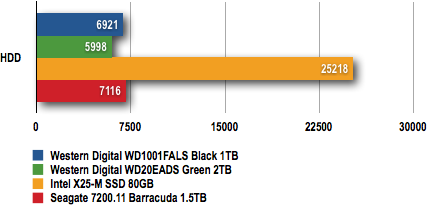 Longer bars are better
File Copy Results
To and From WD 1TB drive

Data transfer time in seconds (s)
Shorter bars are better
To and From Intel X-25M drive

Data transfer time in seconds (s)
Shorter bars are better
To and From WD Caviar Green 2TB drive

Data transfer time in seconds (s)
Shorter bars are better
2GB copy on drive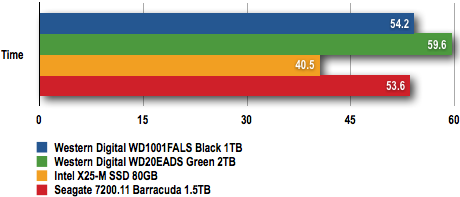 Data transfer time in seconds (s)
Shorter bars are better
The test system consists of an Intel DX38BT motherboard with a Core 2 Q9300 processor, 2GB of Kingston 1333MHz DDR 3 memory, a passively cooled AMD Radeon HD 3450 graphics card and the Intel SSD, so the rig is very quiet indeed. We ran 32-bit Windows Vista Ultimate with HD Tach 3 and the hard drive element of PCMark05, and also timed the transfer of a 2GB folder of files from one drive to another.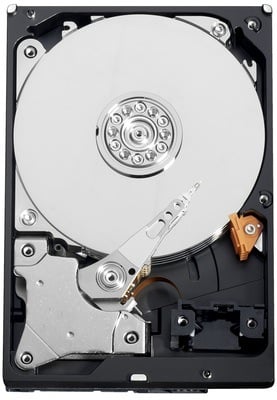 Eco friendly?
The 1TB Black delivers similar performance to the 1.5TB Barracuda 7200.11, although it loses out to the Seagate by a narrow margin all along the way. It would be unfair to call the Caviar Black noisy, but the 33dBA noise rating under load makes it clearly audible and prone to causing vibration inside your PC. By contrast, the 2TB Green is very quiet indeed and is effectively silent.
Our synthetic benchmark tests show that the 2TB Green is marginally slower than the 1TB Black in average read and write tests, but the burst speed and random access times of the Green put it ahead of the Black. Transferring files within the drive took longer with the 2TB Green than it did with either the 1TB Black or 1.5TB Seagate, which is exactly what we'd expect to see considering the Green's slower rotational speed.
The surprise came when we hooked up each drive to the Intel SSD and found that the 2TB Green was marginally faster than the 1TB Black. WD claims that its IntelliSeek technology "calculates optimum seek speeds to lower power consumption, noise and vibration", and this may well be evidence of the technology in action. Alternatively, it could simply be the result of the increased areal density that delivers 500GB per platter.
All we know is that we can hardly wait for a 2TB Caviar Black with 7200rpm spindle speed.
Verdict
WD's new 2TB Caviar Green is surprisingly fast yet it's also very quiet. Besides, what self-respecting power PC owner doesn't want a 2TB drive? ®
More Storage Reviews...

Seagate 1.5TB Barracuda

WD VelociRaptor 300GB

Intel X-25M

1TB HDD
Group Test