Original URL: https://www.theregister.co.uk/2009/01/26/review_mobile_phone_nokia_n79/
Nokia N79 smartphone
Change for change's sake?
Posted in Personal Tech, 26th January 2009 09:02 GMT
Review We reviewed Nokia's N78 back in the summer of 2008 and even in the quick turnover world of mobile phones it almost seems a little too soon to be looking at its successor. But here it is, looking leaner, fitter and offering some significant improvements – it's almost as if Nokia just couldn't wait to get it out there.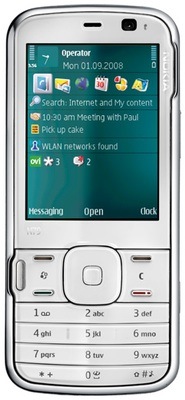 Nokia's N79: the N78, tweaked a bit
To start with the more obvious stuff, it's slightly shorter and lighter than its predecessor at 110 x 49 x 15mm and 97g - as opposed to the N78's 113 x 49 x 15mm and 102g. Estimated battery life is longer too, at 5.5 hours' talk time and 372 hours on standby - 3.2 and 320 hours, respectively, for the N78.
The trade-off is with internal memory. The N79 has 50MB, 20MB less than the N78, but it comes with a 4GB Micro SD card, though it can only handle a maximum of 8GB, which is a pity in these 16GB days. The camera now boasts five million pixels instead of three and there are two LED photo lights instead of one.
Memory aside, the N79 yields no other concessions to its predecessor and it's very well connected, with quad-band GSM, plus HSDPA 3G (3.6Mb/s), Wi-Fi, stereo-capable Bluetooth and A-GPS.
Nokia has chosen this handset to mark a return to the 'alternative covers' concept that was all the rage at the turn of the century – don't change your phone, just change the colour of the case. There are five different rear panels available in classily restrained shades of brown, green, blue, white and red, three of which are included with each phone. They're not just ordinary covers either, but "smart" XpressOn covers – they have a chip in them so that the phone's themes will automatically change to whichever colour cover you use.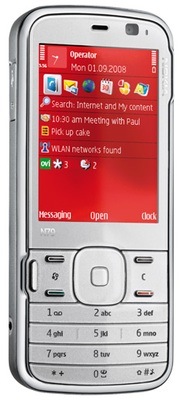 Change the colour of back cover and the screen alters too
The styling element, along with N-Gage games and photo-sharing options, give the impression that the N79 is intended to be the teen of the N series, though the price would seem to count against that. Or are teenagers getting older these days?
There's no change to the screen, but then there wasn't much need. At 2.5in is size 320 x 240 in resolution and 16m in colour-depth it's big enough and clear enough to beat virtually anything in its class. It's a different kettle of pixels from the likes of the iPhone or HTC's widescreen touchscreens of course, but if it's standard handset dimensions you're after, then this is one of the very best. The on-board accelerometer is nice and nippy too, flipping the resolution from portrait to landscape within a second or so, with a nice little animated graphic to boot.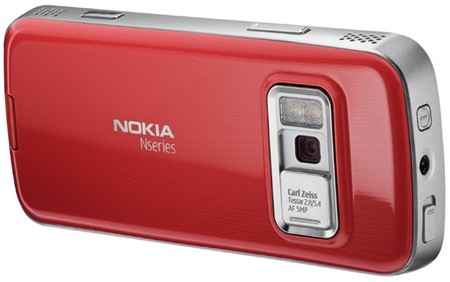 Twin LED flash
Unfortunately, the keypad beneath the screen is a bit of a disappointment, even if it does improve on the N78's tiny set of button. It's a natural temptation with do-it-all smart phones to cram in as much functionality as possible and so it is here. Nokia has shown that it can do this on other handsets, but the N79 has a sleek plastic sheen which doesn't allow for easy distinction of the keys. The bottom three keys are only just about squeezed onto the front of the handset, so pressing them your thumb while balancing the phone in the same hand isn't as easy as it should be and becomes an outright pain when texting.
The large square navpad is also a touch-sensitive wheel, though this element can be disabled if you prefer. It's flanked by sliver-like call start and stop buttons, two soft-menu keys and a dedicated key to enter Nokia's carousel menu, which flips between the most popular features.
Around the sides are the camera shutter button, a volume rocker, stereo speakers, 3.5mm headphone jack, a keypad lock slider and a flap which covers both the USB port and the Micro SD card slot.
Around the back, the Carl Zeiss Tessar lens is hidden behind a sliding cover which also launches the autofocus-equipped camera. It takes about two seconds to kick into life, which is reassuringly quick, and Nokia's impressive range of pre- and post-pic adjustments and options are provided in full. The digital zoom goes up to a ridiculous 20x.
The burst mode will take up to six shots at time and there's a continuous timer that will take a picture at regular intervals for as long as you have memory, from every ten seconds to every half hour. The N series' post-pic editing suite is a powerful tool which includes resizing, cropping, rotating; eliminating red-eye; adjusting contrast, brightness and sharpness; and adding text, clip art, frames and tonal effects.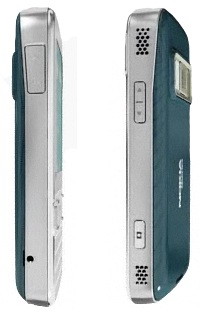 Twin speakers
Pictures are certainly a cut above the usual camerphone fare, easily rivalling some of the 8Mp efforts we've seen recently. Video is captured at 640 x 480 and 30f/s, and is noticeably smooth compared with the majority of video cameras on cameraphones. Once you've taken them, your snaps can easily be uploaded to sharing sites such as Flickr, Friendster, Facebook and Nokia's own Ovi.
Music is well supported and, like the N78, the player includes not only Nokia's impressive FM radio but also an FM transmitter which allows you to play your phone's music through a car radio. The stereo speakers put out a fair sound, and the supplied headphones are pretty well balanced too, if a tad bass-lite. They include a control clip that lets you skip tracks and adjust the volume while keeping your phone in your pocket. The music player supports cover art and podcasts, plus you can use your phone for other stuff while listening to music.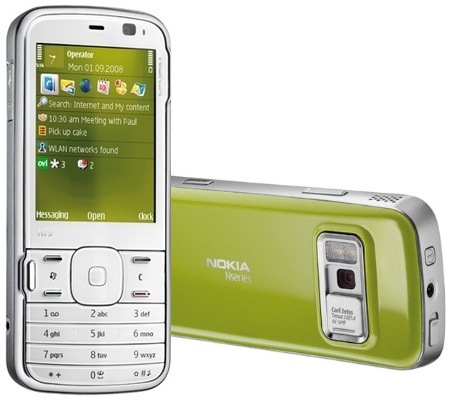 No, we're not sure about the green version, either
The N79's Assisted GPS system is accompanied by Nokia's Maps app and comes with three months' satnav-style voice guidance. Maps now includes satellite views, as per Google Maps, which, this being a Symbian S60 handset, you can also download, along with thousands of other apps.
The browser is nothing special for those of us who've got used to the big touchscreens from Apple and HTC, but quick web access, easy zooming and landscape viewing all add up to make the N79's browsing experience mostly harmless.
Nokia's N-Gage handset may not have caught the public imagination, but the games themselves are generally very good, with rich graphics and features, including multi-person gaming both online or over a Bluetooth link. There are trial versions available for a dozen or so games, though the full versions, at around £8, aren't cheap.
Battery life was very good for a smartphone and we managed a good three days of moderate use. There are energy-saving options available such as switching off Bluetooth and Wi-Fi and reducing the screen brightness, though this is also adjusted automatically according to a reading taken by the phone's ambient light detector.
Verdict
The N79 seems to have followed the N78 with almost indecent haste, which is sure to irritate some, but the advantages are obvious – 5 megapixel camera, increased memory and battery life, plus N-Gage games. It's well worth getting, but if you take the plunge now, keep your fingers crossed that the N80 won't get here too soon. ®
More Nokia Phone Reviews...
| | | | |
| --- | --- | --- | --- |
| N96 | 5800 XpressMusic | 6600 Slide | N82 |