Original URL: http://www.theregister.co.uk/2009/01/26/review_lcd_tv_samsung_le40a786/
Samsung LE40A786 'smart LED' 40in LCD TV
Multiple LEDs make for a plasma-style picture
Posted in Personal Tech, 26th January 2009 13:02 GMT
Review When flatscreen TVs first arrived, they were expensive and had picture quality considerably inferior to traditional CRT screens. But they meant that large screens were a possibility without taking up acres of real estate in the living room. And although picture quality wasn't so good, the TVs looked great with the picture off. Better, often.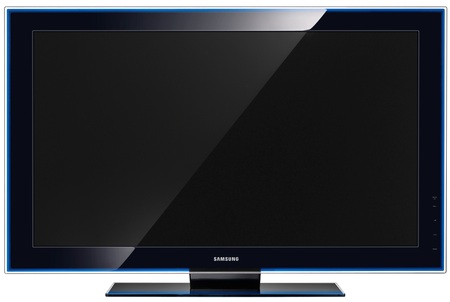 Samsung's LE40A786: clever LED backlight and blue edging
Now that image quality is so much improved, prices have come down and - oh yes - they don't make CRT TVs in any significant numbers any more, flatscreen makers have continued to make sure their tellis look good with no picture showing. So Samsung introduced its popular "Rose Black" styling, with a hint of red glowing through the gloss frame from certain angles and in strong light.
This model, part of Samsung's 7 series of LCDs, goes for a new hue, "Ocean Black", so it's blue that gleams at you. It's subtle but effective, only really leaping out on sunny days and disappearing pleasingly in dimmer rooms. This frame edge is the finishing touch on a stylish TV. The frame isn't as narrow as some of the latest models, but the clear plastic around the Ocean Black sets it off well.
But of course you'll want to switch it on too, and there's a touch-sensitive button on the front of the frame to help you. Touch gently on the frame and the red standby light flicks into a column of blue lights and - just so you don't miss it - a little tune plays. Hmm.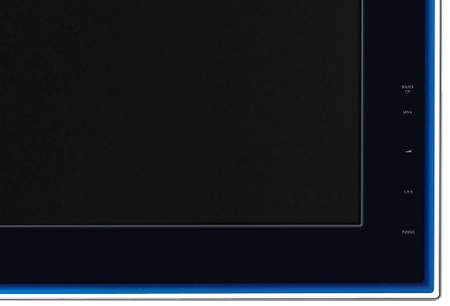 Touch-sensitive controls
Once it's on, Samsung has crammed a lot of technology into this baby, including full 1080p HD, a 100Hz frame refresh rate and LED backlighting. But instead of one blanket covering of light from a strip bulb, this TV uses a number of LED arrays which are individually adjustable. So when there are dark areas on screen, the TV turns off the relevant arrays to deliver deeper blacks and greater contrast levels than is possible with regular LCD.
The difference is striking, and makes you wonder how you could live with it switched off. Our digicam snaps don't really do it justice. Take the opening to the recent movie Sleuth. It opens with black screens lit only by pencil-thin white lettering. In a nearly dark room, where you'd expect to see plenty of backlight spilling through, the black parts of the screen are impressively dark. The white lettering is brilliantly lit, sharp and clear. All very good to see.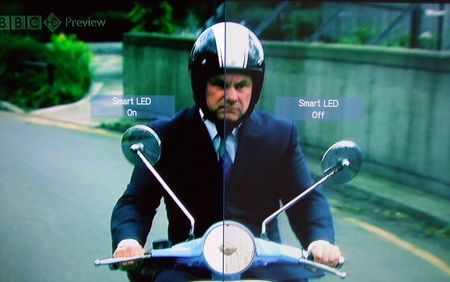 It's true that the area around the lettering has a dark grey glow, as these letters are smaller than the LED arrays. This isn't ideal, but once the credits finish and the movie begins, the deep blacks are strong and effective. At times it's hard to believe you're not watching a plasma.
Michael Caine's dark suit shows gradations from LCD grey through to plasma darkness, the Apple remote in his hand is gleaming white, the light bouncing off his forehead like a soup tureen. Every detail stands out, not only because it's a good HD print, but also because the screen is rich in its delivery of detail and the Smart LED system adds to this.
Or take the BBC HD broadcast of Obama's inauguration. Here, Smart LED delivered sharper, brighter colours, sunnier, bluer skies, more defined outlines and crowds that were picked out in seemingly greater detail. At no point would the picture have been as good with Smart LED turned off.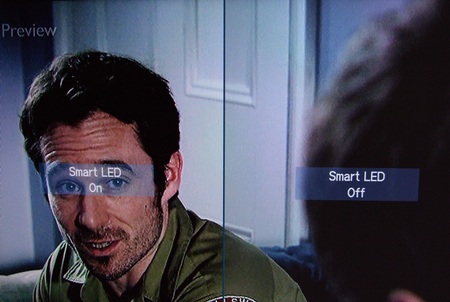 Colours were subtle and convincing, pastels and muted neutral tones rather than the over-bright hues some LCDs, including some earlier Samsung models, have as a default setting, although if you miss it, just turn the picture mode from standard to dynamic, where the colour saturation is considerable.
This is the standout feature, then. It's certainly worth switching this feature on, assuming you can find it. Although you might expect such a big deal to be front and centre, you have to go deep into the picture control menu and through to further picture options to switch it on. There's also a demo setting where the right half of the screen shows you what the picture's like with the system off, while the left half has it on.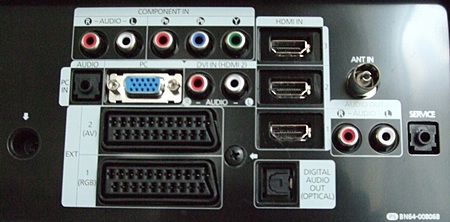 Round the back, it's well connected
Perfect, it isn't - there are black bars at the top and bottom of the screen for this movie, and if the edge of shot is dark then the bars are pitch black. But when there's something bright at the edge, there's a fair degree of light spill. But, let's face it, unless you have a home theatre so dark you need to employ ushers, most of us will use a TV like this in a reasonably well-lit living room. And in such an environment the grey overspill isn't noticeable. What's more, in a brightish room even the best plasma will really struggle.
Beyond Smart LED, there are a couple of other elements to consider. The remote control, though appealing in its gloss black finish, doesn't help when you want to go straight to an HDMI channel. You have to scroll through the AV inputs one after the other. Many TVs display a list of AV inputers at the press of a button, but not this one, sadly. This is the remote's only fault, mind, and it's otherwise good to use.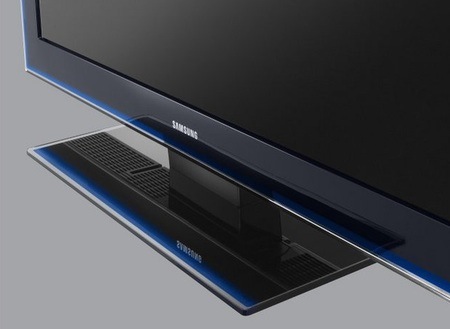 Swish with a capital 'swish'
Connectivity is strong, with four HDMI sockets - three on the back and one easy-access socket for a camcorder, say, on the side - two Scarts and the usual other suspects: component, composite, USB and so on.
Verdict
If we've harped on about the picture quality being good, it's because it is. HD imagery comes over very well thanks to the array of LEDs, and this on its own, without the delights of a palatable screen frame, decent sound and largely accessible buttons, would make the Samsung worthy of your consideration. ®
More HD TV Reviews...
| | | | |
| --- | --- | --- | --- |
| Philips 42PFL9903H | Hitachi UT32MH70 | Philips 42PFL9603D | Pioneer Kuro PDP-LX5090 |