Original URL: http://www.theregister.co.uk/2009/01/23/review_netbook_lg_x110/
LG X110 netbook
Sexiest rebadged MSI Wind yet
Posted in Personal Tech, 23rd January 2009 13:02 GMT
Review The X110 may mark LG's first foray into the netbook market, but it's really an LG-branded version of the well-established MSI Wind, this time with an HSDPA 3G modem added. And it's that add-on that really makes this netbook stand out, since it means you can slip in a SIM card and access the internet from virtually anywhere.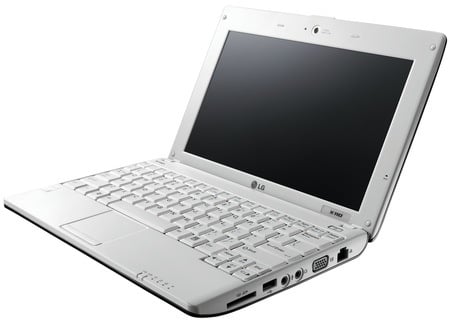 LG's X110: Wind again
Any laptop can do this already of course with the addition of a 3G dongle from any of the networks, plugged untidily into the USB port. But it has to be said there's an aesthetic simplicity to internal option that's very appealing.
Whether or not you feel it's worth paying for is, of course, another matter. The X110 is currently on sale online for a credit-crunchtastic £299 without the 3G option, but if you want that 3G connection you'll need to invest in a 24-month contract through the likes of Phones4U.
If you go for the contract the actual netbook is free, but you'll still be shelling out at least £720 over the cost of two years - a full year longer than the standard warranty - and more if you exceed the download limits of the monthly contracts from Vodafone, Orange, O2 or 3, which range from 3GB to 5GB. These sort of limits should be fine if you're only planning to do a bit of surfing and checking emails, but can soon clock up if you're downloading video or audio.
Vodafone is currently offering the fastest connection – full HSDPA with up to 7.2Mb/s download speed while those from the other networks are offering between 2.8Mb/s and 3.6Mb/s. Real-world speeds are, of course, well below these figures. But don't forget the transfer limits: Vodafone may be faster, but it has a 3GB monthly data cap, while 3 offers up to 5GB, but with only 2.8Mbps – horses for courses.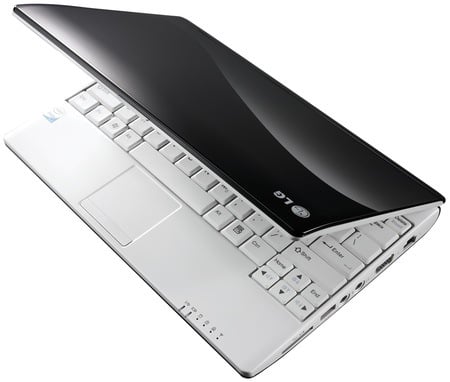 Certainly the cutest Wind yet
With a bit of careful network management, however, risking your 3G download limit shouldn't be necessary. The X110 comes with 802.11b/g Wi-Fi and a 10/100Mb/s Ethernet port so you can leave that 3G connection for emergencies, and do any heavy downloading you might need across a proper broadband connection.
And so to the hardware. The X110 is undeniably cute, in either its pink and white; silver; or black-and-white liveries. The latter's the best one, we'd say. It's almost pocketable at a mere 264 x 177 x 30mm in size and 1.2kg in weight. The front tapers slightly, making it that bit easier to slip into a bag, which is a nice touch.
The X110 comes with Windows XP, but there's no option yet for a Linux version. There's a single gigabyte of memory backing up the 1.6GHz Intel Atom N270 processor, and it runs fast enough so that you don't feel like it's straining so long as you're conscientious about closing down your apps when you finish with them. There's also a 160GB hard drive on board.
PCMark05 Results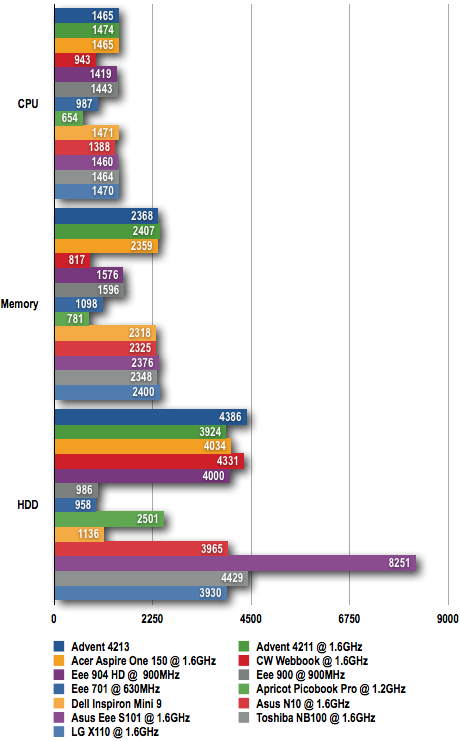 Longer bars are better
Since the LG X110 is a rebadged MSI Wind - as is Advent's 4211 and Medion's Akoya Mini, there's no appreciable difference in its performance.
Around the sides are three USB ports, a large vent for cooling, power and VGA ports, plus Ethernet and 3.5mm jacks for microphone and headphones, and an SD memory card slot, so virtually all the connection options you might conceivably need.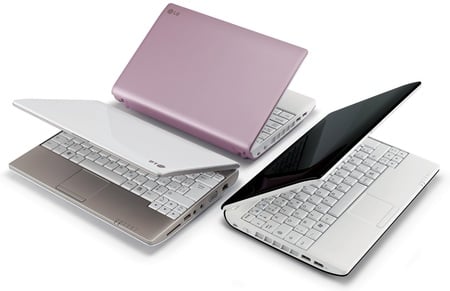 Like the black, not sure about the rest
The speakers are on the bottom and not particularly loud at the best of times. They're likely to be muffled too if you're using the X110 on your lap, so a pair of headphones is advisable if you plan on playing music or movies on the netbook.
There's no clasp on the lid so the machine opens easily and starts fairly quickly – we counted about a minute under Windows XP from a cold start, but if left on standby it can be up and running again in about eight seconds, making it ideal for making quick notes.
Open it up and you're presented with an almost full-size, six-line keyboard with a trackpad. The latter is probably just a mite smaller than it really needs to be, since there's space available between the keyboard and the front of the machine. The keys themselves offer a decent degree of resistance and don't feel unpleasantly cheap or plasticky, though that's undoubtedly what they are - cheap and plastic that is, not unpleasant. You could easily tap away for the duration of the battery without feeling compromised.
The 10in, 1024 x 600 screen works fine for writing and working, but can be a bit frustrating when you're browsing webpages. Even with the screen at its maximum, interpolated 1024 x 768 resolution and text size at its smallest, many web pages appear cramped and cut off in their prime – no one is likely to use this as a replacement for their desktop.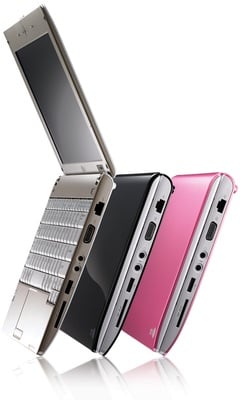 Standard Small, Cheap Computer portage
There's a 1.3Mp camera embedded in the lid which works fine for video conferencing and LG has included Cyberlink Youcam software, which allows you to add frames and animations to your communications as well as offering a direct uplink to YouTube.
Besides Wi-Fi it also has Bluetooth 2.0+EDR on board – useful for transferring data directly from mobile phones. Not unexpectedly for such as small device, there's no optical drive, which is only really a hardship when it comes to installing some programs which are delivered that way, without a download option. Fortunately, netbook-friendly USB optical drives, such as LG's own GP08NU10, are cheap.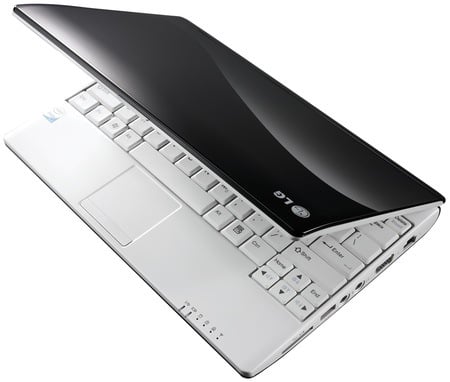 Cheaper alternatives available
It being such a petite device, you wouldn't expect the battery to sustain extended working sessions, and sure enough, we barely go two hours out of it before it packed up suddenly. There are others which will comfortably outstrip this, such as Asus' Eee PC series, which can go comfortably over the three-hour mark.
On its own, you're looking at around £350 for the X110, which is what the same-spec MSI Wind goes for. Of the two, the black-and-white LG is the better looking. Don't care about styling? Then look elsewhere: you can pick up a plain grey Advent 4211c for £274 (it only has a 120GB hard drive and no 3G) or the equally grey Medion Akoya Mini E1210 for £255 (no 3G and an 80GB HDD).
Incidentally, Advent's 4213, which does include a built-in HSDPA modem, only costs £330, but it's currently on sale on PC World's website for £280. Bargain.
Phones4U will sell you a pink - bleugh - X110 for £313.
Verdict
It's a very cute, almost pocketable addition to the netbook genre and while the 3G modem addition could be useful, it also comes at a price. Even without it however, this is still a very attractive netbook for use on the move, preferably with the back-up of a proper desktop at home or at work, though the shortish battery life won't allow you to stray from the mains for long. ®
More Netbook Reviews...
| | | | |
| --- | --- | --- | --- |
| Acer Aspire One | Eee PC S101 | Dell Mini 9 | Advent 4213 |