Original URL: http://www.theregister.co.uk/2009/01/22/review_mobile_phone_sony_ericssion_walkman_w302/
Sony Ericsson Walkman W302 budget music phone
Recession-busting wonder?
Posted in Personal Tech, 22nd January 2009 09:02 GMT
Review Sony Ericsson's recent Walkman updates have spanned the gamut from the high-end W902, through the mid-range W595 and W705 - due in this month - to this, the budget blaster of the bunch, which may lack the bigger spec numbers of its siblings, but in these cost-conscious times, at least manages to get the basics right.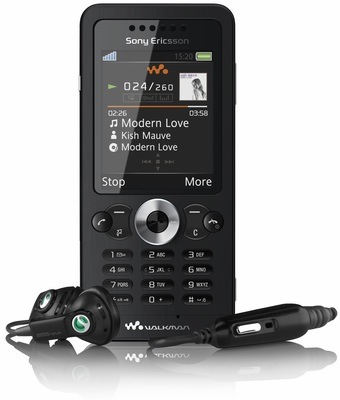 Sony Ericsson's Walkman W302: budget spec, high-class looks
But if the W302's specs say it's a budget handset, the design doesn't. The casing is sleek brushed metallic black - or white - on the front with a dimpled plastic back. It's attractively slim at 10.5mm thick, and lightweight too: just 78g. It's a little bit shorter but slightly thicker than Nokia's rival music handset, the 5310: 100 x 46 x 10.5mm to the Nokia's 104 x 50 x 9.9mm.
The first hint of its budget roots comes when you remove the back, which seems sturdy enough when it's on, but extremely thin and flimsy once it's off. Underneath, is a Memory Stick Micro card slot, though you don't need to remove the battery to get to it.
The screen is a goodly size at 2in and looks impressive too with 262,000 colours, though it only offers a 176 x 200 resolution - the next up the range, the W595, has 320 x 240. For a screen this size, though, it still looks acceptably sharp and clear, even with video.
The keypad below the screen gives the appearance of being very cramped. In fact, it's a miniature marvel in the way it combines small size with ease of use. The keys are very small, but decently spaced, so they're easy enough to distinguish - though you'll need to use the tip of your thumb. The circular navpad, which also doubles as music controller in Walkman mode, has no less than six buttons around it, which could have been a recipe for disaster, but thanks to precision design, this never gave our thumb any problems.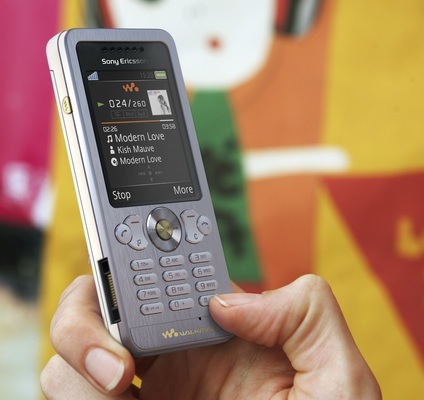 The keypad's tiny but texting friendly
In contrast to the front, the sides are distinctly uncluttered, with just a discreet volume rocker, camera key and Walkman buttons, plus SE's multi-connector port.
The music player is crucial to Walkman phones and here at least, Sony Ericsson doesn't appear to have skimped in a major way. There are none of the fancy extras like SE's SensMe emotive search system, or shake control, both of which are to be found on the more expensive Walkman handsets - though it could be argued that those innovations are less than essential.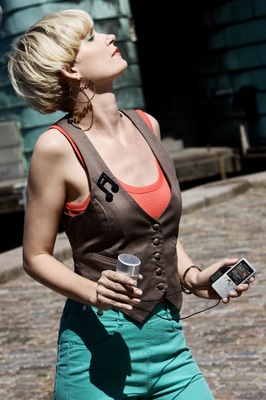 A good music mobile bundled with decent enough 'phones
But there is a five-band graphic equaliser with which you can choose between ten preset levels or set manually, and there's a reasonably effective stereo widening setting which gives the impression of broadening the soundstage. It's a good, solid music player, in other words, that's easy to load and presents your music well.
The W302 could perhaps have presented it a little better had Sony Ericsson bundled a top-of-the-range set of earphones, but the cheaper bundled pair are decent enough to get by. There's no 3.5mm socket in the casing but the 'phones come with an adaptor for the SE charging plug, so it's easy to upgrade to your cans of choice.
The phone also has stereo Bluetooth as well if you feel the need for a wireless pair and it's a multi-tasking music player too, so you can play your tunes while playing games, browsing the internet or sending texts.
Other music extras include the addictive TrackID service, which lets you identify tracks on the phone's built-in FM radio - or any other radio come to that, or TV, or CD player - with the help of the phone's 2.5G internet connection.


No 3.5mm earphones socket, only a side-mounted multi-connector
Incidentally, the radio features nine presets, which isn't a feast but you won't starve from a lack of fave radio stations, and you can switch between listening in mono or stereo to improve reception. It includes RDS info too, but unfortunately, you can't search automatically for stations – you'll need to scroll through the frequencies manually to find something that suits which is fine if you know what you're looking for, but soon becomes a bit of a chore if you're just browsing.
Memory-wise, you'll need the 512MB Memory Stick Micro that comes with the handset, since the measly 20MB of on-board memory will barely hold an album's worth of tunes. It can accept up to 4GB cards, which seems like an unnecessary limitation in these 16GB days.
The 2Mp camera is about as low-rent as any manufacturer can expect to get away with these days. The Walkman series isn't the best place to look for cameras, though the W902 has a 5Mp snapper, as Sony Ericsson tends to save the best of its photographic innovations for its Cyber-shot range.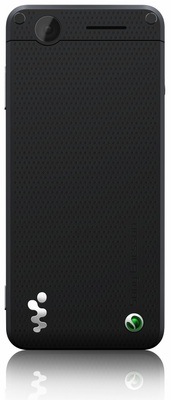 Low-rent camera
We've certainly seen worse 2Mp cameras and, within its limits, it delivers reasonably sharp, colour-accurate pictures, though they're better viewed on screen than in print. It offers a maximum picture resolution of 1600 x 1200 and a few useful snapping options, including 2.5x digital zoom, a timer that runs up to 15 seconds, a burst mode taking up to four pics, and a night mode. SE's deal with Blogger allows you to upload your snaps straight to the internet.
Video quality takes a step down from the still pictures but it's not exactly a nosedive and there'll be no shame in uploading the results to YouTube - assuming the actual content isn't shameful, of course.
Connections-wise, the W302's quad-band, which will take you around most of the world, but there's no 3G, which limits the attractiveness of the browser, and means you'll be hanging around for a while if you download tunes from SE's PlayNow or other track download services. There's no Wi-Fi either, so fast internet access simply isn't an option.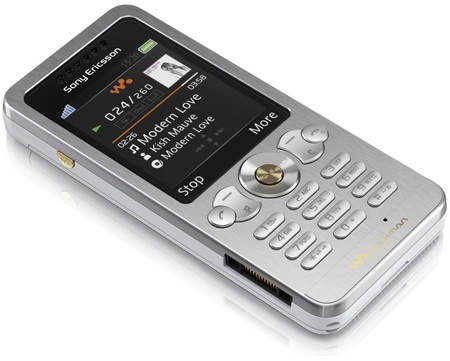 Also available in silver
The browser, such as it is, is hardly worth bothering about, unless you're extremely patient and get guilty pleasure from watching paint dry. There are a couple of 3D Java games on board - old Tetris-clone fave QuadraPop and 3D Rollercoaster - and you can download more.
The W302's battery life is decent enough and we got a good three days of moderate use out of it – the only disappointment being that its heavier specced brethren such as the W902 and W595 actually claim longer battery life.
Verdict
The cheapest Walkman phone still manages to deliver an above-average music player and its 2Mp camera is better than you'd expect from the rather lowly spec. There are no fancy fripperies like 3G or GPS but it's only the lack of a decent browser that feels like a serious omission. However, for phone calls, basic messaging, music and an okay camera, it's a recession-busting little wonder. ®
More Phone Reviews...
| | | | |
| --- | --- | --- | --- |
| Sony Cyber-shot C905 | LG Cookie | HTC Touch Viva | Nokia 6600 Slide |