Original URL: https://www.theregister.co.uk/2009/01/22/review_compact_camera_fujifilm_finepix_f100fd/
Fujifilm Finepix F100fd compact camera
Good performer
Posted in Personal Tech, 22nd January 2009 13:02 GMT
Review Some digital cameras are designed to sit on a shop shelf and shout: 'Here I am! Take a good look at me!. They're brash, bold and designed to poke you in the eye, from a stylistic point of view. Not so Fujifilm's Finepix F100fd. Some might describe its design as conservative - a bit boring, even - but we think 'understated' is probably the best term.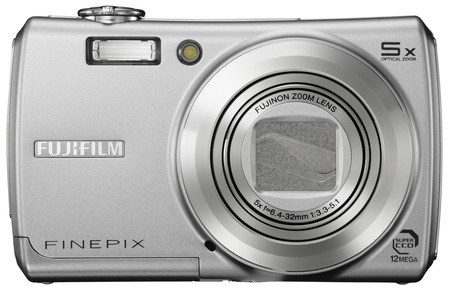 Fujifilm's Finepix F100fd: not snazzy enough?
The F100fd is described by Fujifilm as an "advanced" compact camera, although some might beg to differ, seeing that there are no shutter or aperture priority modes, not to mention an absence of manual aperture or shutter-speed settings. 'Advanced' here means the inclusion of a third-generation face-detection system which Fujifilm says can spot up to ten faces in around a third of a second, plus features like auto red-eye removal.
The F100fd has a pocket-sized aluminium body that measures 97.7 x 58.9 x 23.4mm - and weighs 190g when loaded with battery and memory card. You're certainly aware of the Finepix F100fd when it's sitting in your pocket, but it's more than comfortable to carry around.
On top are the power, zoom and shutter controls. On the right side is a flap for the mini USB port, and on the back, is a 2.7in, "100 per cent coverage" LCD screen which is large, clear and bright. There aren't many buttons to worry about: F (for function) and face-detection buttons sit above a four-way dial which lets you quickly adjust image stabilisation, macro, flash and timer settings. Below this are buttons for playback and the display mode. And that's your lot.
At the bottom is the inevitable flap for battery and memory card slot – the Finepix F100fd takes both xD and SD HC cards. There's 57MB of on-board memory too. It uses a lithium-ion battery which is good for around 200 shots before needing a re-charge.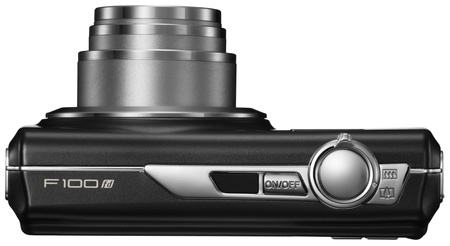 Pretty good spec
The Finepix F100fd offers some pretty good specifications, including a 1/1.6in sensor with 12 million effective pixels; an F3.3-F5.1 5x optical zoom Fujinon lens with a 6.4-32mm focal length, equivalent to 28-140mm in a 35mm camera; an ISO range of 100 to 12,800; and shutter speeds running from 1/1500s to 1/4s in most modes - in night mode the range is 1/1500-8s;
To that list we can add what's modestly described as "the world's most advanced face-detection technology"; a dual-mode image stabilisation based on both a mechanical CDD shift system and fast shutter speed; dynamic range settings for better contrast; 16 scene modes including, night, sport and portrait enhancer - but no food!; and a movie mode, which shoots 640 x 480 or 320 x 240 resolution clips at 30f/s. Still image resolution ranges from 4000 x 3000 pixels down to 640 x 480, with the highest resolution producing a file size of around 5MB.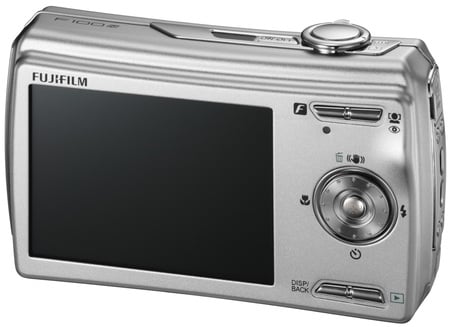 Not exactly overburdened with controls
The F100fd uses what Fujifilm grandly describes as a "streamlined graphical user interface". In fact, we rather like Fujifim's approach to the menu system, although it's not perfect. Switch on the camera and it takes around about two seconds to prepare for action. If you want to change shooting modes, you press the Menu/OK button in the centre of the wheel dial and you're presented with a series of icons, text, descriptions and menu images that tell you exactly what each function does. Use the wheel dial to scroll through the options - auto, manual, etc - and then press OK. It's very simple.
However, if you then want to change certain parameters, you may have to navigate two more menu systems. For example, if you're in manual mode and want to change the ISO speed or dynamic range setting, you press the F button and then scroll through the menu.
But if you want to change the white balance or exposure compensation, you press the Menu button and then select the shooting menu. We think Fujifilm could have designed the menus so that all these features were on a single menu – there's plenty of space for additional functions on the menu list.

Battery and SDHC cards go here
Overall, though, the F100fd is an easy camera to use and features such as dual-shot mode - which takes two successive shots, one with flash, one without - and the ability to zoom and crop images in-camera to reduce their file size for posting online, a process called "Trimming for Blog", are handy to have. You can even view up to 100 recorded images simultaneously on the LCD screen, though it helps if you have sharp eyes.
Sample Shots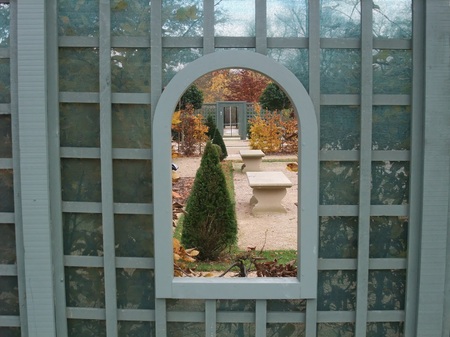 Click for cropped image at full resolution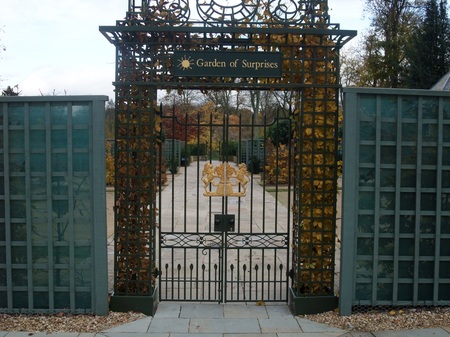 Click for cropped image at full resolution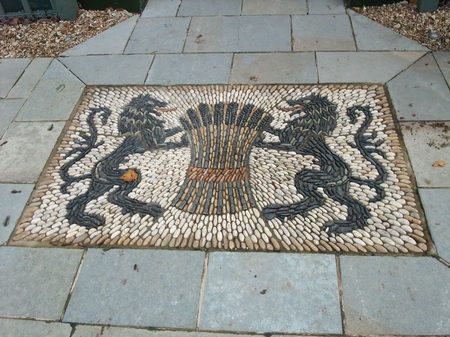 Click for cropped image at full resolution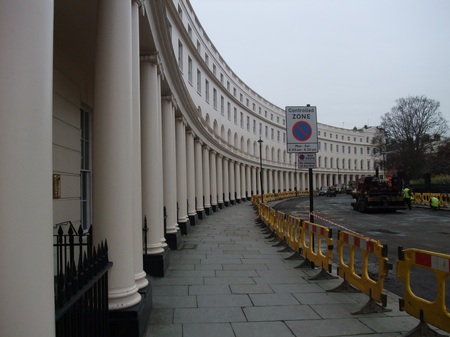 Click for cropped image at full resolution
Overall, we liked the picture quality offered by the Finepix F100fd.
Sample Shots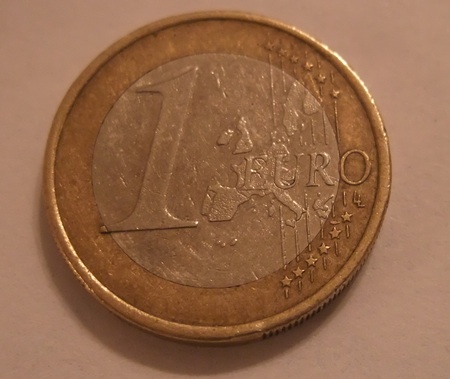 Click for cropped image at full resolution
You can get good a close-up with the macro mode, as this Euro coin shot illustrates.
If you switch to manual mode, you can set the ISO speed to a whopping 12,800, but as these comparison shots show, the higher setting isn't worth bothering with, unless you like your images fuzzy.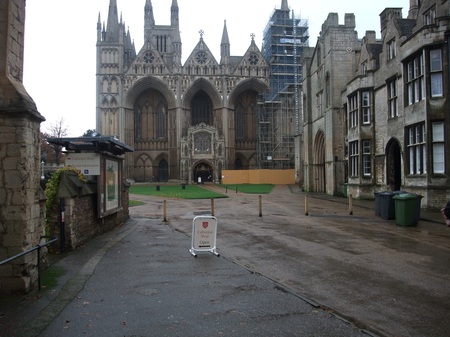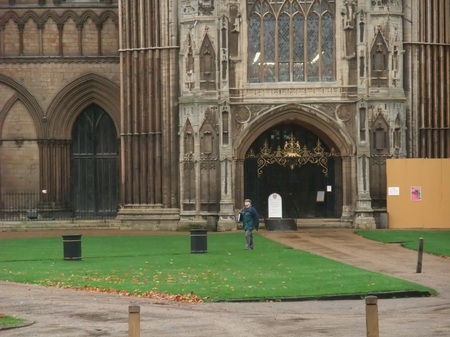 The 5x optical zoom offers the equivalent of 28mm lens on a 35mm camera, so takes decent wide-angle shots (top). The telephoto setting (bottom) is a big improvement on the 3x zoom often found on cameras at this price point.
When it came to performance, the Finepix F100fd did pretty well. One odd quirk is that in auto mode, the ISO speed can only be set to 400, 800, 1600 or 3200, which the user selects. When we took our brand new review sample out of the box, the default setting was 3200, which is crazy, not least, because noise becomes apparent at around ISO 800, although the results aren't too bad.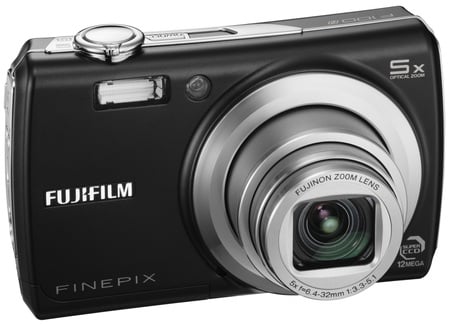 Good performer
That said, the higher ISO settings of 6400 and 12,800 - which are only available at 3MB image settings or lower - are too noisy to be worth bothering with.
The F100fd's picture quality was generally impressive, although colours were a little subdued. We didn't notice a great deal of impact with the dynamic range settings, which were more subtle than spectacular.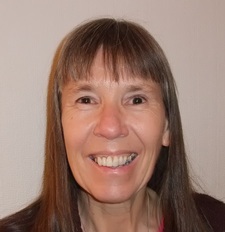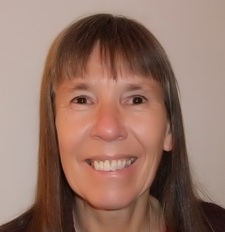 Botox mode: before (left) and after
The face-detection system is very impressive, however, being both fast and accurate, and the automatic red eye remover does a good job. The image stabilisation system was effective too. We also liked some of the scene modes, including portrait enhancer, which helps remove lines from a face. If you're the wrong side of forty, it's a lot cheaper than using botox...
Verdict
The Finepix F100fd isn't going to win many awards for design or innovation, even though it packs some pretty useful technology. But then again, it sure isn't a contender for turkey of the year. If you're the sort of person, who essentially wants a point and shoot camera, but quite fancies having some extra features and advanced technology thrown in, then the Finepix F100fd won't disappoint. It's a friendly camera to use and will produce pleasing results in most situations. ®
More Compact Camera Reviews...
| | | | |
| --- | --- | --- | --- |
| Canon Digital Ixus 980 IS | Nikon Coolpix S710 | Sony Cyber-shot DSC-T700 | Canon PowerShot SX110 IS |