Original URL: http://www.theregister.co.uk/2009/01/21/review_mobile_phone_nokia_5800_xpressmusic/
Nokia 5800 XpressMusic touchphone
Nokia takes on the iPhone in its own way
Posted in Personal Tech, 21st January 2009 13:02 GMT
Review It's hardly a surprise that Nokia's first post-iPhone foray into touch-controlled mobiles has drawn massive amounts of interest. Nokia may have dabbled briefly with touch-operated handsets before, with its 7700 and 7710, but the 5800 XpressMusic is certainly year-zero as far as Nokia devices designed to take on Apple's game-changer are concerned.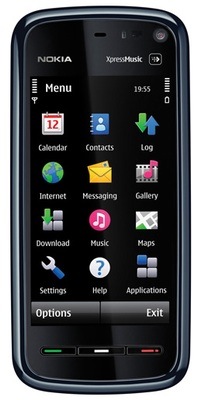 Nokia's 5800 XpressMusic: taps into the touchphone design vogue
The big-screen, black-slab styling taps into the current touchphone design vogue, but the rest of the bodywork has a distinctly Nokia feel to it: a purple-ish rubber-feel back and typical XpressMusic red or metallic trim. It's not particularly svelte by comparison to some touchscreen phones, measuring 111 x 51.7 x 15.5mm and weighing 109g. It feels more like an N-series candybar than one of the trimmer Samsung or LG touchphones.
A trio of skinny call, end and menu buttons sit under the display. Above it, there's a video-call camera and a touch-sensitive Media key for pulling up a list of music, video and picture apps and a link to Nokia's YouTube-meets-Flickr site, Ovi. As well as the usual volume and camera buttons on the side, a spring-action slider does an effective job for locking and unlocking the touchscreen to prevent accidental input.
The large touchscreen is a 3.2in, 640 x 360 pixels, 16m-colour job. It offers haptic feedback as you touch the screen - the level of vibration is adjustable - but where precise screen control is needed, you can use the thin stylus that's slotted into the back casing - or a curious plectrum on a wrist band.
Inevitably, the term 'iPhone killer' has been bandied about, but the 5800 isn't really the kind of device that would convert Apple phone fans. Built on the long legacy of the S60 platform, the 5800's user interface isn't the delightfully slick experience you get with an iPhone. It doesn't have the same easy-swiping multi-touch action, and although you can use your finger to scroll information around the screen, you don't get the iPhone's smooth-rolling feel of zipping through menu lists and pages.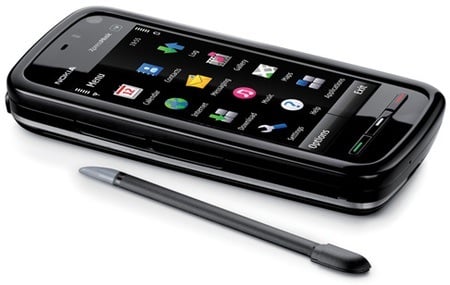 There's a stylus for the fat-fingered
Nonetheless, Nokia has developed a straightforward, easy-to-operate UI - it's S60's fifth edition - with some useful features. The standby screen presents two buttons at the bottom of the display to open up the virtual numberpad and the contacts list. At the top of the display, you can tap icons to access and change the clock, calendar, profiles and connectivity options.
A bar towards the top of the screen can present shortcuts of your key contacts as fast access buttons. Images can be attached, and dabbing these buttons pulls up a thread showing headers for up to six recent calls or messages, sent or received, plus buttons for making calls and sending messages. You can also allocate two RSS feeds to the entries in the Contacts bar, so you can quickly get online updates from social networking sites and blogs relevant to them. It's a neat set-up that's handy if you have a few regular contacts you want to stay up to date with.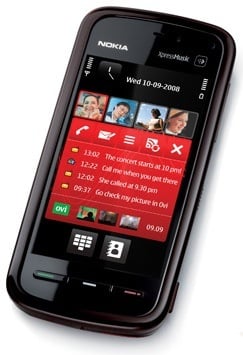 Use the Contacts Bar for social networking
Nokia also includes the option to replace the Contacts bar with a more conventional row of four shortcut icons, or ditch both for a clean screen.
Getting to grips with the touch system won't take long, and anyone already up to speed with S60 will recognise certain familiar structures and traits within the 5800's menu and navigation set-up. Click the main menu button, for instance, and you get the usual grid of a dozen app icons. Throughout the menu system, two buttons at the bottom of the display do the work of conventional soft-menu keys.
For sub-menus where you need to scroll to see all the choices, a scroll bar appears, which can be dragged down to whizz to the end more quickly than finger-swiping down the list will get you there. We found the screen generally offered ample room for using fingers to select buttons and most menu options. The screen is fairly responsive, and scrolling down lists is speedy and hassle free.
For text input - notes as well as messaging - the 5800 pulls up a regular numberpad, although this can be switched into a full-width, landscape-oriented Qwerty keyboard, or a mini-Qwerty layout which can be used in either orientation. Although the latter option is best tapped with the 5800's stylus, the other two keypads are sensibly laid out and provide plenty of space for fingers.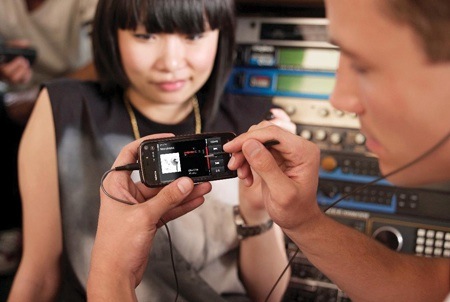 Spinal Tap-tap-tap?
We'd like the 5800's accelerometer - it does have one - used to automatically switch between the numberpad and the full Qwerty keyboard layout as almost all other touchphones do. The accelerometer is used for some media apps, such as the picture viewer. For those who prefer scrawling to tapping, Nokia has included an additional handwriting recognition option too.
Unlike most of the XpressMusic series, the 5800 doesn't boast dedicated music controls on the bodywork. Nokia does include a 3.5mm headphone socket on the top of the phone, allowing users to plug in their own 'phones, rather than the reasonable, if average-sounding, bundled set.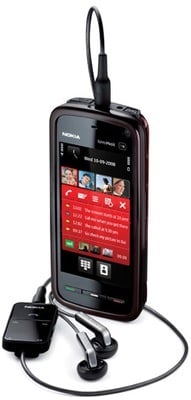 The bundled earphones aren't bad...
The music player is familiar S60 stuff, listing tracks according to artist, album, composer, genre and so on that you navigate through by scrolling and selecting. On-screen buttons and a track timeline let you control playback. Cover art, if available, is supported, but there's no iPhone-style album art browsing, and touch control doesn't really radically change the S60 user experience.
Still, the player is capable of a superb audio performance with a decent set of headphones in place. It has a very pleasing balance and detail, with sufficient bass underpinning it all. Even with the supplied earphones, it sounds more than acceptable.
The stereo speakers sound better than those on most phones do, too, though still with more top end and less bass than we'd like. The radio function, with RDS, has a neat, non-tricksy user interface and delivers a pleasant enough experience either through the earphones or speaker.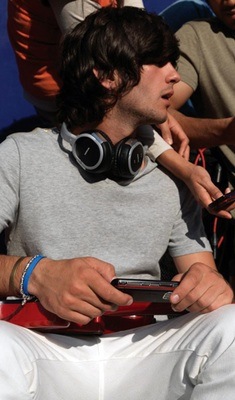 ...but there's a 3.5mm socket for adding your own
With an 8GB Micro SD card bundled, the 5800's modest 81MB of internal storage isn't an immediate issue. Nokia's obviously hoping that many users will be signing up for its Comes With Music unlimited download music service: sign up for a year's downloads and you can store and keep the DRM-encoded tracks on a PC as well as the phone.
The 5800 supports the usual array of audio formats: MP3, AAC, AAC+, eAAC+ and WMA.
The 5800's 3.2Mp camera may not be up there with the latest 8Mp cameraphone shooters, but it does a good enough job. It has an autofocus system inside that's responsive and can home in tightly for crisply focused close-ups too.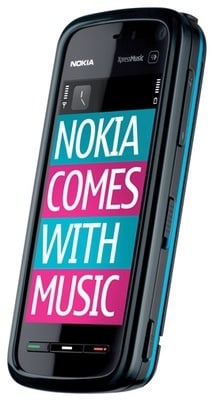 It comes with music, apparently...
Outdoors in strong light, you can get a very decent amount of detail and vibrant colours, though at times they can look a touch oversaturated. In higher contrast scenes, though, the camera doesn't do so well, with too much picture noise creeping into the murkier areas. Similarly, in dark conditions or indoors, the twin-LED Flash only has a limited effect on boosting image quality, and shots can appear grainy and dull.
The camera UI is easy to follow, however, with large icons for shooting, flash and settings. Tapping into the settings, there's a clearly labelled grid of icons for various elements to adjust and auto-metering overrides - white balance, exposure, light sensitivity, sharpness, scene modes - plus the usual colour effects and a timer.
It's all very intuitive, as is the video capture set-up. The camera can record at up to 640 x 480 at 30f/s, yielding better quality playback than most cameraphone footage. Material shot in dark conditions can still appear grainy, however.
As usual with S60 phones, you can do some basic image and video editing, and upload the results. A TV cable is supplied too, in case you want to view any content on a bigger screen.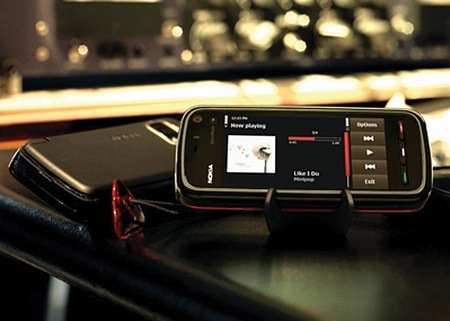 There are plenty of apps to take advantage of the 640 x 460 screen
With such a large display, there are several applications on the 5800 that make the most of the screen real estate. It's a fine device for enjoying video, delivering lovely smooth, clear and bright images in the RealPlayer application. Video file formats supported include MPEG 4 SP, MPEG 4 AVC and WMV9. The standard S60 Video Centre app is also included for accessing a variety of online mobile-optimised video content for downloading and streaming.
However, with our pre-production review sample, we did have occasional issues with the screen's colour cast, the hues altering as we used certain app.
The latest touch version of Nokia Maps 2.0 looks great on the large display, and maps of the UK and Ireland have been pre-installed on the bundled memory card. For full voice guidance, you have to pay a subscription fee, but out of the box, Maps gives you all the other typical satnav route-planning features and lets you browse maps in 2D, 3D or satellite image views. You zoom in and out using buttons, not iPhone-style multi-touch gestures.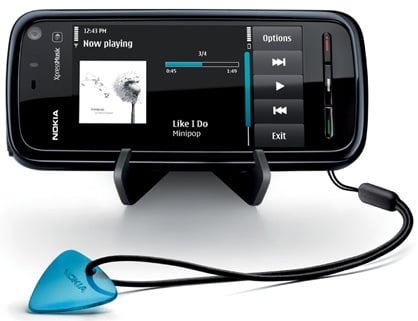 There's a plectrum-style stylus for the more musically inclined
We found the Assisted GPS system very responsive, locking on to satellites and determining our position very quickly from start up at a number of locations, usually taking just a few - and no more than 30 - seconds to pinpoint our position. Speed can vary according to where you are, of course, but we found it impressive when compared to other A-GPS phones we've looked at in similar circumstances.
With 3.6Mb/s HSDPA and Wi-Fi, the 5800 delivers a good mobile browsing experience too. Again, it may not be quite up to the pinch and swipe slickness of the iPhone, but it renders web pages swiftly and reliably, and supports for Flash, something the iPhone doesn't. Zooming is done with a quick tap and drag of a zoom bar, and you pan around pages with the same tap-and-drag gesture. Links for FaceBook, MySpace and YouTube are pre-loaded for quick access.
As well as the headline grabbing apps, the 5800 includes plenty of standard-issue S60 tools, including voice command and personal organiser stuff. Email is easy to set up and use, while instant messaging is supported too. A variety of additional apps can be found and downloaded using the Download! utility.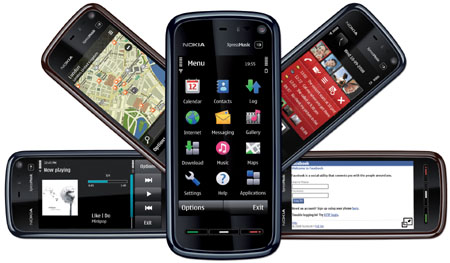 Plenty of apps bundled - more are just an HSDPA or Wi-Fi download away
A couple of games – the touch-controlled Bounce Touch and tilt-steered Global Race Racing Thunder – eke a little entertainment out of the touch and accelerometer capabilities. On a practical level, the phone also uses sensors to let you mute incoming calls and alarms by turning the phone face down.
When making and taking calls, we found the 5800 worked a treat, with clear and reliable calling and network signal handling up to scratch. The touchpad uses a proximity sensor to disable the screen when your face is next to it, the better to conserve battery life and prevent accidental button presses.
Despite the smartphone features and touchscreen hoopla, the 5800 isn't being pitched at a premium price. Nokia is initially selling the device for £249 SIM-free, and it can be had on contract for free.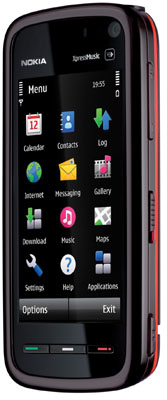 Heaps of functionality
With the heaps of functionality in this device that can eat away at battery life, real world battery performance is going to depend on how much you use particular features. Nokia estimates an optimum power performance of up to 400 hours standby on 3G networks, or 406 hours in GSM coverage - talktime is reckoned at up to five hours for 3G, or 8.8 hours on GSM networks. Music playback alone can run to 35 hours. But heavy Wi-Fi or A-GPS usage is going to drop those figures considerably. We managed a reasonable two to three days out of the phone between charges with typical amounts of phone usage.
Verdict
As the first mainstream touchscreen phone from the world's number one phone maker, the Nokia 5800 XpressMusic does an effective job at translating the S60 UI into a touch-sensitive world. It's functional, responsive and perfectly good to use, though it doesn't have the elegant fluidity and intuitiveness that the iPhone introduced and other systems are now aspiring to. It's distinctly a Nokia smartphone with touch operation more than an iPhone clone. It delivers as a musicphone too.
Nokia may still have some way to go with touchscreen technology, but this device looks destined to become another Nokia chart-topper. ®