Original URL: https://www.theregister.co.uk/2009/01/21/google_secret/
Google AdWords: 11 herbs and spices revealed
Bidding on ignorance
Posted in Software, 21st January 2009 01:25 GMT
Google likes its secrets. But there's one secret it likes more than any other. We don't mean Goobuntu. Or the GDrive. Or those Juniper-killing GRouters. We mean the secret that makes the millions, the secret at the heart of the Mountain View money machine.
It's not much of a secret, really. It's right there for all to see. But it's something Google refuses to admit - whether the question comes from from a nagging reporter or a loyal customer. If Google keeps its loyal customers ignorant, Google makes more money. Much more.
Almost all of Google's revenues arrive via AdWords, its flagship advertising program. Billed as an auction, AdWords serves up text ads in response to Google keyword searches. You bid for a particular keyword or group of keywords - "whips and chains," for instance, or "free Adobe Acrobat" - and if you bid high enough, your ad may appear when some unsuspecting web surfer searches on those terms. Then, if they actually click on your ad, you pay Google a fee somewhere south of what you bid (depending on what your competitors are bidding - and Mountain View's mystery algorithms).
Even among seasoned AdWords advertisers, the assumption is that you're bidding for the right to post an ad every time someone searches on your keyword. Or at least most of the time. The wisest advertisers are well aware that Google may tweak ad placements based on the surfer's location. And many speculate that Google is targeting ads based on the surfer's surfing habits. But almost no one - including some of the cleverest search engine marketers we've spoken to - realizes the truth. And that's because Google won't acknowledge it.
The truth is that Mountain View carefully controls the number of impressions each ad receives - presumably as a means of maximizing its own revenue. To wit, if you bid on the keywords "pork dumplings," your ad will likely appear on only a small fraction of "pork dumpling" searches. And you have no way of knowing how small that fraction is.
Drawing on the ad hoc research of a longtime Google advertiser, we made this claim back in July of last year. And it's confirmed by AdGooRoo, an independent outfit that tracks Google ad placements from servers installed across the globe.
"Google is going to display the ads that make them the most total revenue," Rich Stokes, AdGooRoo founder and CEO, tells us. "Every single ad campaign I've seen has at least a handful of keywords - sometimes far more - that are only getting three to five per cent of the coverage [impressions]."
In other words, advertisers aren't bidding for what they think they're bidding for. And Google has rigged its ad system so that it's dominated by only a handful of advertisers. According to the latest numbers from AdGooRoo, three per cent of Google's advertisers receive 80 per cent of all ad impressions.
Impressionable Advertisers
When you join the AdWords bidding, you're vying for more than just a spot on that Google search page. You're vying for a spot near the top of the page, where you're more likely to a get a click. With each so-called auction, the winning bidder gets spot number one, the second place finisher gets the next spot, and so on.
But it's not the bids - or, at least, not the bids alone - that determine where you finish. Each bid is multiplied by a Google mystery number known as a "quality score," and it's this hidden calculation that decides where your ad ranks.
This advertisers know. Or at least, some of them know it. What that they don't know is that Google is also using quality score to apportion impressions.
That ad hoc study we referenced in July compared Google AdWords with Yahoo!'s original search ad platform, which was replaced in 2007. Originally, Yahoo! used a straight keyword auction. The highest bidder got the highest rank. And every bidder got the same number of impressions. But according to this study, compiled by a high-volume advertiser, Google does things quite differently.
The ad that typically sits at the top of a Google page receives significantly more impressions than the ad that typically occupies the second spot, the ad in the second spot receives more than the third, and so on.
This is exhibited by the following graph, where the fractional boost in impressions per rank is plotted against an ad's typical position on the results page (0.5 is equal to a 50 boost). The blue line represents the old Yahoo!, and the red line is Google: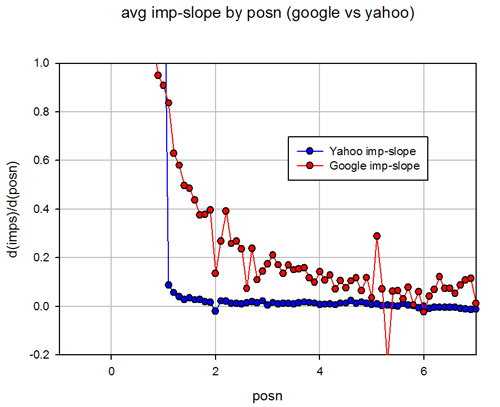 Google impression fiddling
Rich Stokes and AdGooRoo see much the same thing - though their numbers put even more impressions in the hands of those in the top rank. And presumably, AdGooRoo's numbers are more reliable. Stokes won't say how many servers he's running, but he will say he's got machines in the US, the UK, Australia, and Asia that do nothing but track search ads.
Lifted from Stokes' book Mastering Search Advertising, this next graph shows how impressions are apportioned on the keyword search "free spyware." Impressions are plotted on the x-axis, average ad position on the y-axis: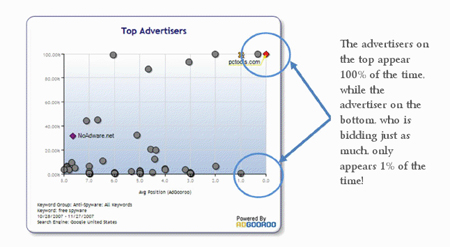 Fiddling confirmed
Across its entire search engine, Stokes says, Google is putting 80 per cent of the impressions in the hands of three per cent of its advertisers. It's Google's search engine. And Google's advertisers. And it has every right to show this sort of favoritism. Except that it's a monopoly. And it's not telling advertisers what's what.
We've asked Google countless times whether some ads receive more significantly more impressions than others, and inevitably, it says something like this: "There is an unique auction for each query, so it depends on a variety of factors."
We've also listened in as a longtime advertiser asked their Google AdWords sales rep for clarification on this issue. The sales rep gave much the same non-answer.
Never mind that it's obvious. If you do the same search ten times, you get ten different sets of ads.
False Scarcity
Google likes to say that advertisers control the prices on its AdWords platform. It said this particularly loudly during its ill-fated attempt to win approval for its monopoly-expanding ad pact with Jerry Yang and Yahoo!. But as we've argued before, Google maintains far more control than it cares to admit. And squeezing impressions is just another way of doing so.
Yes, Google's impression game is likely an attempt to push clicks in certain directions. In limiting your impressions, it's ensuring you won't take clicks away from certain big-spending competitors. But it's also creating a kind a false scarcity that encourages you to spend more on the clicks you do get.
In essence, Google is driving prices higher by limiting the number of clicks available at the low ranks. With the top ranks getting more impressions, advertisers feel an even greater pressure to up their bids - even though upping a bid isn't always beneficial.
Towards the end of his fight for that GooHoo! deal, Google CEO Eric Schmidt admitted that advertisers "do not understand how the [AdWords] auctions really work." And he insisted the company was re-doubling efforts to educate them. But the truth is that Google prefers to keep them in the dark. ®