Original URL: https://www.theregister.co.uk/2009/01/20/review_media_player_cowon_iaudio_o2/
Cowon iAudio O2 personal media player
Cowon A3 with SSD instead of HDD
Posted in Personal Tech, 20th January 2009 09:02 GMT
Review It's no secret that Cowon's A3 PMP is favoured by Vulture Central. The comprehensive codec and file support, superb 800 x 480 screen and twitproof controls make it a hard device to not like.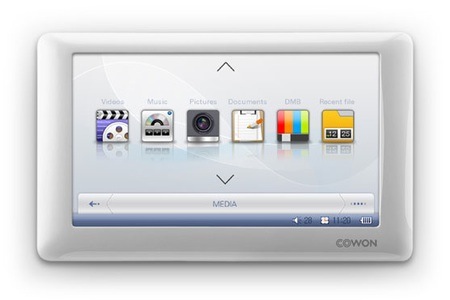 Cowon's O2: plugs the gaps in the A3?
Of course, that's not to say it's perfect. It could do with being both smaller and lighter, and it would be better if it had a more robust solid-state drive rather than an HDD. Memory expansion would be nice too.
So that would be the new Cowon O2, then.
Despite having a larger screen – 4.3in corner to corner rather than the A3's 4in – the O2 is altogether a less lardy bit of kit. At 205g and 120 x 73.5 x 18mm it's still not remotely as portable as a Cowon S9 or iPod Touch but it won't have you listing to one side as if you have an A3 or an Archos 5 in your pocket.
Though its exterior is made entirely of plastic, the O2 nevertheless feels both solid and robust, and in black looks the business. Exterior controls and ports are limited to a volume rocker on the top, an on/off/lock slider on the right, and a 3.5mm jack and mains power plug - Cowon supplies a mains adaptor though you can also recharge using a USB cable - on the left.
Also on the left-hand side is a fold-down panel that conceals a mini USB port and an SD card slot.
Apart from the volume, all other controls are executed using the resistive touchscreen. The O2's basic menu appearance and structure will be familiar to anyone who has ever used an A3, the only real difference being that navigation is now accomplished by touch rather than by using the A3's joystick.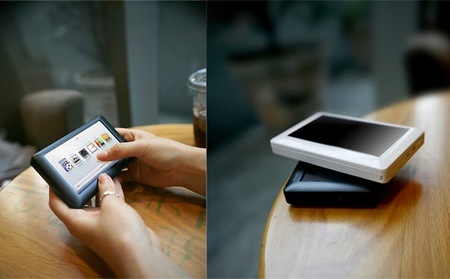 Controlled by touchscreen
Truth be told, there is nothing really all that clever or new about the touchscreen UI.
The home page presents three rows of icons giving access to media, utilities and set-up. Only the latter has more than the five icons the screen can present at a time but you can scroll left or right to access the ones not on show. At the bottom of the screen sits a status bar telling you the time, volume and battery status.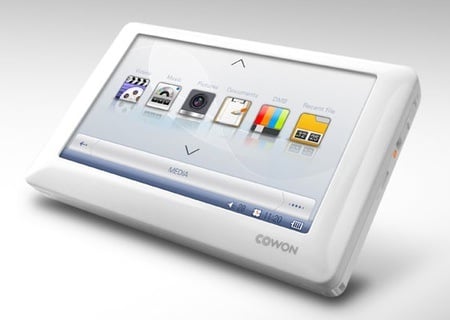 Nice but not very novel UI
The screen reacts promptly to finger taps – though a strange plastic stylus-cum-stand is also included - and all the icons you come across are self-explanatory. Indeed, we suspect many users will never need to refer to the user guide, so simple is the O2 to use. Opening a file is just matter of tapping its name.
Detailed system or media navigation is achieved by tapping the icons on the relevant context-specific menu bar that appears at the bottom of every screen. The bar always includes a button to take you directly back to the main home page and another to access the various media settings such as EQ, screen format, bookmarks and playback speed.
Like the A3, the O2 displays media content by folder so while the spec sheet says it supports ID tags they aren't much use as the O2 simply will not let you view music files by year, genre, artist etc - all you can do is view content by folder as you would using Windows Explorer.
If you want to see your album art on the O2, you'll need to make sure each album folder contains a standalone image file – embedded artwork that showed up without issue on such devices as the Cowon S9 and SanDIsk Sansa Fuze simply refused to appear on the O2.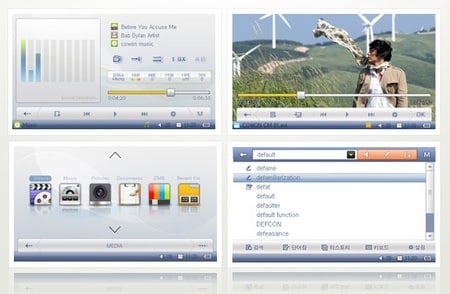 Cute... but why no support for music ID tags?
And there's no support for MTP media player-created playlists. You can create one "Favourites" list, but that's your lot. While on the subject of what the O2 can't do, as you have probably guessed, gapless playback is not on the menu.
Being a Cowon PMP, you would expect the O2 to support pretty much every format, codec and container under the sun. You won't be disappointed: the list of supported audio codecs includes MP3, Flac, Ogg, WMA, AAC, Apple Lossless, True Audio, Monkey, MusePack, WavePack, G.726 and PCM.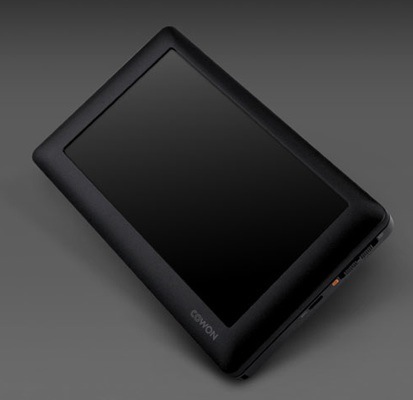 Also available in black...
On the video side of the street, you get support for DivX and Xvid; WMV 7, 8 and 9; H.264; MPEG 4; and Motion JPEG. The O2 supports AVI, Matroska, OGM, MP4 and ASF containers. Heading off the edge of the map, the O2 will also play DAT and MTV files. Finally, you can also view JPEG, GIF, PNG, TIF, BMP and RAW images. It also works just fine with SubRip -.SRT – subtitle files.
While file support for non-DRM content may be fine, we couldn't synch any of the test files we downloaded from BBC's iPlayer, suggesting the the O2 and PlaysForSure DRM are not on speaking terms.
The O2's screen, while certainly big enough is frankly a bit lacking in the old resolution stakes. While the A3 boasts a whopping 800 x 480 resolution, the O2 makes do with 480 x 272. If you want to get technical then the A3 has a dot density of 236 pixels per inch, while the O2 makes do with 130ppi. And things don't improve when you compare the O2 to the iPod Touch – 163ppi - or its Cowon stablemate, the S9 - 166ppi.
Thankfully, the O2's screen looks better than the bare numbers suggest. Yes it lacks the absolute pin-point clarity and absorbing definition of the A3 and Archos 5, or the trick AMOLED screen on the S9, but it's still a perfectly decent device for watching full-length feature films. The screen size ensures that even 2.4:1 aspect-ratio movies don't give you 'PMP-squint'.
It also has a full 16m-colour palette which pays dividends when it comes to matters of shade and tone and goes some way towards making up for the lacklustre resolution.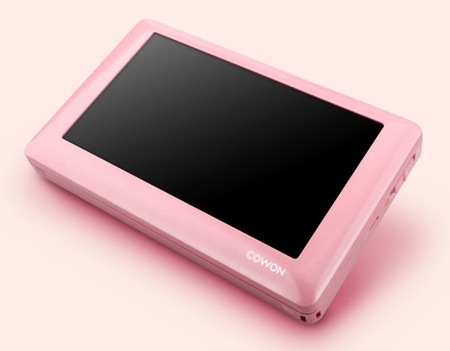 and... er... pink
As usual with Cowon video players, the O2 proved capable of playing files of a much higher resolution than its screen's native size - the best we managed was a 24f/s 720p AVI file.
Absolutely no complaints on the audio front, either – the rather cheap earphones apart. No matter what we threw at it - rock, opera, hardcore dance, the kitchen sink - the O2 acquitted itself more than acceptably, sounding - not unexpectedly - much like the S9.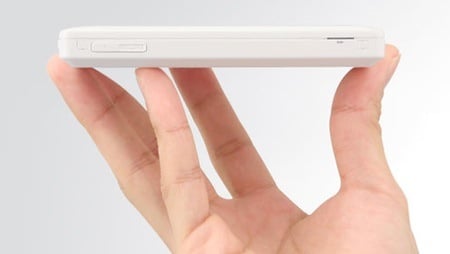 Not a pocket-busting PMP...
If you want to mess about with your tunes, Cowon's JetAudio sound modification package has something for everyone and the large touchscreen makes setting up and changing the user-definable EQ a piece of cake. The 3D stereo expander also works with video playback which is a nice touch.
Though the sound quality itself was great we can't say the same for the volume. Even when cranked up all the way to 50, things seemed all together too peaceful, making it a less than ideal media player for loud environments such as airliner cabins, unless you have a pair of noise-cancelling headphones.
Like the A3 the O2 has a fairly pointless single speaker but you can switch it off. It also comes with a voice recorder, a simple notepad that you can 'write' on and a calculator. No FM radio, though, and no TV outut cable either, that now being a optional extra.
The SD card expansion slot is unfortunately a case of Cowon giving with one hand while taking with the other. Like the iRiver E100, the O2 doesn't integrate media stored on the card with that stored on the player. To access files on the card, you need to tap the little SD card icon on the menu bar at the bottom of the respective media menu.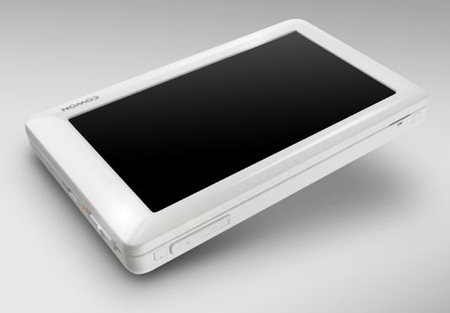 ...despite the large screen
Since you can't view content by ID3 tag you aren't going to be missing anything in terms of viewing content by genre and the like because you can't do that to begin with, but having media storage divided into two distinct areas is still sloppy design in our opinion.
In the O2's defence, you could say that being a video player means that remembering which files are put were is less of an issue than it would be on a dedicated music player. Fill a 16GB card with 700MB video files and you only have 20-odd files to scan through to discover what's on the card before you look into the player's on-board memory. Filling a 16GB card with 256Kb/s MP3 files and trying to keep a handle on what's where would be a whole different kettle of fish.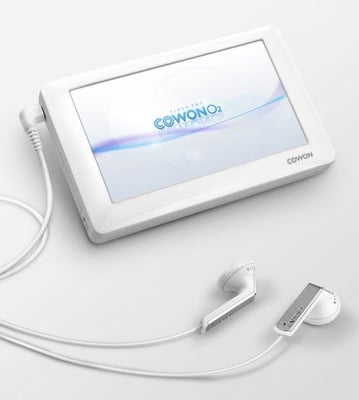 Splendid audio quality
Cowon reckons a full charge is good for 18 hours of audio playback or eight of video. The best we managed was 15.5 and 6.5, respectively, though we could probably have improved on these if we had turned the screen brightness down.
As per usual, we plugged the O2 into Ubuntu and Mac OS X boxes and on both occasions it popped up on the desktop without hesitation, though MTP operation seemed to be restricted to Vista and WMP 11.
The 16GB O2 will set you back £204, the 32GB £243. With 32GB SDHC cards available from around £65 that means you can have a 64GB media player for just a shade over £300.
The fly in that ointment is that you can get a 60GB Archos 5 for around the £250 mark. OK, it's heavier, H.264 codec support costs extra and the battery life isn't as good, but you get Wi-Fi, a web browser and a higher resolution screen into the bargain. Or you could just buy a 60GB A3 for around £235.
Verdict
The O2 is very much a game of two halves. Format and codec support is superb and it'll play pretty much any resolution video file you throw at it. The sound quality is excellent if a little on the quiet side, it is Biblically straightforward to use, and the ability to expand the storage is not to be sneezed at.
One the other hand, having a screen larger than that of the A3 but of a lower resolution just seems daft, while some will consider the lack of gapless playback, ID3 tag and playlist support to be deal breakers from the outset. ®
Thanks to AdvancedMP3Players for the review sample
More PMP Reviews...

Samsung P3
Preview

Cowon S9

Archos 7

Sony Walkman S