Original URL: https://www.theregister.co.uk/2009/01/20/byd_to_flog_batteries/
Chinese electric car maker pitches 'safer than li-ion' batteries
Much-reduced fire risk?
Posted in Science, 20th January 2009 10:53 GMT
'Leccy Tech Chinese car maker BYD is planning to license its low-cost ferrous-iron electric-auto batteries to other car firms.
It has already had interest from manufacturers in the US, Europe and Japan, according to Reuters.
BYD – believe it or not, it stands for Build Your Dreams – has already announced that it will release a plug-in hybrid four-door saloon - the F6DM - and an all-electric MPV – the e6 - in the US and Europe by 2011.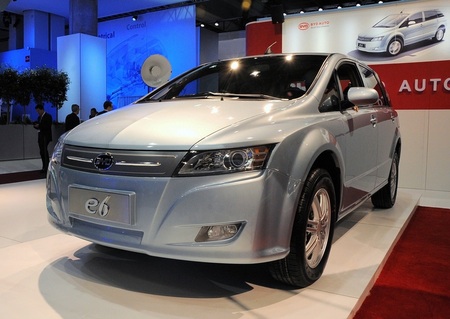 BYD's E6: all-electric
BYD reckons its batteries are safer, longer lasting and less than half the cost of the lithium-ion batteries favoured by other car makers. Of course, they're also a lot heavier - the e6 uses a 600kg (1323lb) battery pack to achieve a 250-odd mile touring range – and can't hold as much energy as their lithium-ion counterparts.
BYD recently hit the financial news when billionaire investor Warren Buffett agreed to buy a ten per cent stake in the company for $230m (£155m/€173m).
Wang Chuan-Fu, BYD's chairman, said the company is discussing electric car projects with various governments, including that of Israel, as well as regional authorities in China.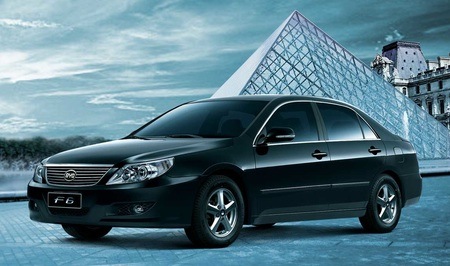 The F6: hybrid
With recent announcements from Toyota and Daimler that they are looking to supply battery packs to other car makers, and General Motors setting up a 31,000sq ft battery testing facility at its Warren, Michigan technical centre, flogging batteries and their related tech may soon become as important a part of the business as selling the cars themselves.
GM has also said it intends to "develop battery technology as a core competency just as internal combustion engines have been for the past century". Charles E 'Engine Charlie' Wilson would be proud. ®