Original URL: https://www.theregister.co.uk/2009/01/19/ufo_crash_site/
UFO wind turbine prang site: Exclusive photos
What really went down in Lincolnshire
Posted in Bootnotes, 19th January 2009 12:08 GMT
The recent Conisholme wind farm incident - in which one turbine shed a blade in highly mysterious circumstances - provoked a level of black helicopter activity not seen since NASA faked the 1969 Moon landing, with many suggesting extraterrestrial involvement.
Well, we at El Reg have spent some time analysing a satellite image of the site on the morning following the prang, with remarkable results. Here's the original picture: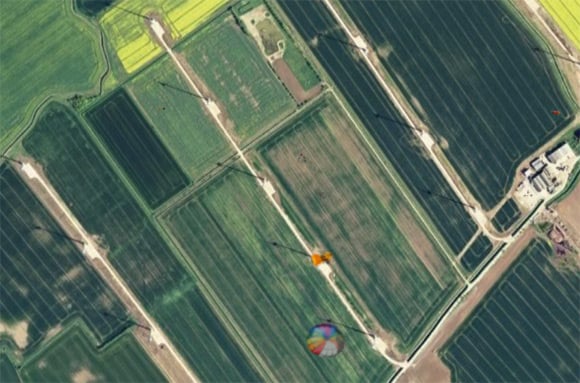 Not much to see, you might think, but look again: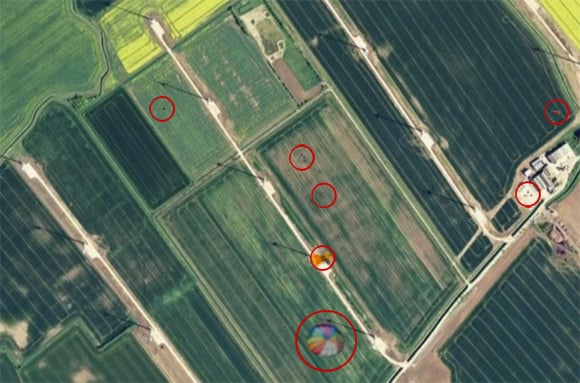 Here are the points of interest magnified to the maximum possible resolution (click on the picture for a bigger version):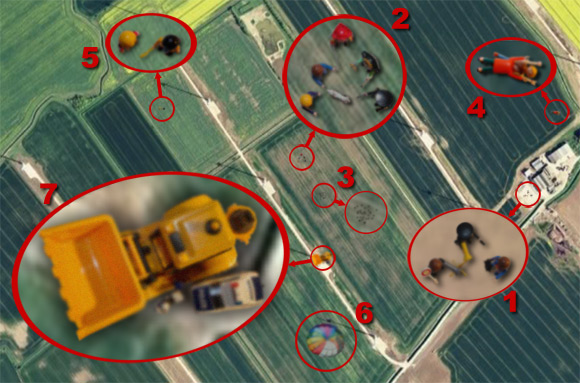 Under normal circumstances, this would be all the information available, but Vulture Central was able to deploy a state-of-the-art rendering program - as seen in CSI and capable of accurately reconstructing a human face from a single eyelash.
The resulting reconstructions, extrapolated from the satellite image by a bank of supercomputers drawing on the additional power of the cloud via fibre optic links, are frankly remarkable. Read on...
1: Security operatives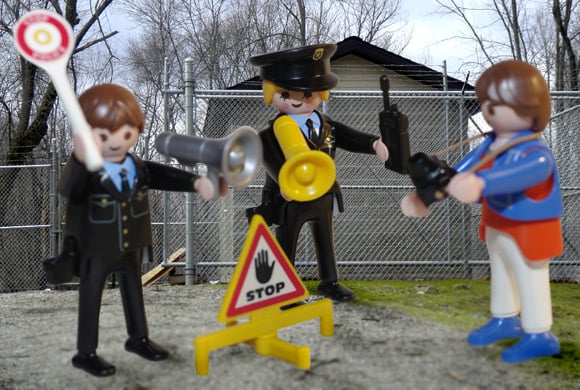 A Sun photographer is about to be cuffed at the site perimeter under the Prevention of Photography act - hastily-drafted legislation designed to prevent snappers inadvertently capturing images of potential benefit to al-Qaeda and/or paedophile websites.
2: Ufologists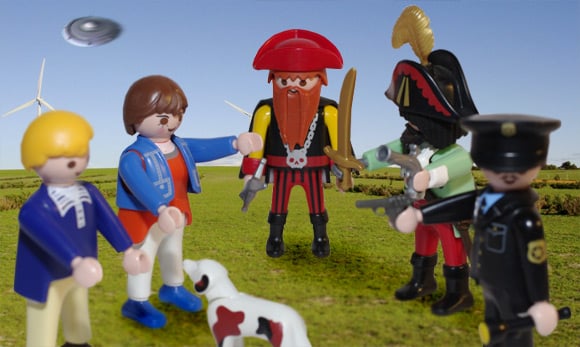 A couple of alien hunters have penetrated the outer security cordon around the damaged turbine, and are arguing with Somali pirates and a police dog handler about who has the right of salvage on any possible alien remains.
3: Evidence of alien technology?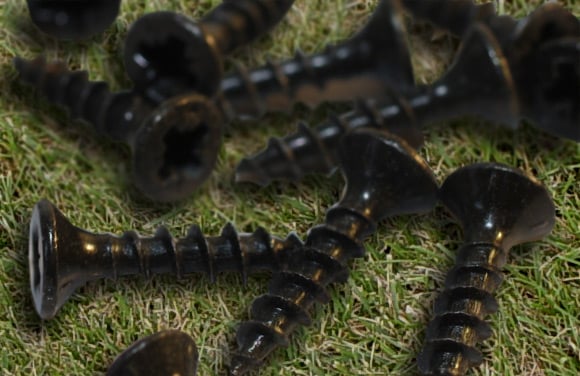 Close to the base of the pranged turbine we find the strongest evidence for UFO impact - strange objects which are either anti-grav drive components forged from a hitherto unknown space alloy or the bolts which held the turbine blade on. You decide...
4: Jungle Jane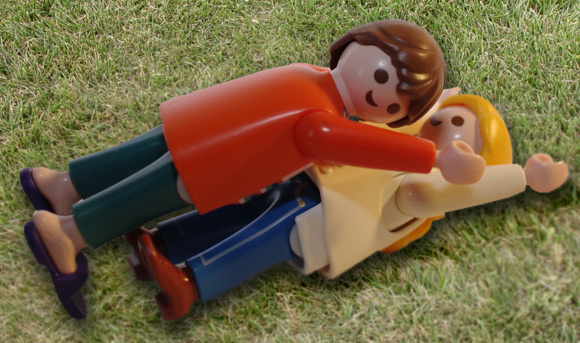 Our experts at first thought this was a hideous coupling of an extraterrestrial and an Earth woman - an attempt by aliens to breed a lizard/human hybrid capable of subjugating mankind to its masters' dark will. In fact, it's an Oz perv getting his end away with a nicked inflatable doll.
5: Swedish scientists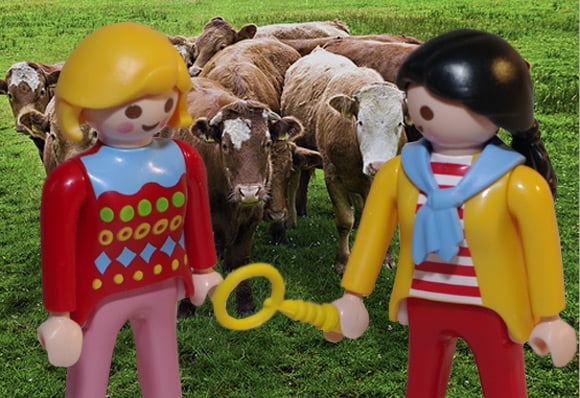 Here we see Anni-Frid and Agnetha from the Advanced Bovine Bothering Academy, who are expressing their disappointment that the herd of cows they'd been monitoring for a possible ability to detect UFO crashes have shown no response whatsoever to the incident. Anni-Frid is holding a bovine synaptic registrometer, designed to record the animals' emotional response to flying saucers, extreme weather and other potentially-stressful stimuli. Suffice it to say, despite spunking €2m on their research, the scientists have found cows indifferent to just about everything except bolt guns.
6: Fugitive US businessman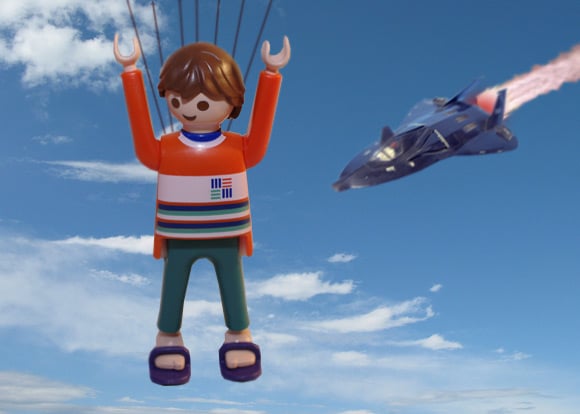 This cash-strapped financial advisor has decided it's a bright idea to fake his own death in a light aircraft crash, and is parachuting to earth convinced he'll fool the authories with his brilliantly-conceived masterplan. Unfortunately, he's being monitored by an ultra-secret robotic stealth drone operated by Her Maj's Custom and Excise, and was later cuffed at a local campsite having checked in under his own name.
7: JCB pusuit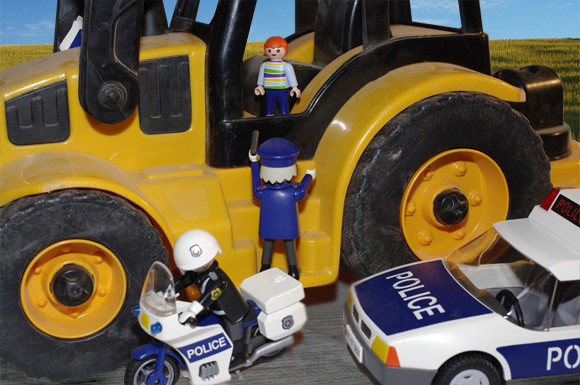 Finally, we have the most dramatic image: An alcopop-crazed five-year-old from a local sink estate - already the subject of 17 Asbos and three restraining orders - has stolen a JCB and is about to cop a tasering for his trouble.
In conclusion, while our shock images show an abnormally high level of activity at the wind farm on the day in question, we're still none the wiser as to what exactly happened to the damaged turbine. Our skilled operatives are as we speak at a secret location somewhere in southern England attempting to construct a functioning alien warp drive based on the strange components seen above. Watch this space... ®