Original URL: https://www.theregister.co.uk/2009/01/16/review_phone_nokia_6600_slide/
Nokia 6600 Slide 3G mobile phone
Smooth with a capital 'smooth'
Posted in Personal Tech, 16th January 2009 09:02 GMT
Review While Nokia continues to trundle out heavyweight smartphones like the N96 and N85, it's also taking care of business down-market with models like the 6600 Slide.
Rather than majoring on top-of-the-line, do-it-all gadgetry, the 6600 Slide is a 3G-enabled slider that's more likely to gladden potential buyers with its smooth looks and solid basics.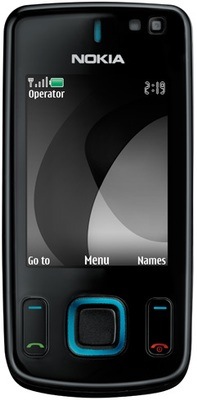 Nokia's 6600 Slide: smooth looks
It does have a decent enough spread of features, with a 3.2Mp camera on the back and all the multimedia functionality you'd hope for in a mid-range Nokia phone. However, it lacks high-speed HSDPA and Wi-Fi data connectivity, and uses Nokia's regular Series 40 UI rather than the S60 smartphone platform that's been trickling down from the N series into some of Nokia's mid-range mobiles. You won't find GPS here either, even though Nokia Maps software is pre-loaded.
The 6600 Slide's eye-pleasing design has a finger-friendly sleek feel about it, thanks to a glossy black plastic casing with smoothly rounded edges. It's a neat size too, measuring a compact 90 x 45 x 14mm, but is surprisingly substantial, weighing a hefty 110g. This is partly down to some solid steel and aluminium bodywork. It's petite design means it's not noticeably pocket-sagging, though, and balances comfortably when the slider's slipped open for action.
A pair of vertical buttons flank the navpad, the top halves triggering the soft menus, the bottoms forming the Call and End keys.
The 6600 Slide's 2.2in, 320 x 240 display is what you'd expect to find on a mid-range handset, but looks decent enough, the 16m-colour screen zinging out bright and sharp from the black surround. Just above the display is the phone's number two camera, a low res shooter for video calling.
The sides of the phone are button-free: the camera is fired up and the volume controlled using navpad shortcuts. This makes the phone smooth to fondle, but we'd have preferred the practicality of side buttons.
Slipping down the slider, the numberpad is compact, but the buttons are sensibly sized, sufficiently defined and with enough movement for hassle-free texting. We had no problems typing at reasonable speed, with the phone well balanced for twin-thumbed tapping.

The slider's well balanced for hassle-free texting
The 6600 Slide's workhorse S40 user UI presents the familiar Nokia menu system. The main screen has the option of Active Standby, which provides four shortcut icons at the top row of the display, aling with notes and calendar reminders, and status monitoring for the music player and FM radio. Or you can keep the screen clean and use navpad shortcuts for calling up features.
It's not quite all vanilla S40, though. Nokia has included a tap control that lets you to reject incoming calls and silence alarms with a couple of finger taps on the front or back of the phone. You can pop up a large clock with a quick double-tap action.
You can turn this feature on or off within the phone's sensor settings, but we found it worked fine for us, given a sharp tap, and was particularly welcome for early morning alarm pausing. It's a gimmick, but you may find it useful for discreet call avoidance.
The main camera on the back of the phone is unprotected by a lens cover and has no fancy Carl Zeiss branding like some Nokias do. It's equipped with a twin-LED flash for low-light photography, with an autofocus system that lifts it a few notches above basic point-and-shoot fixed focus cameraphones.
Despite this, the 6600's camera isn't anything special. Using autofocus isn't the usual two-step 'push them push again' method you get on most autofocus cameraphones. When framing shots you have to hold in the central navpad button while the camera locks on to the subject. When the frame on the screen turns green, releasing the button captures the image. It works OK, but we'd always opt for the other method. There is a slight bit of shutter delay, too, so you should be careful about slight movement of the camera before the shot's in the bag.
There's no separate macro mode for close-ups, but you do get the chance to adjust brightness, a flash control, a self-timer and various colour effects. A continuous multi-shot mode can be engaged too, and white balance can be altered for indoor or outdoor conditions - though only when the flash is switched off. It's all somewhat perfunctory.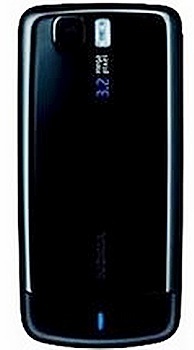 The 3.2Mp camera has autofocus - but not much else
The image quality you can get from the camera is reasonable for a 3.2Mp shooter but not exceptional. It fares better in strong lighting conditions, and it can capture a decent amount of detail. Colour can be nice and vibrant. With high-contrast shots, it doesn't do quite so well, the darker elements looking muddy. Low-light shooting is average - the LED flash is better than no illumination and does throw some light on closer subjects, but images still tend to have plenty of noise and colours aren't particularly well rendered.
As has become commonplace on Nokia mobiles, you can upload shots or video clips straight to Flickr. Video can be shot at 640 x 480 resolution but only 15f/s, so footage isn't particularly smooth.
The 6600 Slide has a mere 20MB of internal storage is built into the 6600 Slide, though Nokia does include a 512MB Micro SD card in the box. The phone can handle cards up to 8GB in its slot, which is positioned behind the battery.
That means decent potential for listening to tunes on the phone's music player. Another bog-standard bit of S40 software, this does an efficient enough job of spinning tracks, with songs arranged into familiar music player categories. It's controlled using the navpad. MP3, MP4, AAC, eAAC+ and WMA files are supported. There's an FM radio too.
Unlike recent N series and XpressMusic phones, there's no standard 3.5mm headphone socket built into the phone, but the better than average two-part set of earphones supplied includes an adaptor so you can plug in your own cans. Tunes sound pretty good through the supplied in-ear headset, which attaches to micro USB slot on top of the phone. It delivers well-detailed audio for a mobile, with a little heavyweight bass in the mix too.
There's a Nokia browser which runs reasonably on 3G, but not particularly brilliantly on picture or media-heavy sites. It's better to use the fine Opera Mini mobile browser, pre-loaded too. As with most of its recent S40 phones, Nokia has also include Yahoo! Go and Nokia's WidSets, both of which are capable of delivering news, email, weather, blog updates and so on through desktop widget-like applets. An online Search client for Windows Live or Yahoo! is included too.

The slide action's smooth - and so are the sides
Naturally the phone is equipped for using email, while a solid set of organiser functionality and workaday phone tools are present too. The phone can also be hooked up to a USB printer that supports PictBrige, while other USB devices, such as memory sticks, can be connected for file browsing and transfers - using a non-bundled adaptor. Voice call quality was of a high standard on the 6600 Slide, with ample volume. We had no trouble getting and maintaining a decent network coverage too. We did have issues with the vibrating alert for incoming calls, though: it's way too weak and can be easily missed when the 6600's in your pocket. Lay the phone on its back and its rear-facing louspeaker is muffled.
Battery performance was reasonable with our typical usage. Nokia reckons on optimum figures of up to four hours of talktime or up to 240 hours in standby, though with our average amount of mobile use we managed around three days from a full charge.
Verdict
Sure, the Nokia 6600 Slide is a neat looking, smooth and well-built piece, packing in the essentials for a 3G mid-level mobile. It delivers a good music performance, and has a reasonable if unspectacular camera. But under the surface it's a standard Nokia S40 handset with little to excite upmarket phone buyers. Still, if you're after an attractively designed compact sliderphone, the 6600 Slide's worth a look. ®
More Mobile Reviews...

Palm Pré
video preview

LG KC780

Sony Ericsson
Cyber-shot C905

LG Cookie