Original URL: http://www.theregister.co.uk/2009/01/14/review_rfid_kit_violet_mirro/
Violet Mir:ror DIY RFID kit
Attach the internet to objects. Apparently
Posted in Personal Tech, 14th January 2009 09:48 GMT
Review Whether you notice it or not, radio-frequency identification (RFID) is upon us in our daily lives. For Londoners, the most obvious incarnation is the Oyster card. Sit it on a pad when you start and finish a tube journey and the fare is deducted from your account automatically.
The people at Violet want to make RFID a rather more fluffy experience by domesticating this technology with its range of cute looking 'rabbit' objects that also rely on a touchpad, called the Mir:ror, that hooks up with Mac, PC and even Linux boxes over USB. Internet access is also essential, to deliver what Violet describes as "The Internet of Things".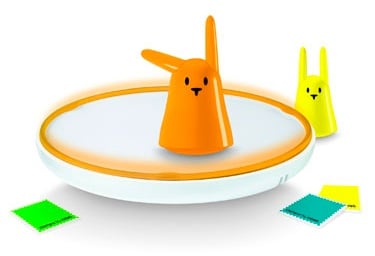 Violet's Mir:ror: everything is illuminated
Out of the box you get the Mir:ror, three Ztamps - postage stamp-sized stick-on RFID chips - and two Nano:ztags – plastic rabbits with moveable ears that do nothing other than add an element of body language to the proceedings.
The idea is that tagged objects or the rabbits can be assigned specific tasks. Wave them over the Mir:ror and anything from RSS headlines being read aloud, to streaming a favourite podcast channel are set in motion. Such are the basics of the Mir:ror, but there's a whole ecosystem of possibilities that Violet is pioneering in order to realise its slogan, Let All Things Be Connected.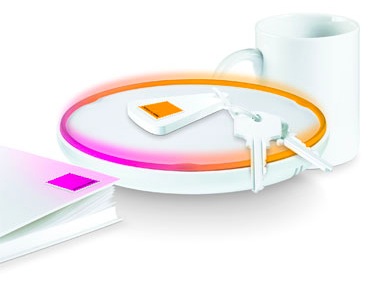 Put a tagged object on the pad to trigger an event
A flimsy quick-start guide gets things off the ground, the first task being to download the Mirware software. At version 0.9, it doesn't inspire confidence. Once installed, a purple circle icon appears in the Mac menu bar and likewise on a PC's Quick Launch area. If no Mir:ror is detected, the icon has a red X through it. Sometimes when the Mir:ror was connected but the application had to be quit and restarted, this disconnected state would appear, forcing us to unplug and replug the Mir:ror touchpad. A bit flaky really.
The pad itself is quite alluring. An illuminated rim glows different colours and the host computer plays a brief start-up tune when it's connected. When detecting tagged objects, it squawks momentarily and flashes like a beacon if the object remains on the pad.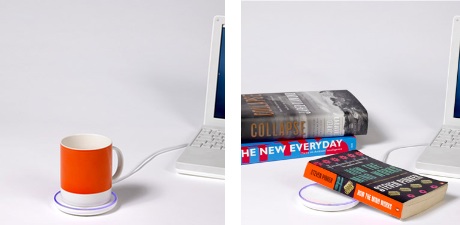 Tag anything you like
The setup works on two levels. Once logged in to your mandatory Violet.net account, communication options with the outside world can be established, but for personalising objects and assigning tasks to them, the Mirware application comes into play. Mirware needs to be running at all times to keep the system active on the host computer and requires a log-in when objects are to be configured. Placing a tagged object on the Mir:ror for the first time pops up a personalisation page where the object can be renamed and a JPEG image added, but it only works with the suffix '.jpg'. Images named 'something.jpeg' are rejected.
Accidentally clicking 'Upload this picture' before actually choosing one produced a server error message that couldn't be dismissed - quitting Mirware was the only option. The red X appeared on the menu icon, and the unplug-replug process began in earnest. Quite a few hoops just to personalise a plastic bunny. The options are the same for any RFID object, even an Oyster card.
The next step is to assign functions to the tagged object. From within Mirware, the Applications page has an array of categories: Music, News, /dev, Culture, Lifestyle, Tools, Day2Day life, Communication, Sports & Health, Finance, Kids, and Science & Tech. The majority of content links to podcasts or RSS feeds. Clicking 'Back' to exit a category and return to the Applications grouping, mysteriously changes the language. Even though the drop-menu choice shows as English, the page becomes French and sometimes German or Spanish. For the most part you can work around this, but under Tools, the Bla Bla Bla application, which makes an object talk, will default to the wrong language.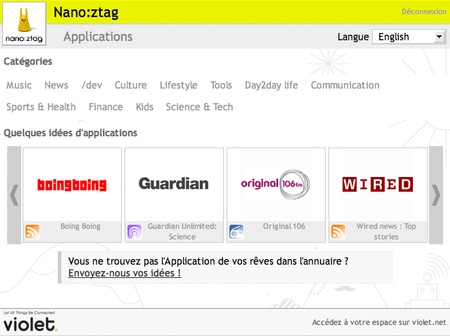 Lost in translation
Bla Bla Bla does include a wide range of voices so this can be changed, but will the target market be so savvy? Still, this led to the discovery that Violet offers five British voices for speaking tasks, and hearing these familiar, albeit computerised, accents really does take the personalisation process a step further into one's own reality. Jolly good show, chaps.
While assigning a podcast was easy enough, with the rabbit spurring the Mirware sound player into life, the option to open a file was far more enticing. Testing with Apple's Garageband worked out nicely: choosing a song file preconfigured with an empty audio track and the built-in guitar tuner at the ready. Deciding against tagging a guitar but using a rabbit on the Mir:ror instead, this composition application was up and running for instant tuning or recording.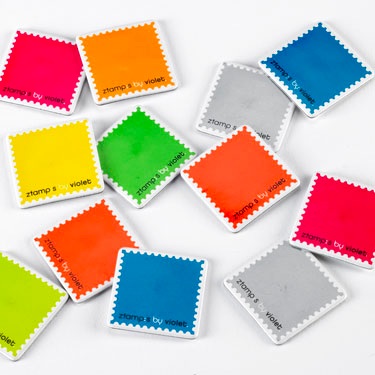 Ztamps: Mir:ror comes with a set of colourful tags
The only gripe here is that you can't browse for the target file, the path has to be entered manually. Again, this seems unnecessarily complicated for a consumer product.
The Tools category has the more creative options, even allowing the Oyster card to have the TFL travel news web page assigned to it, so that a swipe would reveal any service interruptions prior to an outing. More than one application can be assigned on an object, but you can only edit or delete an application, not deactivate it. This is a pity, as some application set-ups take a bit of effort and switching between uses would be handy.
Each object can be assigned an e-mail address and by default has a 'My Ztamp's Mailbox' application applied to it. It can be removed, but you'd be killing off a remarkable range of features in the process. All the RFID objects used with the Mir:ror, whether it's a sticker on a kid's book that launches a photo gallery or a rabbit that plays an iTunes playlist, can be sent messages using the Violet.net site. Your account can have its own library of multimedia files that can be dispatched to your objects or messages sent and the text read aloud.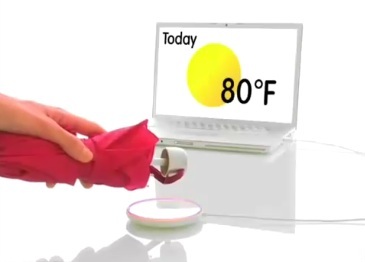 Tap your brolly to check the weather
The thinking here is that whilst logged in to Violet.net, Romeo sends a message to Juliet and when she next uses her rabbit, she has the pleasure of aural text as well.
Voice messages are also possible from Violet.net by first configuring Flash's Camera and Microphone Access. The Ztamp mailbox handles all these incoming messages but rather annoyingly, once the message is played it can't be replayed. Sent images appear full screen when received but can't seem to be saved.
In a way, it probably makes sense, as this approach to communication is somewhat frivolous. Given that anyone, even a non-Mir:ror user, can sign up for a Violet.net account and, when granted permission, communicate with a Mir:ror user's objects, detritus could rapidly accumulate. Spam is even a possibility, which is why the site features blocking options.
As a concept, the Mir:ror did seem to imply that behaviour modifications were necessary to get the best out of it, but this was largely due to Violet over-hyping its offering's uses. Having watched the promo video on YouTube, the idea of waving a fish food container over the Mir:ror to know if you'd fed them, suggested users with memories akin to their cyprinid companions.

Nano:ztag: more colours than the iPod Nano line-up
Verdict
The communication aspects will no doubt appeal to the socially anorexic because, in the end, it's all about being tied to a computer to be notified of things that might be better experienced in real time using the phone, which is rather more mobile and can also receive messages. Still, the Mir:ror can be useful in accessing applications or information quickly, and it's not too pricey either. It's just a shame the software is so half-baked in places.
So if you're alarmed when your nearest and dearest says she's going to buy a rabbit to help with the daily grind, take heart - it's highly likely she'll need your help to use it in front of the Mir:ror. ®
More Gadget Reviews...
| | | | |
| --- | --- | --- | --- |
| Movu Minoru | Sony Rolly | WowWee Rovio | Vuzix iWear AV230 XL |