Original URL: https://www.theregister.co.uk/2009/01/14/lordy_gosh/
Lords, MPs go down on to the Erotic Awards
Hob-knobbing with the hoi polloi, fighting for your freedom. With flying penises
Posted in Policy, 14th January 2009 13:14 GMT
Comment Three flying penises, two noble Lords, and an international model downing a few glasses of white before jetting off to do a show in Israel. Absolutely not – we promise – how our beloved editor spends his weekends. Nor an advance copy of the exclusive with which the News of the World hope, this year, to cap last year's rather unfortunate little court outing with Max Mosley.
No - this was the last blast for the 2008 Erotic Awards, bringing together politicians, artists and assorted campaigners for greater sexual diversity in a bar of the Westminster Marriott Hotel – formerly County Hall and seat of the Greater London Council.
The Awards describe themselves as a fund-raising initiative honouring the stars in the Erotic Universe. All profits go to the Outsiders Trust, a charity dedicated to bringing together people with physical, sensory and social disabilities who feel isolated and wish to meet more people.
From film to literature, escorts to activists, all erotic life is there. This was the political leg of the journey. Whilst most awards were given out back in September 2008, attempts to cram all winners into the space available would have been an interesting exercise in intimacy.
Tonight was the turn of Lord Faulkner, Baroness Miller and John McDonnell MP to receive the thanks and approbation of the erotic community. Over the last year, the first two put up a spirited defence in the Lords against the Government's plans to criminalise extreme porn. All three have been active in talking directly to sex workers and putting their case in the face of a determined onslaught by a government bent on rewriting the sexual rule book before they finally go to meet their maker — or a general election, whichever comes sooner.
Although John McDonnell could not be there, the two game Lords not only turned up, but braved the inevitable cheap jibes from the tabloid press by being photographed with their hands around the neck of a flying gold penis – the trophy awarded to each and every winner.
Whilst spirits were high, there was a serious side to the banter. We are now less than a fortnight away from the date when individuals could be criminalised and imprisoned for no more than possession of a particular category of porn.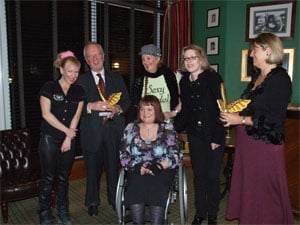 Pic copyright: John Ozimek
Tuppy Owens, Chairman of the Sexual Freedom Coalition, was briefly upbeat, saying "At least I'm safe for now: I live in Scotland". Sadly for her this safety will be shortlived, as the Scottish Government are even now working on devising a new law that is likely to be even tougher than the English ban on extreme porn.
We are also now in the middle of yet another round of sexual lawmaking, as Labour, through the Policing and Crime Bill 2008, seeks to clamp down on its vision of how prostitution works. The sponsors of the Erotic Awards do not mince their words in respect of this measure. They describe its provisions as incoherent, dangerous, abusive and likely to result in more exploitation, not less.
Or as Lord Faulkner put it, echoing analysis carried out by El Reg earlier this year: "Government research on the topic is bogus: this legislation is based on a lie."
The atmosphere of the event was oddly wistful — reminiscent, perhaps of how Londoners must have felt during the phony war, when hostilities were expected any minute, but hadn't actually commenced. The politicians and campaigners were painfully aware that although this government's mandate may now be time-limited, it still has the capability to wreak immense damage.
Legislation on prostitution in the last session of parliament was pushed back because those opposed to it argued that it could be brought forward for more thoughtful consideration in this session. The new session has arrived, and so has the revised and extended legislation. For the other side, academic and campaigner for the rights of working women, Belinda Brooks-Gordon, suggested that the opposition to government proposals was also far readier than it had been a year ago.
So where's the IT angle? Apart from legislation on extreme porn, this event is also the antithesis of a trend that is both uniquely British and seriously chilling both in terms of how people use the net in future, and how we are allowed to express ourselves more generally.
One of the most perceptive comments of the evening came from performance artist, "Mouse". She said: "The UK is pants. Over the last ten years, we have just gone backwards sexually. A lot of things are going underground. Although from a completely selfish point of view that's not all bad — it just means people pay more to see me perform."
In other words, the present government has presided over a decade of growing puritanism, which in turn is fertile ground for legislation on porn, on prostitution, and yes, for much broader regulation of the internet.
One of the reasons Labour has been able to get away with this is a view the Reg has encountered many times when talking to members of the Lower House — they simply dare not argue the case for sexual freedom because they are afraid of how it would be portrayed to the electorate. Much of what is being proposed or passed into Law at present may – just — have majority support. But only just. Yet, if one listens to debates in the House of Commons, there is almost no opposition.
Whilst the noble Lords could not agree quite on the solution – Baroness Miller teased Lord Faulkner with the suggestion that proportional representation might help – it does underscore the need to retain a body such as the Lords. Because at present, almost the only people prepared to put their necks on the line for topics that won't play well with the Daily Mail sit in that House, not the Commons. ®