Original URL: https://www.theregister.co.uk/2009/01/13/spacex_raises_falcon_9_to_vertical/
SpaceX erects Phallus Falcon 9 rocket
All systems go
Posted in Science, 13th January 2009 00:35 GMT
SpaceX successfully raised its first Falcon 9 rocket to vertical Saturday evening at the US Air Force launch complex in Cape Canaveral, Florida.
We think you'll agree it's quite a sight to behold.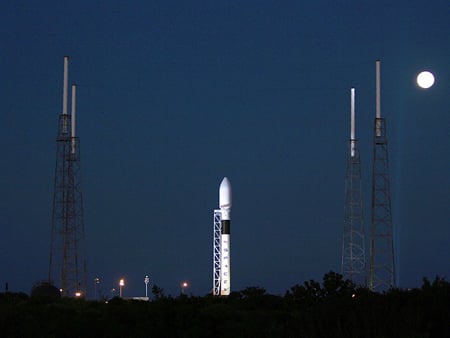 I don't know sir, but it looks like a giant...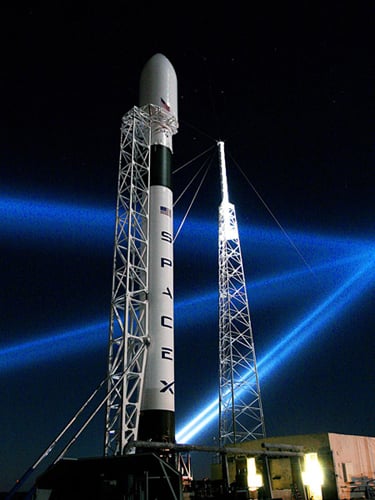 Dick, take a look out the starboard side! (Images courtesy SpaceX.)
The rocket was erected for the sake of experimentation this time — as any young space agency is wont to do. Falcon 9 won't actually penetrate Earth's atmosphere until later this year, when it will carry the reusable Dragon spacecraft for three five-hour demo flights.
Later in 2010, Dragon will test coupling with the International Space Station, although it won't actually be carrying cargo.
SpaceX says it took only 30 minutes to get the 17 foot diameter, 180 foot long rocket to stand stiffly at attention after mating the craft with a transporter erector system. That's a big improvement over older rockets which need considerably more time and effort to get up.
"We encountered no show-stoppers or significant delays. I am highly confident that we will achieve our goals of being able to go from hanger to liftoff in under 60 minutes, which will be a big leap forward in capability compared with the days to weeks required to other launch vehicles," sated Elon Musk, CEO of SpaceX.
SpaceX was a winner of the NASA Commercial Orbital Transportation Services competition designed to fill the gap in the US launching giant phalluses into space when the Shuttle fleet is retired in 2010. ®