Original URL: http://www.theregister.co.uk/2009/01/13/review_dab_radio_ipod_dock_pure_avanti_flow/
Pure Digital Avanti Flow internet radio and iPod speaker
Pure's DAB/Wi-Fi line-up gets iPod friendly
Posted in Personal Tech, 13th January 2009 12:02 GMT
Review Rather than seeing this product as a beefed up DAB/Internet radio, it's far more accurate to view Pure Digital's Avanti Flow as a micro hi-fi system for the internet age. Its iPod dock and media streaming capabilities - there's no CD player - means the player is firmly aimed at an audience that has fully embraced the online world, but wants an attractive tabletop unit to play their music.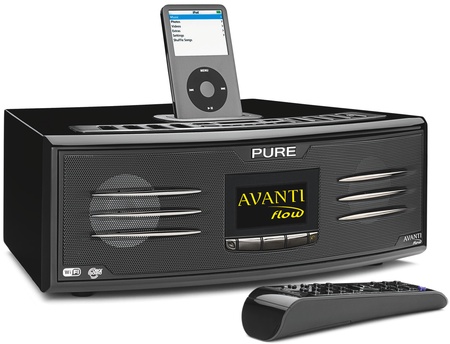 Pure's Avanti:
The Avanti delivers all of its functionality in an easy to use and effective way, so once set up, you'll be likely to use all the features rather than forgetting a third of what the product can do after the first flush of ownership is past. It also delvers a genuinely impressive level of sound reproduction.
First impressions out of the box are good. The gloss black finish coupled with the metallic silver flashes on the main driver unit grilles give the unit a very attractive appearance. The Avanti really looks like it means business. Picking the machine up, you'll find the Avanti seems very solid and the build quality feels of a good standard.
Attention to detail is underlined by the fact that the unit comes in a rather nice soft drawstring bag to make sure it can be transported its attractive livery without being scratched. There are also durable rubber feet to give the Avanti a solid and non-slip platform to work from. The same rubberised texture has been applied to the underside of the remote so it won't slide around on fashionable glass tables.
DAB - Band III and L-Band - set-up is quick but powerful. The Avanti has reception abilities - on FM mode too - beyond most portable systems, picking up stations that weren't spotted by other DAB radios tested in exactly the same location. The unit has a large, yellow and black OLED display which sits above metallic buttons. Further controls are sited on the top of the unit, and are all clearly labeled for easy access to every one of the unit's capabilities. The remote can control all of the machines features too.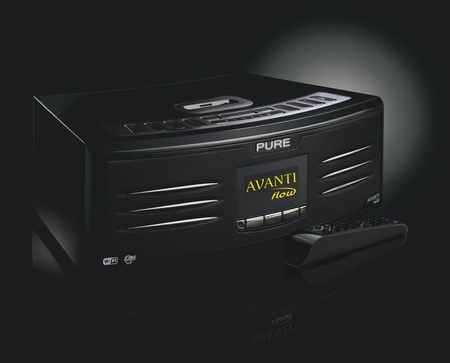 Ready to rock
The display also scrolls up, rather than from right to left as is the case on most other DAB devices. The Avanti way is actually far easier to read and feels far more natural.
Radio mode also boasts 30 DAB presets but only a less generous ten in FM, though it is RDS and RadioText capable.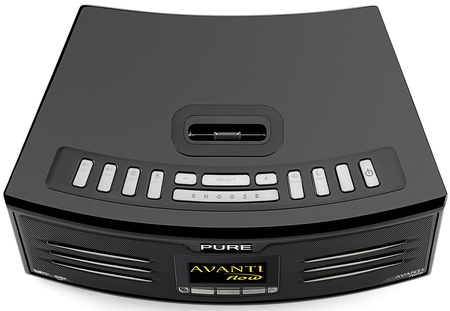 There's a full set of controls on board
Forgoing anything as old fashioned as a CD deck, this unit assumes a person's music collection is primarily kept on an iPod, though there is a 3.5mm jack on the back for other media players and for owners of iPods without dock connectors. iPod compatibility is pretty thorough - the machine comes with its own little box of universal dock adaptors to hold many different models. The bundled adaptors cover - deep breath - the iPod Mini, iPod 2G, iPod 3G, iPod 4G, iPod 5G, iPod Nano, iPod nano 2G, iPod Nano 3G, iPod Nano 4G, iPod Classic, iPod Touch and iPod Touch 2G. They fit into the Avanti nicely and ensure whatever dockable iPod you use will fit straight onto the dock connector smoothly.
Internet connectivity has been given an equal amount of attention and the Avanti provides a full alphanumeric array across just two screens. This makes getting the internet radio up and running easier than some interfaces, where you have to scroll back and forth trying to find the numbers and symbols you want. WEP and WPA 2 encryption methods are supported for secure Wi-Fi links.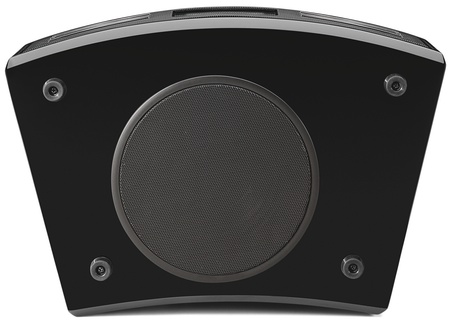 And a powerful down-facing sub-woofer
The Avanti's UI allows you to easily find and store the internet radio stations that you want. But it's the machine's associated website, The Lounge, that takes its online capabilities to a different level. The site lets you store unlimited favourites and set-up profiles for different users or styles of music. Pure has also added some nice little extras like Pure Sounds, a library of over 100 ambient sound effects designed to help you set a mood, drop off to sleep or just work to.
Codecs supported include WMA up to version 9, WAV, AAC, MP3, MP2 and Real Audio.
What pushes the Avanti beyond being a good product to being a very good product is that it does all of this with a sound quality that many a more expensive unit would envy. The machine's two full-range 3in drive units and 5.25in down-firing sub-woofer - the quoted audio output is 75W RMS total from the 20W speakers and the 35W sub - are supported by Pure's Avanti Clearsound technology. This is described as - take another deep breath - "a digital end-to-end audio sub-system using high-quality Class D amplifiers, digital audio shaping technology and custom-tuned speakers to provide clear dynamic audio, higher volume levels and low power consumption". Technology chest beating aside, the excellent sound quality is undeniable.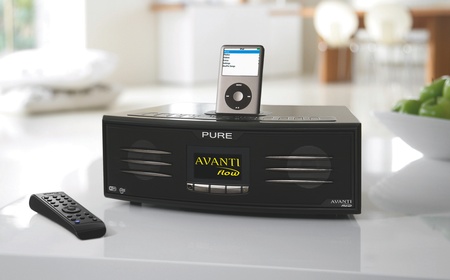 Excellent sound quality, wherever you put it
We tried China Groove from The Doobie Brothers through an iPod Nano on the dock and the sound was punchy, fast and full ranged. Switching to DAB, talk radio was delivered in a very clear and rich sound, without any of the tinny, thin feeling that you often get with talk radio. TalkSport's Saturday football round up came over with real excitement, taking in all the reporters had to say, but delivering plenty of atmosphere as well by way of the background noise of fans and ground announcements.
We then switched to a DAB music channel, and the unit's ability to deliver bass and mid-range with genuine quality shines through. Soundgarden's Black Hole Sun broadcast by the BBC's 6 Music station soared out of the speakers. A nice touch is that the amount of bass delivered by the sub-woofer can be adjusted to the appropriate level depending on what is being listened to.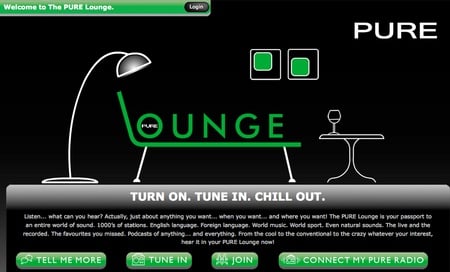 Links up to The Lounge
Bit rates can be an issue, but the Avanti presented internet radio in perhaps the best quality we've yet heard from this type of unit.
Verdict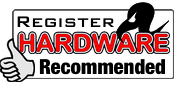 The Avanti's price - £280 - could be a little keener. However, after spending some time with this likeable, powerful little unit, and taking into account its versatility and sound quality, we do think it's worth the money. The Avanti can deliver everything from your morning radio fix of the Today Programme, through the wide world of internet radio, right up to a full scale rock-out from your portable or computer-stored music collection. ®