Original URL: https://www.theregister.co.uk/2009/01/13/navman_spirit_trio/
Navman dumbs down
'Durr, what's a satnav?'
Posted in Science, 13th January 2009 12:22 GMT
Navman has launched a trio of simplified satnavs designed to ease navigational complexity woes.
The S300T, S200 Europe and S200 Regional each have a 4.3in widescreen display and a user interface that's divided into three core areas: one for regular navigation requirements, another for finding specific places or buildings, and a third section for finding points of interest or local services.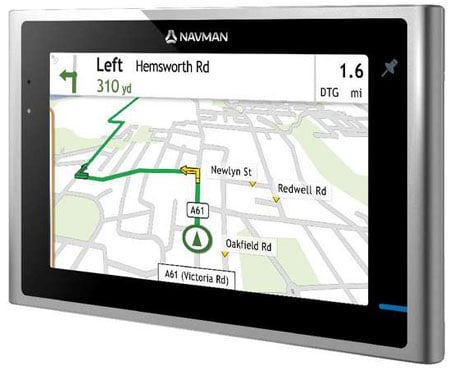 Navman's three Spirit satnavs have simplified menus
Text-to-speech functionality allows next turn road names and numbers to be played aloud to the driver, in addition to the standard directions. These can be sent out through your car's stereo too, thanks to the inclusion of an FM transmitter.
All three models, which fall under the Spirit range, use Navman's ClearView maps and 3D Junction Views, which the firm claimed strips out unimportant detail from maps.
So, what differences are there between the trio? Well, the top S300T model comes with free lifetime live traffic information, "intelligent re-routing" and maps for the whole of Europe.
You won't get the live traffic updates with the S200 Europe or S200 Regional, and the latter model only comes with maps for the UK and Ireland.
All three Navman satnavs are available now, with the S300T priced at £250 ($365/€275), the S200 Europe at £220 ($321/€242) and the S200 Regional at £180 ($263/€198). ®