Original URL: https://www.theregister.co.uk/2009/01/10/ssd_raid/
G-Technology puts SSD RAID in your pocket
Enjoy higher vibration
Posted in Data Centre, 10th January 2009 04:51 GMT
Macworld Expo G-Technology announced an exceedingly compact, exceedingly snappy, exceedingly durable, exceedingly expensive portable drive at this week's Macworld Expo.
The solid-state G-RAID mini SSD is available in 250GB and 500GB capacities, can be formatted as either RAID 0 or RAID 1, and has eSATA, FireWire 800, FireWire 400, and USB 2.0 ports.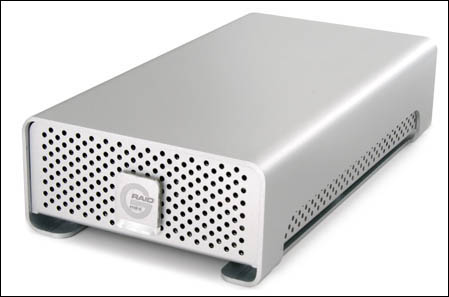 Compact, lightweight, fast, and with all the ports you might need
The mini SSD RAID uses the same case as does G-Technology's hard drive-equipped G-RAID mini drives, but since SSD storage is chip-based - nothing to spin, crash, freeze, or vibrate - the drives are, according to G-Technology, able to withstand "extreme shock up to 1500Gs and can endure higher altitudes, vibration and temperatures" than can boring ol' hard drives.
G-Technology promises equally impressive performance. When formatted as RAID 0, the company claims that the G-RAID mini SSD will achieve "up to 195MB/sec data transfer rates" and support "the playback of five simultaneous ProRes 422 HQ streams and a single stream of uncompressed HD when attached via eSATA."
Not too shabby for a drive that measures a mere 14.9- by 8.25- by 3.8-centimeters (5.875- by 3.25- by 1.5-inches) and weighs a svelte quarter of a kilo (8.5 oz.) - despite its case being aluminum rather than lightweight, cheesy plastic.
You will, of course, pay for this durability and performance: the 250GB model will set you back $999 (£655) and the 500GB unit a cool $2199 (£1443).
Too bad the holiday season is over. This little guy would have made a killer stocking-stuffer. ®