Original URL: https://www.theregister.co.uk/2009/01/10/sony_flexi_oled_concepts/
Sony shows 'flexi OLED' curvacious concept kit
Hinge-less future laptops to fold open
Posted in Personal Tech, 10th January 2009 20:50 GMT
CES While commercial products are still probably a few years away, the Flex OLED Future Concepts designs on Sony's CES stand rapidly became a major focus of interest at the show.
Three device designs were on display: a Future Concept Reader, Walkman and Vaio notebook, all using curved OLED screens made from what Sony are calling "flexible bio plastic".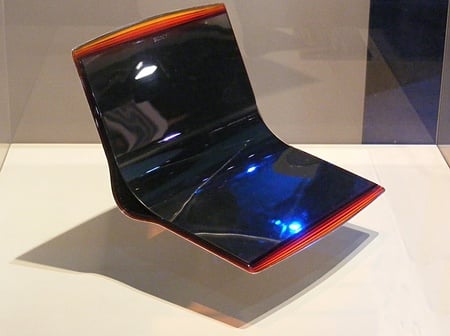 Sony's flexi-OLED laptop
Of the three, it's the Vaio that really grabs the attention. The screen and keyboard are formed from a single touch-sensitive OLED sheet that can be opened at an angle like a conventional notebook or folded flat.
The Walkman takes the form of a smooth bracelet about 3cm wide, the flexible plastic allowing the device to be opened and closed around the user's wrist without a conventional catch. According to the demo video, the entire surface is intended to be touch-sensitive to allow the user to swipe between tracks and album art and even change the colour of the player.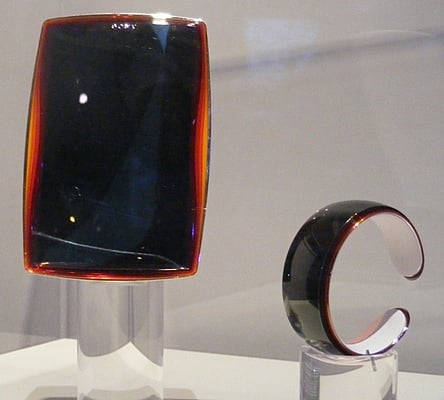 Ebook reader (left) and Walkman
The ebook reader looked more like a PMP than Sony's current PRS-700 reader, the idea presumably being that the low power draw of the OLED screen will free future readers from reliance on the rather monochrome capabilities of the e-ink screens of the current generation.
Technical details were noticeable only by their total absence, but if the finished products are anything like those shown in the demo videos and under the glass, Sony is on to a winner. ®