Original URL: https://www.theregister.co.uk/2009/01/09/review_cameraphone_lg_kc780/
LG KC870 cut-price 8Mp cameraphone
Big camera, low price
Posted in Personal Tech, 9th January 2009 12:02 GMT
Review LG's making a habit of this. Having taken touchscreen phones into the mass market with the release of the Cookie, the maker of the upscale Renoir is now aiming to do the same with eight-megapixel handsets, with the help of its more affordable KC780.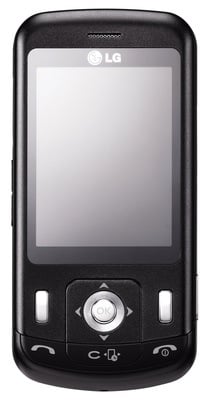 LG's KC780: eight million pixels on a budget
Unlike the Renoir and Cookie, the KC780 doesn't have a touchscreen. Instead, it's a slider aimed at mid-level mobile buyers who put cameraphone shooting high up their feature wish-list.
That 8m pixel-packing camera certainly heads the spec list on this device, which has a far more modest mix of functionality than the Renoir or even other current eight-megapixel offerings, like Sony Ericsson's Cyber-shot C905 and Samsung's Pixon and i8510.
The KC780 doesn't do 3G or Wi-Fi. It's a tri-band GSM device relying on GPRS/Edge for data connectivity. There's no GPS and no smartphone OS. Instead, it majors on its shooting facilities, with an assortment of high-end camera software, including face and smile detection, to go with its Schneider-Kreuznach lens and that pixel-packed image sensor. Higher than average quality video capture and a slow-motion recording option add to the package.
Besides the shooter, LG slips in a fairly standard set of mid-tier mobile functionality. Regular phone fare such as music and video players, an FM radio and organiser tools tick the requisite boxes, while Bluetooth is present too – and with a novel function that can employ the phone as a Bluetooth webcam when connected to a PC.
There's little to turn heads with the KC780's design. It's a large-ish slider, measuring 105 x 51 x 13.7mm and weighing 119g – lighter and slimmer than the C905 sliderphone. But it's no pulse-racer, with just a slight bulge on the back panel the only indication that there's something out of the ordinary about it.
The display is a fair sized 2.4in, 240x320 screen. Though smaller than touchscreen eight-megapixel phones, it's decent enough for this lower level handset, giving ample viewfinder room and reasonable screen space. An on-board accelerometer automatically flips the screen view between portrait and landscape, depending on how the phone's being held, but only for certain functions, such as image and video viewing. The motion sensor is also employed for a selection of motion-controlled 'M-Toy' games.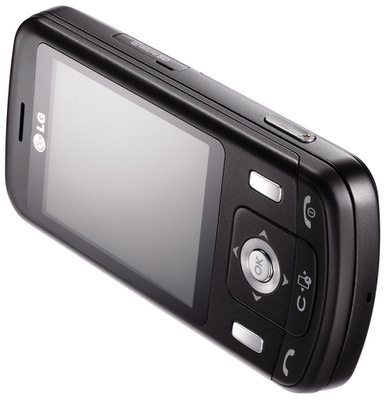 There's a motion sensor to detect phone flips
The phone isn't the most stylish handset you'll come across. Its functional black (or silver) bodywork looks plain and unremarkable. The navpad is large enough for easy pressing, though the down arrow is adjacent to the Clear key, and can be susceptible to being caught by straying thumbs.
The Clear key doubles up in standby as a Dashboard key, pulling up three applets - an image viewer, a calendar and a clock - on screen.
The navpad has pre-programmed shortcuts, including a Favourites list of most-wanted functions. The menu system is a familiar grid of icons - or a list - that leads into sub-menus where options can be scrolled through or selected by pressing the appropriate number next to the option on the numberpad.
The numberpad itself is fine. The numbers are nice and large, and rows are separated by slivers of chrome trim. Buttons on the same rows are formed from a single piece of plastic that's bumped to differentiate the keys. A slight curve on the rows helps keep fingers in the right place. The pad is springy and responsive, so good enough for fast texting.

Micro SD cards are supported but you don't get one in the box
Out of the box, LG sets up the KC780 with animated changing scenery wallpaper that's a bit cheesy for a phone that's supposed to be taking imaging seriously. Similarly, the gimmicky fonts are a bit of a turn-off.
Pressing the side camera button slips the phone into camera mode, firing up in around three seconds, automatically rotating the screen into landscape viewfinder orientation. There's no lens cover protecting the optics, so you're ready to shoot there and then. You can use the camera with the slider open or closed, though we'd recommend the latter for a more stable grip.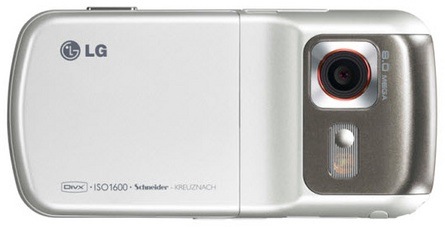 LED lighting not xenon
The KC780 has a less sophisticated camera user interface than the Renoir's impressive UI, though it has plenty to offer.
A set of five fast-access options, including flash and macro mode, are displayed as a column of icons at the side of the screen, with further settings accessible by menu. Here you can explore the extras LG has added. There's a familiar selection of auto metering overrides – such as white balance and exposure – plus resolution options, colourisation effects, panorama shooting, multi-shot option and a timer. You can also adjust the ISO rating, from 100 to 1600.
LG has included a face-detection setting and a smile shot feature which holds off snapping a picture until it sees that the subject you're shooting is smiling. Both these options work well, even indoors under reasonable lighting. The face detector locks on surprisingly effectively within a few metres of the subject. We'd wonder how often you'd really need smile detection, but within a few metres with a clear view of a subject, the KC780 mostly got it right.
An image stabiliser function is included too, plus a "Smart Lighting" option for balancing out shots taken in tricky, high-contrast light conditions – though this drops the resolution to one megapixel. Enabling panorama mode drops it further, to 0.3Mp.

The face-detection system works well
Not all of your shooting settings are retained when the camera is switched off. Although options like Smart Lighting, panorama and face-detection are automatically disabled when the camera's closed down, if the phone's switched itself to a lower resolution setting, it will restart at that resolution, not at 8Mp – so you'll have to reselect a higher resolution in the Settings menu if you want to avoid taking grainy shots.
At the top resolution, the KC780 is capable of capturing very pleasing shots. With good lighting, the camera can produce fine shots with a good level of detail and crisp definition. It can also handle subtle changes of tone very well, and the automatic metering is responsive. Macro shooting was good too, the camera locking focus quickly and accurately for sharp close-up results.
We found colour reproduction acceptable and exposure control impressive for a cameraphone, though some colours can appear a touch subdued in poorer lighting conditions. Indoors shooting in low light suffered from increased graininess, and the LED flash had only a limited effect in enhancing low light shooting. Its effective range is limited - it doesn't fill in as precisely or powerfully as a xenon flash. Used up close, it can burn out subjects.

The keypad's good for fast texting
The KC780 offers a bit more in the video capture department than most mid-level mobiles do. It can shoot at up to 720 x 480 resolution at 30f/s. There's also a Slow-Motion Recording option, recording at a higher frame rate at 320 x 240 for smooth if low-res slo-mo playback style – a fun feature but an uncommon one on a phone at this sort of price point.
A TV output facility is included – though no cable is supplied, so you'll have to buy one. DivX video playback is supported too.
Taking shots and video on higher resolution settings makes demands on the phone's 140MB of internal storage. You can add Micro SD cards to expand storage capacity – cards of up to 8GB are supported in its side-mounted slot – though there's no card bundled.
If you want to use the music player to any great extent, a memory card is a sound investment. It's a standard, functional app, with a plain, list-based user interface for selecting tracks and controlled using the navpad.
The phone's audio performance is reasonably good through its average earphones. There's no 3.5mm headphone socket or adaptor – it uses a slightly awkward side-mounted multi-connector – but stereo Bluetooth headphones are supported, however.
Bluetooth can also be used to add tracks, though it's quicker copying them over a cable. Tracks can be transfered using LG's PC Suite software or by putting the phone in mass-storage mode. With the earphones plugged in, you can also enjoy the serviceable FM radio. There's a loudspeaker, but its sound quality is typically harsh and tinny.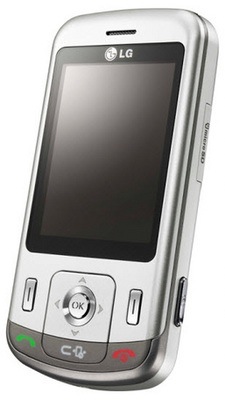 Available in black or silver
Browsing and downloading multimedia content is limited by pedestrian 2.5G data speeds. The WAP browser does a reasonable job of accessing mobile sites, but isn't going to convert you to surfing by phone.
Stock organiser functionality is included, along with routine world clock, calculator, convertor, stopwatch and voice recorder apps. A handy document viewer enables you to open and look at files such as Word, Excel, PowerPoint or PDFs sent as email attachments, or copied onto the phone or a memory card.
The KC780 handles voice calling well. Considering that it's not a 3G phone, LG's quoted battery life figures aren't particularly impressive: up to 250 hours of standby time or three hours of talktime, which is less than the touchscreen-equipped Renoir. But without the likes of GPS and Wi-Fi to sap the battery, the runtime can be eked out, and we typically managed around three days between charges.
Verdict
The KC780 has no 3G and none of the high-end gadgetry you get on other eight-megapixel mobiles. All it really has to offer is that 8Mp camera and a low cost. Thankfully, it's able to take fine, detailed shots, and if camera snapping is your thing, but you don't need smartphone functionality or touchscreen glamour, the LG's not a bad option. ®
More 8Mp Cameraphone Reviews...
| | | | |
| --- | --- | --- | --- |
| Sony C905 | Samsung Pixon | LG Renoir | Samsung i8510 |