Original URL: http://www.theregister.co.uk/2009/01/08/review_graphics_card_sapphire_hd4870x2_atomic/
Sapphire HD4870 X2 Atomic water-cooled graphics card
Liquid engineering and the world's most expensive graphics board
Posted in The Channel, 8th January 2009 12:02 GMT
Review AMD's ATI Radeon HD 4870 X2 is a formidable beast of a graphics card but it has a number of obvious flaws.
For starters, it's expensive, with prices starting at £399. It's also very long, measuring 267mm nose to tail, although in fairness that's the same length as an Nvidia GeForce GTX 280. The third snag is that the double-slot design is bulky, gets darned hot and exhausts a jet of heated air from the rear of your PC.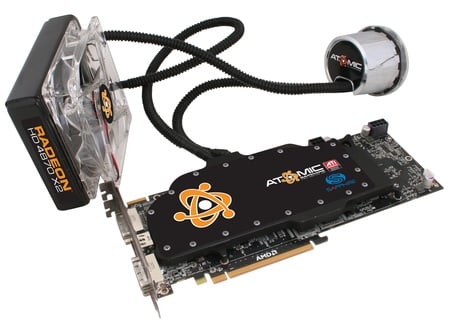 Sapphire's HD4870 X2 Atomic: liquid engineering
Sapphire has come up with a dramatic solution to the issue of heat with its water-cooled Atomic HD4870 X2.
Water cooling your PC isn't a new concept and it's relatively easy to add a water block, pump and radiator to keep your CPU cool. Doing the same for your graphics card is a different proposition as you have to dismantle the original cooler before you attach the VGA water block and hook it into the cooling loop.
Did you hear that whooshing noise? That was the sound of your warranty flying out through the window.
If you fancy water-cooling your Radeon HD 4870 X2, you can connect it to your existing system with a water block from the likes of EKWaterBlocks at a cost of £85. Add in two hose fittings and some tubing and the cost comes to about a hundred quid.
Sapphire's take on things is rather more sophisticated, as the Atomic is a prebuilt cooling system that uses Asetek LCLC hardware that's ready to plug into your PC. The GPU water block is attached to the HD 4870 X2 graphics card with six screws and covers both GPUs as well as the 2GB of GDDR 5 memory. The 6.3mm water hoses are connected to the CPU water block and the heat exchanger, which has a 120mm fan mounted piggyback style.
The CPU water block has the pump mounted on top and there's no separate reservoir of coolant so the whole setup is compact and neat. Once the graphics card is installed and the CPU water block in place, you only have to attach the heat exchanger to a suitable mount inside your case, probably at the top, and you're good to go. There are no hose connections to make, no coolant to fill, no bleeding and little likelihood of leaks.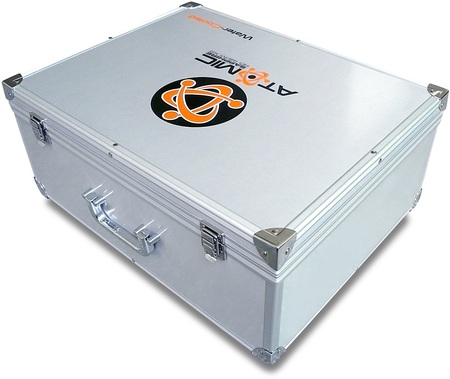 It all comes in a metal box
A couple of points stand out here. If you already use water cooling in your PC then Atomic probably isn't for you as you'll have to ditch your existing hardware. Installing the Atomic is relatively easy as you only need to replace an existing 120mm case fan with the heat exchanger/fan combo, but we hit something of a problem with the CPU block. It measures 70mm in diameter and has a series of crenellations around the circumference that engage with a retainer that locks the water block to the motherboard.
There are two of these retainers in the Atomic package: one for Intel LGA775 and the other for AMD AM2, which leaves a rather enormous Core i7-shaped hole in the proceedings.
We are told that the Atomic package was finalised before Core i7 was launched which sounds odd as LGA1366 coolers first broke cover ages ago. It seems highly unlikely that anyone would contemplate spending nearly £600 on a graphics card and then hobble it with a Phenom, and it seems equally unlikely that Sapphire will exclude the Core i7 brigade for long.
This gave us something of a problem as we wanted to test the Atomic with a Core i7 965 Extreme as it is the biggest, baddest desktop processor on the market, making it the natural partner to this graphics card. The problem is that we couldn't test the CPU cooler on the Core i7 so we were forced to also run the Atomic on an Intel DX38BT motherboard with Core 2 Extreme X9650 so we could give the water cooling a proper run for its money.
Beneath the Asetek hardware, the Sapphire Atomic is a regular HD 4870 X2 graphics card so it is horribly long and may be tricky to install inside your PC, although the water cooling helps as it converts the Atomic into a single-slot design.
3DMark Vantage Performance Mode Results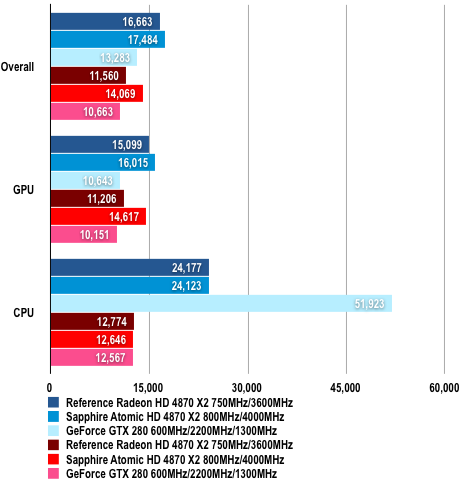 Blue bars used a Core i7 965 at 4GHz
Red bars used a Core 2 QX9650 at 3GHz
Longer bars are better
Sapphire has used the precise cooling control that is offered by the switch from air to water and has raised the clock speed from 750MHz/900MHz to 800MHz/1000MHz, which is a bigger step than it sounds as the memory on HD 4870 is GDDR 5. This makes the new effective speed 4000MHz rather than 3600MHz.
Installing the Atomic on our overclocked 4GHz Core i7 system was easy as we simply left the CPU cooler and heat exchanger hanging from the edge of the board in an undignified manner. The difference in noise level between the standard HD 4870 X2 and the Atomic was quite immediately apparent. Although the Atomic isn't silent it's certainly very quiet with both the pump and fan making less noise than the Noctua NH-C12P with LGA1366 mounting kit. It's a very effective cooler and we really should do an in-depth review soon.
3DMark06 Results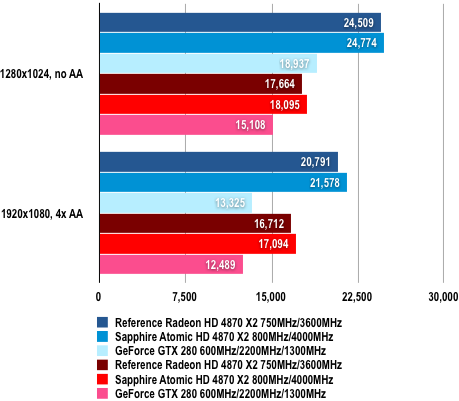 Blue bars used a Core i7 965 at 4GHz
Red bars used a Core 2 QX9650 at 3GHz
Longer bars are better
The standard HD 4870 X2 delivered storming performance across the board and very nearly matched the Atomic, which was something of a surprise as the extra clock speed used by Sapphire had little effect. We verified this by overclocking the reference card from 750MHz/900MHz to 800MHz/925MHz and found that this small amount of extra speed had no noticeable effect in our benchmark tests.
Far Cry 2 Results
1280 x 1024 at Very High Quality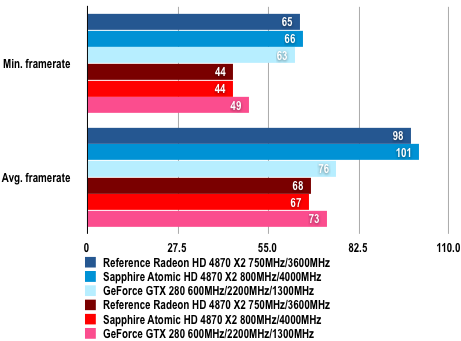 Blue bars used a Core i7 965 at 4GHz
Red bars used a Core 2 QX9650 at 3GHz
Longer bars are better
Far Cry 2 Results
1920 x 1080 at Very High Quality
8x anti-aliasing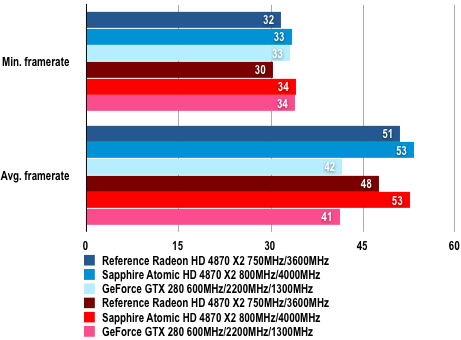 Blue bars used a Core i7 965 at 4GHz
Red bars used a Core 2 QX9650 at 3GHz
Longer bars are better
Power Draw Results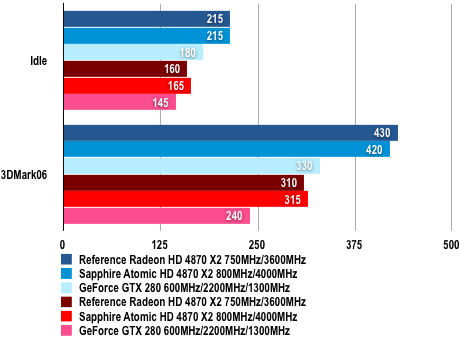 Power draw in Watt (W)
Blue bars used a Core i7 965 at 4GHz
Red bars used a Core 2 QX9650 at 3GHz
It was also noticeable that our GeForce GTX 280 kept pace with the HD 4870 X2 until we cranked up the image quality settings and added anti-aliasing to stress the graphics to the maximum. On the Core i7 system there was very little to choose between the standard HD 4870 X2 and the Atomic apart from the reduced noise level of the water cooled graphics card.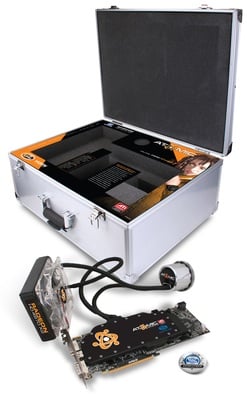 It was a different story when we changed to the 3GHz Core 2 Quad. At low resolutions the reduction in processor power really hurt the Radeons while the GTX 280 was unaffected. This indicates that the bottleneck in performance lay with the CPU on these settings but this may not be immediately apparent as the 3DMark Vantage figures seem to say something different. In fact the Atomic score is much higher than the reference HD 4870 X2 because one of the game tests repeatedly suffered from bad artefacts which had the curious effect of raising the GPU score by 30 per cent. Although the GPU was running at the same low temperature of 50° under load that we had seen on the Core i7 system, we noted that the idle temperature had risen from 35° to 45°. This was presumably a result of adding the CPU cooler into the equation as we now had an extra source of heat to contend with. However, we found that the Atomic system did a superb job of cooling our QX9650.
It's tempting to be flippant about the Sapphire Atomic and say that it bombs out or that it costs as much as a nuclear reactor, but the simple fact is that we can't imagine anyone spending £590 on a graphics card. If we take a charitable view, you're paying £400 for the graphics card and £100 for the water-cooling hardware. Sapphire packages the Atomic in a spiffy aluminium briefcase that must carry a cost and which presumably is expensive to ship from the Far East to Europe.
Add in the fact that you don't have to water cool the graphics card yourself and you retain your warranty, and the Atomic starts to look like fair value. The problem is that the price tag is colossal and you don't get an appreciable increase in performance for your money, so you're effectively paying a stiff premium for peace and quiet.
Verdict
Sapphire has added an Asetek water cooling kit to a £400 Radeon HD 4870 X2 graphics card and the result is a very, very expensive 4870 X2 that can also cool your Core 2 processor. The absence of a Core i7 adaptor is bonkers. ®
More Graphics Reviews...
| | | | |
| --- | --- | --- | --- |
| Radeon HD 4000 series | Fusion for Gaming | Sapphire 4850 X2 | Nvidia GTX 280 |