Original URL: https://www.theregister.co.uk/2009/01/08/microvision_show_wx/
Microvision protoypes iPhone-sized projector
Can you wait a year?
Posted in Data Centre, 8th January 2009 07:27 GMT
Macworld Expo Microvision, the Redmond-based creator of mobile display systems, chose Macworld Expo to unveil a prototype of its latest - and smallest - laser-based projector.
How small is small? In this case, quite small, indeed.
This 25 per cent slimmer version of Microvision's earlier Show prototype, now code named Show WX (for, argh, "wide experience"), is 11.8cm by 6cm by 1.4cm and weighs about 4.5 ounces. That 25 per cent reduction may not sound like much, but it promotes the device from being merely "really, really small" to "hey, that fits in my pocket."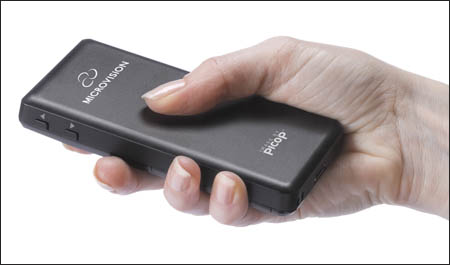 Actually, that's a rather small hand
It's smartphone sized. An iPhone 3G, for comparison, is 11.6cm by 6.21cm by 1.23cm and weighs 4.7 ounces, and a BlackBerry Bold is 11.4cm by 6.6cm by 1.5cm and weighs 4.8 ounces. In the opinion of Ian Brown, Microvision's VP Sales & Marketing: "Other projectors in the past may have called themselves pocket projectors, but they're still bricks." He may be biased, but he's right. If and when the Show MX graduates from prototype to product, it may be the world's first truly "pocketable" projector.
The Show WX uses Microvision's laser-based PicoP Display Engine to project a 16:9 WVGA (848 by 480) image on any surface. As Brown describes it, the PicoP is "a little engine about the size of my thumb that has three lasers: red, green, and blue. They're combined optically to create a single point of white light, and that point is then beamed onto a MEMS mirror, which is articulated both vertically and horizontally, and by the means of electromagnetic fields we can fluctuate [the beam's intensity]."
The mirror is one millimeter in size. That might sound small, but it's huge in comparison to digital micromirror device (DMD) chips used in digital light processing (DLP) systems such as TV and projectors. DMDs can have over two million mirrors on a single chip. The difference between a DMD chip and Microvision's PicoP is that in a DLP system, each mirror corresponds to a single display pixel. In the Show WX, on the other hand, a single mirror handles the aiming of the laser beam as it scans horizontally and vertically to project the rows and columns of the video image.
In addition to the PicoP projection engine, the Show WX includes support circuitry and a lithium ion battery which can power the device for about two hours, which Brown described as "movie-capable."
It Shoots Frickin' Laser Beams
One major advantage of using lasers as the light source for the Show WX is that lasers are inherently always in focus. That being the case, you can move the Show WX closer and further away from your projection surface or even project on a curved surface, with the image always remaining in focus. Of course, the closer you are to your projected surface, the brighter the image - remember the good ol' inverse square law from high school physics?
Brown rated the Show WX's brightness at 10 lumens, emphasizing that he was talking about "10 real lumens - we do not lie." In Brown's demonstration in a less-than-brilliantly lit service corridor of the Moscone Convention Center, home of Macworld Expo, the image was surprisingly bright at TV-set-sized projections, and quite serviceable - if nowhere near dazzling - at image sizes of three diagonal meters.
He also demonstrated the Show WX projecting on both the white hallway walls and the back of a black T-shirt worn by an obliging colleague. The images were quite impressive on the black surface, seeing as how the projector produces black by simply not projecting anything, making the contrast ratio on a black surface noticeably high - 10,000-to-1, according to Brown.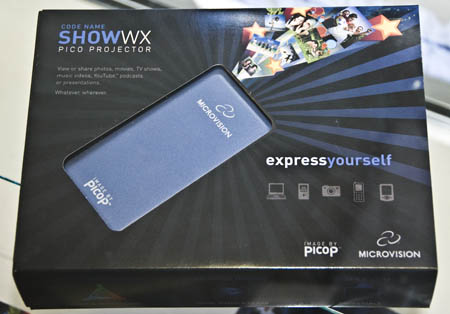 No, it's not yet a product. Yes, there's promotional packaging. Ah, marketing...
Brown said that the projector is "likely to launch at between four and five hundred dollars," but that Microvision is looking at different distribution channels. "We may not own-brand it or we may own-brand it, we may go through distributors or we may go through OEMs. We're really focused on making the engine good, and we're a bit agnostic about where it gets put."
The uses for the Show WX that Brown cited ranged from "fun" to "the elevator speech - which you literally can now do in the elevator. Or you can put it inside a MacBook, put it inside a camera, ultimately put it inside a cell phone." We can see it being used to share a video you just shot with a group of friends - projecting from the camera itself - or substituting for a recalcitrant office projector when you're giving a presentation on the road.
Then there's watching videos on the ceiling in bed. You pick the appropriate genre for that scenario.
Microvision will have its first "pilot units" to send to OEMs in mid-year. "By Christmas," Brown anticipates, "you'll be able to buy this in stores."
Let's hope. From what we saw, the Show WX or one of its possible variants could elicit more than a few ho-ho-hos in December. ®