Original URL: https://www.theregister.co.uk/2009/01/07/macworld_roundup/
Macworld: The Works
All our coverage in one place
Posted in Software, 7th January 2009 23:54 GMT
Apple unveils 17in MacBook, iLife tweaks, Tony Bennett
06/01/09 In one of the least eventful keynote speeches in recent memory, Apple's SVP Phil Schiller, filling in for the ailing Steve Jobs, announced upgrades to iLife and iWork, an upgraded 17-inch MacBook, and iTunes Store pricing-structure changes and DRM-removal plans.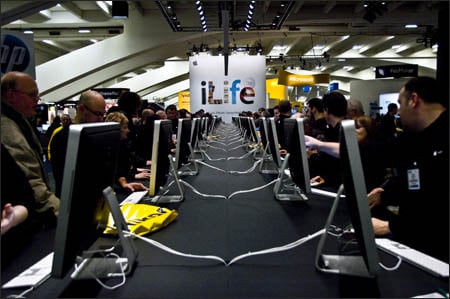 Apple iTunes Store goes '100% DRM-free' - allegedly
06/01/09 Take your pick - the iTunes Store is going 100 per cent DRM-free, or Apple is whacking 30 cents onto the price of each song and encouraging you to upgrade your whole iTunes library to iTunes Plus, at 30 cents (UK 20p) per song. Apple prefers the 100 per cent DRM-free line, naturally, but there's a price being paid to the record labels, and with "high-quality audio... that's virtually indistinguishable from the original recording" defined as 256-Kbps AAC, there seems to be headroom for another bite in a year or two.
Pranksters infiltrate live Macworld feed
06/01/09 As unfounded as they may be, reports of Steve Jobs's demise have spread to a live feed of Macworld Expo provided by Apple gossip site MacRumors after griefers managed to breach the website's security.
Picasa for fanboys arrives
06/01/09 Google has finally released a version of its Picasa software for the Apple Mac. The internet giant said yesterday that a public beta of the free photo editing tool was now available for download via Google Labs
Microsoft moves Macs closer to PC parity
06/01/09 Microsoft has announced two products designed to provide users of Office 2008 for Mac with improved access to existing server-based Microsoft services. The first of the two, Microsoft Entourage for Exchange Web Services, will be a free upgrade to Entourage 2008 for Mac that will enable that email, contacts, and calendaring client to more fully benefit from the Exchange Web Services built into Exchange Server 2007. The second, Microsoft Document Collaboration Companion for Mac, will be a free Cocoa-based companion app to Microsoft Office 2008 for Mac that's designed to improve document-management control for Mac users of Microsoft's SharePoint Server document-sharing technology.
Microsoft and Apple: 25 years of couples therapy
06/01/09 Microsoft wants you to know that it's not just the Mac that's holding a 25th birthday party: 2009 marks the 25th year that Redmond has developed software for Apple's quarter-centarian computer. The Apple/Microsoft relationship has had its rocky moments, to say the least. But the fact remains that Microsoft has consistently been at the top of the heap among Mac-productivity software publishers since the company released Word 1.0 for Mac in 1984.
Steve Jobs dismisses death rumours
06/01/09 Ever since Steve Jobs said he would not be giving the keynote speech at MacWorld, there have been lurid rumours that his health had taken a serious turn for the worse - but the Apple bigwig has finally had a go at putting the world straight. Jobs said today that his weight loss during the year is the result of a hormone imbalance, and that he has already started treatment to counter it.
Microvision demos iPhone-sized projector
07/01/09 Microvision, the Redmond-based creator of mobile display systems, chose Macworld Expo to unveil a prototype of its latest - and smallest - laser-based projector. How small is small? This 25 per cent slimmer version of Microvision's earlier Show prototype, now code named Show WX, is 11.8- by 6- by 1.4-cm and weighs about 4.5 ounces. That 25 per cent reduction may not sound like much, but it promotes the device from being merely "really, really small" to "hey, that fits in my pocket."
AKG headphones sound out US market
08/01/09 At this week's Macworld Expo, audio giant Harman International announced that it would begin selling its premium-quality headphone brand, AKG, in the US consumer market. While select products in the AKG line have been available to US-based audio professionals, the company's consumer-level 'phones have until now been unavailable to statesiders.
LaCie showcases hella-expensive display
08/01/09 Storage and display vendor LaCie showcased its recently released 730 LCD Monitor at this week's Macworld Expo, a jaw-droppingly gorgeous 30in display with an equally jaw-dropping price of $4240 (about £2785). Who on God's green earth would pay well over four-thousand bucks for an LCD display, even one as lovely as this one? Even Apple - a company not known for its low, low prices - charges just $1799 for its 30-incher, and PC Connection is offering the well-received 30-inch Samsung SyncMaster 305T for just $1249. ®