Original URL: https://www.theregister.co.uk/2009/01/06/macworld_expo_keynote/
Apple unveils 17in MacBook, iLife tweaks, Tony Bennett
Jobs-free keynote fails to inspire
Posted in The Channel, 6th January 2009 22:30 GMT
Macworld Expo In one of the least eventful keynote speeches in recent memory, Apple's SVP Phil Schiller, filling in for the ailing Steve Jobs, announced upgrades to iLife and iWork, an upgraded 17-inch MacBook, and iTunes Store pricing-structure changes and DRM-removal plans.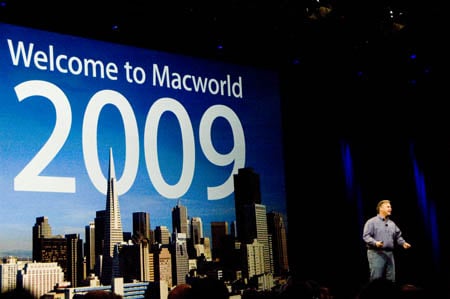 A performer is only as good as his material - but Phil Schiller rose to the occasion
It's hard to fault Schiller for the lack of excitement. In fact, he did a commendable job of turning a mere series of upgrades into a crowd-pleasing event - or, rather, a crowd-satisfying event.
To be fair, iLife '09, iWork '09, and the new 17-inch MacBook Pro are solid - if not earth-shattering - upgrades, and the iTunes news was welcome - if a bit short on details. It's just that after all the rumors of an upgraded Mac mini, media server, tablet Mac, or possibly just Steve Jobs dropping by to say "howdy," the event was a bit of a letdown.
iLife '09
Of the five iLife '09 apps - iPhoto, iMovie, GarageBand, iWeb, and iDVD - iPhoto received the most new goodies.
Face-detection technology is now built into iLife's photo organizer, editor, and slideshow producer, allowing it to perform a few new tricks, such as organizing photos into a "Faces" library that groups photos by the people appearing in them. Face detection is also used to center thumbnails of photos on a face and to auto-crop images for slideshows or printed books.
A new "Places" library is organized by GPS geo-tagging metadata embedded in each image by GPS-enabled cameras. If your camera is not so enabled, an included database of thousands of place names eases your chore of manually assigning places to them. Google-supplied maps - with both street and satellite views - display pins that mark and access place-related groupings of photos.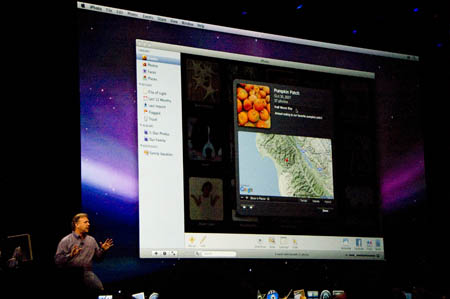 iPhoto's Places blends Google maps with GPS geotagging
Slideshows can now be created with canned themes and can use face-detection to center and crop photos to emphasize the faces of folks in them. iPhoto's photobook printing service can also center and crop using the same technology.
When the completely rewritten iMovie '08 was introduced last year, many users missed the more-precise control offered by its previous version. According to Schiller, their complaints were a major reason for the upgrades in iMovie '09.
New is a "Precision Editor" that returns much of the missing, well, precision. It's now possible, for example, to easily and precisely cut audio from one clip and paste it over another or to extend one clip's audio into the next clip.
Other new features include a two-step image-stabilization function, a library of new effects, an enhanced clip inspector, animated map routes in 2D and 3D (cue the '30s film-noir opening credits), and more.
GarageBand's marquee new feature - and new revenue stream for Apple - is its "Learn to Play" mode, in which basic keyboard and guitar lessons are presented in an HD video of a teacher above an animated keyboard or guitar fretboard displaying finger positions. GarageBand includes nine keyboard and nine guitar lessons that you'll need to download - but these first lessons are free.
The revenue stream comes from a new series of dowloadable $4.99 "Artist Lessons," in which famous, semi-famous, and who-the-hell-is-that-guy? artists teach you their chops and reminisce about the inspiration for the songs they're demonstrating. The first round of artists will include Sting, Patrick Stump, John Fogarty, Sarah McLachlan, Norah Jones, and more. According to Schiller, Apple will "continue to add more and more."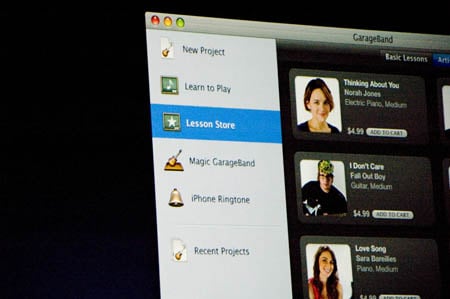 GarageBand's Lesson Store opens up a new $4.99-a-pop revenue stream for Apple
No upgrade information about iWeb and iDVD was provided.
When it ships in late January, iLife '09 will appear on all new Macs and cost $79 as a boxed "upgrade." A five-Mac "family pack" will be available for $99.
iWork '09
All three iWork '09 apps - Pages, Keynote, and Numbers - received tweaks, and a new online service, iWork.com, was introduced.
Pages - Apple's consumer-level word-processing and page-layout app - has added a full-screen view, much like that provided by third-party apps such as Hog Bay Software's WriteRoom, but with enhanced page-management controls.
Other new Pages features include an outlining function that dynamically re-orders full documents when changes are made to the outline, mail-merge integration with Numbers (previously integrated only with Apple's Address Book), and support for MathType and EndNote.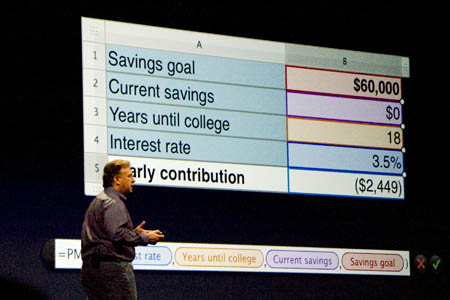 iWork's spreadsheet, Numbers, received a formula and function upgrade
iLife's Keynote presentation-software's face lift focused mainly on transitions and animations no doubt supported under the hood by Mac OS X Leopard's Core Animation technology. Expect to see much swooping, shattering, glimmering, and the like in the next non-PowerPoint presentation you attend. Charts can now be animated in Keynote, as well, and new themes and textures have been added.
Schiller also demonstrated a new 99-cent application for the iPhone and iPod Touch that allows you to wirelessly control your presentation while either previewing it in a two-slide display (horizontal) or viewing your presentation notes below a slide (vertical).
Apple's fledgling spreadsheet app, Numbers, received a hefty upgrade in its formula-creating capabilities, with a more-helpful interface accessing a larger set of functions - now "over 250," according to Schiller.
Numbers' charting functions are also improved, with the addition of multiple-axis charts, trend lines, and error-bar charts. Charts can now be linked across all three iWork apps as well.
Schiller also demoed a new service called iWork.com, which will enable iWork '09 users to upload their iWork-created content to the increasingly ubiquitous cloud, where it can be viewed and commented upon by others using their browser of choice, plus downloaded in iWork, PDF, or Microsoft Word formats. iWork.com is currently in beta and can be uploaded to only from iWork '09 apps. Although it's free today in beta form, Schiller said that "In the end, it will be a fee-based service" - which sounds to us a lot like the old schoolyard dealer's "The first one's free" come-on.
iWork.com is free in beta form, and another Apple revenue stream in the future
Speaking of fees, iWork '09 is available today at $79, or $99 for a five-Mac "family pack." The suite requires Mac OS X Leopard, so Apple will also offer a "Mac Box Set" of Leopard, iLife '09, and iWork '09 when iLife '09 ships later this month.
17-inch MacBook Pro
Perhaps the least surprising announcement of an unsurprising keynote - the upgraded 17-inch MacBook Pro - also contained the morning's biggest surprise: The new notebook will, like its diminutive sibling, the MacBook Air, have an integrated - meaning not removable and user-replaceable - battery.
The reason given for the iPodization of the MacBook Pro's power source was that a replaceable battery requires that a large amount of otherwise useful space be devoted to latches, interfaces, and the like - space that could otherwise be packed with a larger battery.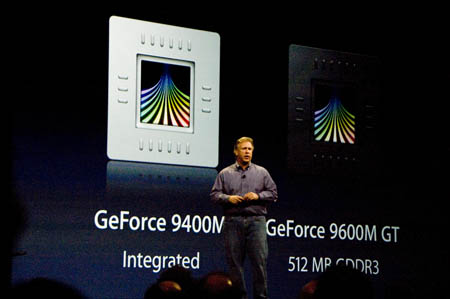 The new MacBook Pro has both battery-saving integrated and speedy(er) discrete graphics
We're not one to quibble with that logic, but even with the new battery system's reported eight-hour maximum runtime, we'd prefer the option to carry a spare. After all, it's a 10-hour flight to Paris, the city that keeps cropping up in Apple's keynote-presentation demos over the years.
But Apple also gives as it takes away - although for a fee. The 17-inch MacBook Pro, unlike its smaller sibs, can be optionally fitted with an anti-glare screen, albeit for a $50 fee.
The big guy's specs are impressive: The base $2,799 model comes with a 2.66GHz Intel Core 2 Duo with 6MB L2 cache (2.93GHz is a $300 upgrade), 1066MHz frontside bus, 4GB RAM (upgradeable to 8GB by Apple for $1,200), and a 320GB 5400rpm hard drive (320GB 7200rpm is available for a mere fifty bucks more, and 128GB or 256GB solid-state drives are $500 and $900, respectively). It shares the integrated/discrete graphics scheme with the MacBook Pro, using an integrated Nvidia GeForce 9400M that shares 256MB of main memory plus a discrete NVIDIA GeForce 9600M GT with 512MB of its own GDDR3 memory.
iTunes
For information on the new iTunes pricing structure, Apple's new DRM policy, and the availablity of iTunes purchases over the iPhone's 3G connections, see our companion article, "Apple iTunes Store goes '100% DRM-free' - allegedly."
And so comes to a close Apple's long history of Macworld Expo keynotes, maybe not with a whimper rather than the traditional bang, but with a bit of a stifled yawn.
It was fitting, however, that the event closed with Tony Bennett, his weatherbeaten voice still impressive despite his 82 years, crooning "I Left My Heart in San Francisco."
And it must be noted that Bennett received the most impressive ovation of the morning - though that may have been because of the first number he sang: "The Best Is Yet to Come."
Let's hope. ®