Original URL: http://www.theregister.co.uk/2009/01/05/review_camera_dlsr_nikon_d90/
Nikon D90 digital SLR with HD video recording
A DSLR and an HD camcorder
Posted in Personal Tech, 5th January 2009 09:02 GMT
Review Life can be a confusing business. You've got mobile phones that double up as cameras, and cameras that record video. Well, prepare to be even more confused as cameras begin to capture HD video. Nikon's D90 proudly claims to be the world's first DSLR to record HD video.
So does this mean the end of the camcorder as we know it - or has Nikon taken its eye off the photographic ball? Let's take a look.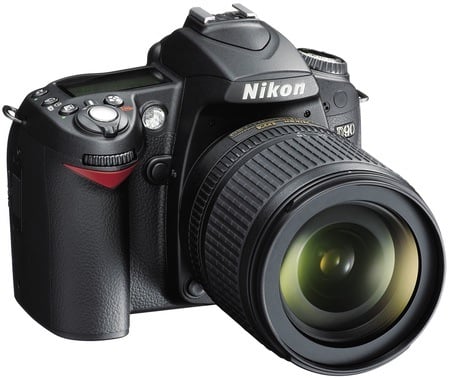 Nikon's D90: DSLR and HD camcorder
If you've used the D80, you'd hard pressed to see much difference between it and the D90. Both cameras have the same basic shape, size and layout, but there are some big differences under the skin. We should add that the D90 isn't a replacement for the D80, which still remains in Nikon's line-up; this is more of a step-up product. The D90 comes both as a body or kit, with the latter including a DX Nikkor 18-105mm lens – we tested the latter. The D90 is compatible with a wide range of Nikon lenses, although with different degrees of functionality.
The D90 is a solid camcorder, weighing around 700g when loaded up with battery and card. It measures 132 x 103 x 77mm. At the top are a mode dial, hot shoe, LCD control panel, power switch and shutter button, plus keys for exposure compensation, metering, release mode - such as single shot or continuous - and autofocus mode.
The rear of the D90 is dominated by a 3in LCD screen composed of 920,000 dots, which is actually 640 x 480, with three colours per pixel. To the left of the screen is a vertical row of buttons for playback, Menu, white balance, ISO and image quality/size. In fact, most of these buttons also offer additional functions, depending on the camera mode. The ISO button, for instance, is also used for controlling the thumbnail display during playback.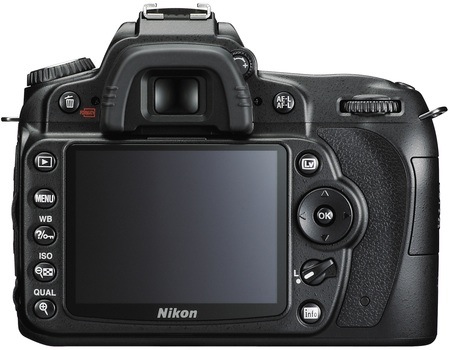 The control layout's smart
Above the LCD screen is the delete button, viewfinder, AE/AF lock button and command dial. To the right of the screen is a Live View button, nav control, focus selector lock switch and info button, which lets you view various settings, such as aperture size, ISO speed and battery life, on the LCD screen.
On the right hand side is a small cover for an SD/SDHC card, and on the left is a second cover for power, the mini USB port, accessory terminal and a mini HDMI port. The latter, of course, is designed for connecting the D90 to an HD TV. Nikon kindly provides a mini-USB-to-USB cable and even gives you a composite-video cable. But if you're going to use the HDMI port, be sure to purchase a mini-HDMI-to-HDMI cable before leaving the store, because for some unfathomable reason, Nikon leaves this as an optional extra.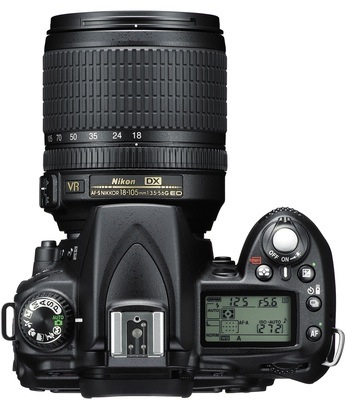 Ready for HD output... when you buy a cable
True, people are going to use the D90 primarily as a stills camera, but if you're making a song and dance about it offering HD video too, Nikon, you ought to make it easy for users to view it. Rant over.
The D90's instruction book is almost 300 pages long, so apologies for a rather brief overview of what you get for your money. But these include a 12.3-megapixel DX format CMOS sensor measuring 23.6 x 15.8mm which, Nikon says, offers low-noise performance up to ISO 3200. Also included are an eleven-point AF system; built-in sensor cleaning; "Active D-Lighting", for improving contrast in certain conditions; live view; face detection; scene detection; several scene modes, including portrait, landscape and sport, plus several video modes including an option for 720p at 24f/s video - the D90 uses Motion JPEG in the AVI file format.
There are also lots of in-camera image processing tools, including RAW processing. These are rather basic - you can tweak image quality, white balance and exposure compensation, and add some picture affects - but they're nice to have. Images can also be copied, re-touched, trimmed, have effects like barrel distortion reduced or appear to have been shot with a fisheye lens. Oh, and there's also an optional wireless remote control.
The D90 can shoot in RAW (NEF format), JPEG or both. Resolution ranges from 4288 x 2948 to 2144 x 1424. A RAW file comes in at around 12MB in size, or roughly double the size of a JPEG shot at the highest quality. Shutter speed ranges from 1/4000-30s, with a bulb option. ISO speed ranges from 200-3200, although in fact, you can go down to 100 or up to 6400 using additional settings, which Nikon calls L and H, respectively. There are two continuous-shooting modes offering a maximum of 4.5f/s in the fastest setting.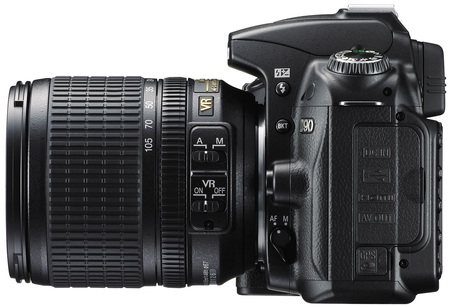 USB connectivity
In terms of handling, the D90 is a joy to use. Switch-on is lightning fast, with the camera ready to shoot in about 0.2s. The LCD control screen and button layout means it's very quick and easy to adjust many parameters, including image quality, ISO, shutter speed, aperture and white balance, without resorting to the menu. The Menu button takes you to a vertical row of menus, such as shooting, playback and movie settings, and after a bit of practice, you can soon find your way around the D90. The viewfinder provides about 96 per cent coverage of the frame, and the Live View function is handy for times when you need to hold the camera at odd angles. The LCD screen is also clear and bright and has a wide viewing angle.
Sample Shots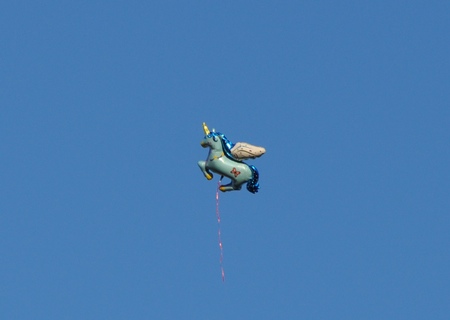 The camera uses an 11-point AF system that includes 3D tracking. We spotted this balloon floating high up in the sky and the D90 had no problem in locking onto it.
Click for full-resolution crop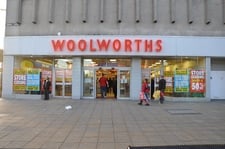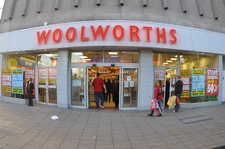 You get a fair set of in-camera picture processing features, including a fisheye effect (right)
Sample Shots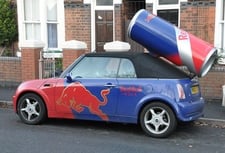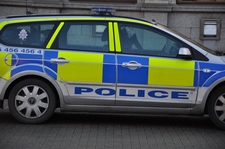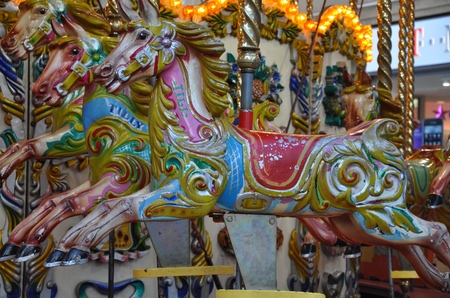 These shots show you the colour performance of the D90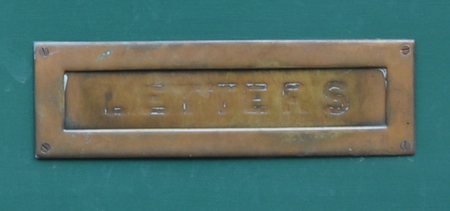 ISO 200

ISO 400

ISO 640

ISO 1600

ISO 2000

ISO 3200
We were knocked out by the D90's lack of noise, even at high ISO speeds
Click for full-resolution crops
Sample Shots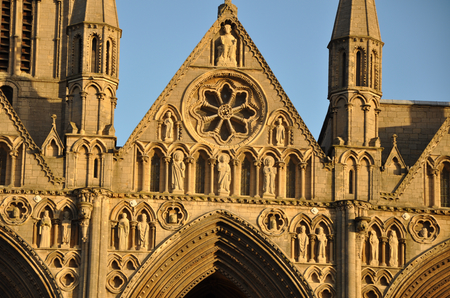 This shot of cathedral stone work shows you the detail the D90 can pick up
Click for full-resolution crop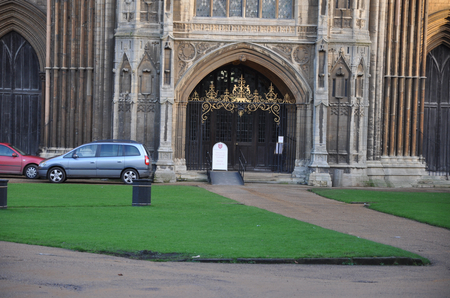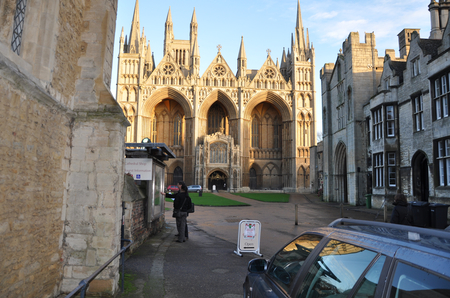 You can purchase the D90 as a kit which includes an 18-105mm lens. These shots show you what you get at the extreme ends: telephoto (top) and wide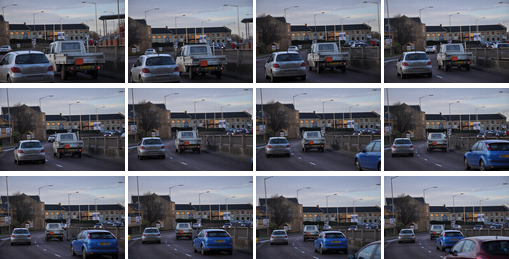 The D90 has two continuous shooting modes, with the fastest offering a 4.5fps speed
Likewise, performance is very impressive. Colour, contrast, resolution are excellent under a wide range of conditions. The AF system quickly locks onto a subject and there's also a 3D AF tracking system, which works well, although like all auto systems, it can get caught out on occasions. But what really floored us was the performance at high ISO speeds, and even shots taken at ISO 3200 suffered from relatively little noise.
Battery life is given at up to 850 frames per charge, and we certainly had plenty of power left after taking more than 300 frames and shooting some video.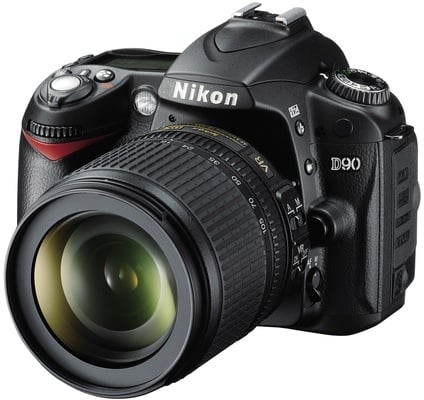 Excellent stills camera, weak camcorder
But while the D90 more than cuts it as a still camera, sadly, this can't be said for its function as an HD camcorder. Make no bones about it: compared with the video clips you get on your average - or even above average - compact camera, the D90 offers very good video performance. But compared with your average camcorder, it doesn't cut the mustard.
To use the video mode, you put the D90 in Live View mode, press the OK button and away you go. Well sort of, because in movie mode, there's no autofocus function, only mono sound, and if you want to make adjustments, such as to colour or exposure, you need to do this before you start shooting – there's no way of making tweaks on the fly.
What's more, our footage suffered from a bad case of wobble-cam. True, we didn't use a tripod but the shaky shots were also due to the fact that the D90 uses a Rolling Shutter in the video mode. This processes each video frame by starting from the top and working downwards, so any camera movement (such as fast panning) can result in a nasty case of the wobbles. And last, but not least, you are restricted to five minutes' continuous recording, a limitation we suspect has more to do with the D90 not being saddled with EU camcorder tariffs than any technical issue.
Verdict
If you're looking for a still camera that also records some HD video, then the D90 is highly recommended. But if you're in the market for a replacement for your camcorder, then this isn't it. We suspect that the next new model will offer a vast improvement on video performance. But if you're not bothered about using video too much, then don't hang about – take a good look at the D90 today, because it's a superb model for the serious photographer. ®
More DSLR Reviews...
| | | | |
| --- | --- | --- | --- |
| Pentax K200D | Olympus E-420 | Nikon D40 | Canon EOS 450D |