Original URL: https://www.theregister.co.uk/2008/12/31/review_hard_drive_clickfree_backup/
Clickfree Backup external hard drive
A driver's airbag for your data
Posted in Personal Tech, 31st December 2008 09:02 GMT
Review Anything that can make backing up your files a simpler task has got to be good. Spending time recreating important information after accidents is no fun, but like belting up before driving, not everybody does the sensible thing. Clickfree is like an airbag to back-up tools' seat belts.
Now, a spot check. Are your important files backed up? Is the back-up up to date? If you can't answer 'yes' to both of those questions, your data isn't truly secure and you should do something about it. Clickfree, from Canada's Storage Appliance Corporation (SAC), is designed for folk who don't have an IT department to help them and may not even have a detailed knowledge of their PCs, but do care about the data they use every day.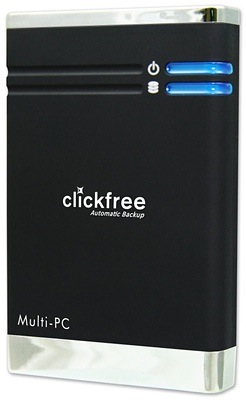 SAC's Clickfree HDD: auto back-up embedded in the drive...
If the air bag was invented to protect those who won't wear seat-belts, Clickfree is designed for those who can't - or won't - set up a backup regime. The concept is simple enough: buy the product, plug it or drop it into the appropriate receptacle on a PC and the back-up is done.
There are two varieties of Clickfree, with others on the way. There's an external USB hard drive, available in capacities of 120GB, 160GB and 250GB, and a range of DVD+R sets. In both cases, the key difference between Clickfree and other back-up products is that here the back-up software is on the device that stores the data and runs automatically as soon as the medium is detected.
The hard drive is in a 2.5in device in a fairly standard black or coloured case, with blue LEDs for power and data access, and a mini USB socket and 5V DC input - AC adaptor not included - on one end. The USB cable has two plugs on the PC end, in case a single port doesn't provide enough juice to power the device. We didn't need to use the second plug.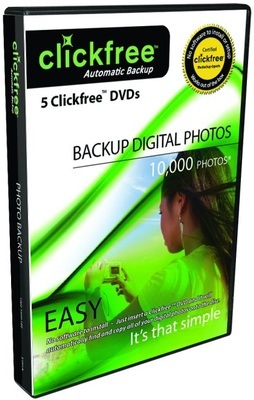 ...and on discs too
The only fly in the ointment is that Windows, particularly Vista, may not be set with the appropriate permissions to autorun 'external' software. There are instructions for getting over this in the Clickfree packaging and on the company's Web site, but it does make it less than click-free.
We had a couple of machines which needed setting changes before Clickfree would work, but also a couple with which it worked straight out of the box. One of the PCs that wouldn't work was running 64-bit Vista, and there's a patch on the Clickfree site needed to get the drive running on 64-bit systems.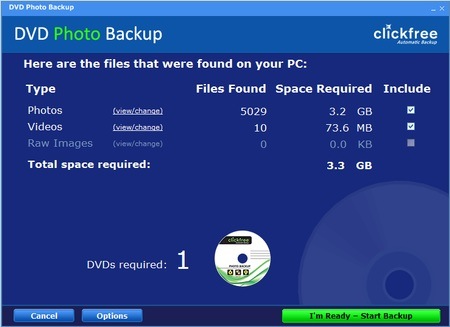 Clickfree locates your files
The Clickfree hard drive is designed to back up as many as ten PCs, and does so using sensible defaults. It backs up over 350 filetypes, listing them in categories with friendlier names, such as Text Documents, Spreadsheets, Photos and Music Videos. You can select the categories of files it copies on any machine, or go into more detail and select or deselect particular filetypes. It's also possible to select specific folders or drives on a given machine.
Clickfree saves files uncompressed and unencrypted, so they're exact replicas of what's on your hard drive. It keeps each back-up set separate from the others and knows which machine it's plugged into, so only appends new files to the appropriate set. After the initial back-up, the back-ups are incremental, not mirrored, so files in a back-up aren't deleted even though the originals have been taken off a PC. There's also no way of manually deleting individual files from a back-up, though you can delete a complete back-up set.
When files are restored, they're put in a folder called Restored Files, rather than in the folders they were saved from. Clickfree claims this is because different versions of Windows save files down different paths, but it shouldn't be beyond the wit of software engineers to get the OS to declare itself and create paths accordingly.
You may, of course, want to place restored files in different locations on a recovered machine, but that presupposes a level of knowledge rather higher than the 'airbag' concept of the product.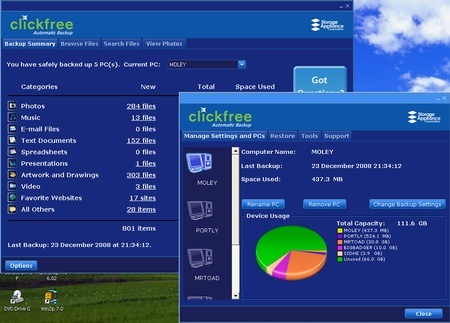 The HDD version supports up to ten PCs
Performance-wise, the data-transfer rate is typical for an 2.5in external USB drive of this type. A back-up of 801 assorted files, including photos and music files, took just under two minutes. Since the program performs an incremental back-up, the time it takes shouldn't be a problem, even if you choose to back up daily or weekly.
If you don't have the number of PCs or the amount of data to warrant the hard drive version of Clickfree, you could instead buy a two-, three-, five- or ten-pack of Clickfree DVD+Rs. These discs contain the same software as on the hard drive version, but back up onto one or more discs. As one disc fills, the software requests another, in the same way Windows used to do with floppies.
Because of a DVD's limited capacity, relative to a hard drive, the DVD product is divided down into Office, Photos and Music categories and only looks for filetypes related to one of those headings. Each disc is limited to 4.5GB and 2000 files per disc and is slower to back up. A test back-up run of 3.3GB of photo and video data in 5039 files took 10m 3s, but that included full verification of all the files.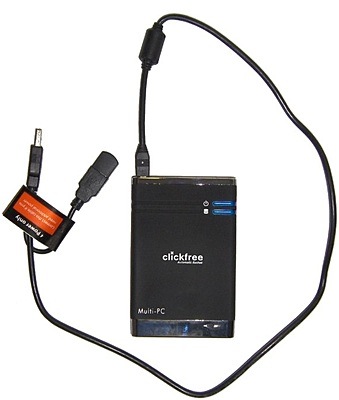 Bus powered
Maintaining a good back-up regime with either hard drive or DVD still involves remembering to plug the drive in or load the DVD periodically, but you can always set up an alarm to remind you. For true security, you should store the back-up media away from the PCs they're protecting. A different building or a fireproof safe will give you some protection.
SAC is working on a version of the product which will enable you to use any external device as the storage medium. It'll be based on a cable with the Clickfree firmware installed into an embedded dongle and will work in the same way as the existing HD product. Mac versions of the products are due out early in 2009, though we suspect anyone using Leopard will already by using the equally simple Time Machine back-up facility built into the OS.
The Clickfree hard drives cost from £75 up, and a five-pack of DVDs is around £8.50, so neither offering is exorbitant. You're paying for the simplicity of the hardware and software combination and it pretty much does what it says – it provides thorough back-up simply by plugging in an HD or loading a DVD. Minimal clicking involved.
Verdict
You could, of course, copy every file and folder from your PC to a USB hard drive or a series of DVD+R discs by hand. You could set up a back-up script to do it for you, but for sheer simplicity, Clickfree takes a lot of beating. The price is reasonable and it's a flexible and effective data security tool. ®
More Storage Reviews...
| | | | |
| --- | --- | --- | --- |
| LG GP08 | WD ShareSpace | Intel SSD | DroboShare |