Original URL: http://www.theregister.co.uk/2008/12/30/review_webcam_3d_minoru/
Novo Minoru - the world's first 3D webcam
'Poke that thing someplace else...'
Posted in Hardware, 30th December 2008 09:02 GMT
Review Big-name film directors Steven Spielberg and James Cameron seem to think that 3D is the future of the film industry. Sky predicts that it'll be broadcasting programmes in 3D within just a few years. And now you can get in on the act as well, thanks to Minoru – the world's first 3D webcam.
Yes, you do have to wear silly cardboard glasses while you're using it.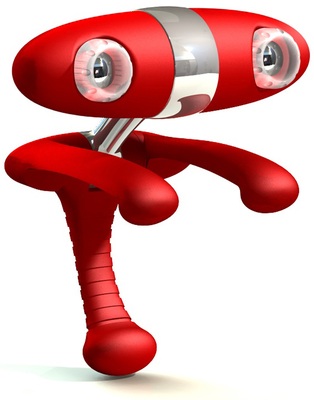 PDT's Minoru: so cute
According to developer PDT, 'minoru' is the Japanese word for 'reality', and the aim of the Minoru webcam is to capture 3D images that are more realistic than the 2D pictures that we normally see on a computer screen. The Minoru uses the same 'anaglyph' technique as 3D classics such as Jaws 3D, in which two separate images – one tinted red, the other blue – are superimposed one on the other and then viewed though coloured glasses that have suitably hued lens. This creates a kind of 'visual stereo' effect that has more depth than a conventional 2D image.
In order to create the two separate images, the Minoru webcam is equipped with two separate lenses – in effect, it's two webcams bolted together. This has the handy side-effect of giving it a big-headed, goggle-eyed look that is more than a little reminiscent of ET, especially with its 'begging dog' tripod limbs turned forward.
The overall effect is to make the Minoru look eye-catchingly cute in order to grab your attention, and then clinch the sale with the promise of that 3D imagery. There are also two microphones in the 'ears' of the unit, so you can record sound with it as well, or use your PC's own audio input and a separate microphone if you prefer.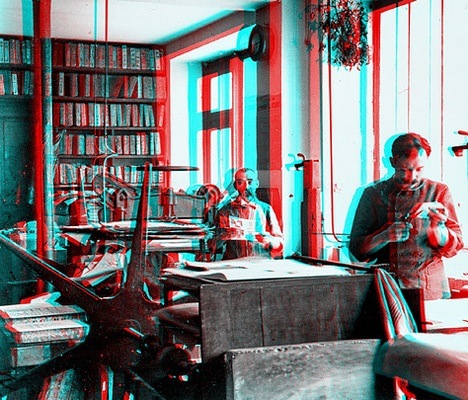 The Reg Hardware office yesterday, in 3D
In practice, the Minoru works pretty much like a conventional webcam, and can be plugged straight into a USB 2.0 port - the manual states that it won't work with USB 1.x. It also states that you need a PC with a 2.4GHz processor, running either Windows XP or Vista - there's no Mac support - although we managed to run it quite well on an old 1.8GHz Toshiba laptop.
In fact, the only problems we encountered were due to the somewhat clumsy installation software. On our first attempt to install the software, its Setup Wizard waved an error message at us in poorly translated English, declaring "No find match device!" and telling us to plug the Minoru in, even though we'd already done so.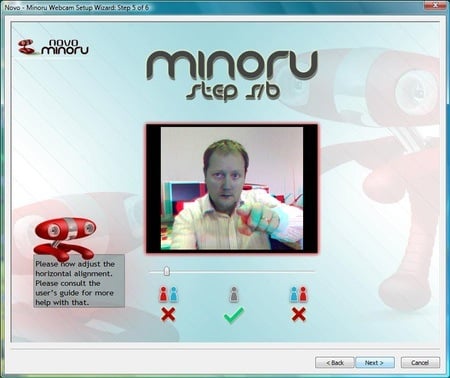 First, correctly colour-align your protruberance
A second attempt at installing the software produced the same error message, so we rang the manufacturer for help. While we were on the phone, the Minoru finally sprang to life and displayed a video image on screen. It seems that the driver software just takes a while to warm up, and once we got through the initial setup process this problem didn't occur again. However, the rather untidy installation process could be a bit confusing for people who aren't used to fiddling around with device drivers.
The Setup Wizard prompts you to individually focus the Minoru's right and left 'eyes', displaying separate preview windows for each one. It then switches into 3D mode, showing you a test image with the blue and red anaglyph images superimposed over each other. You need to adjust the horizontal and vertical alignment of these images in order to create an effective composite 3D image.
And then, at long last, it's time to don the cardboard glasses.
Our test unit came with three sets of specs, although PDT tell us that the shipping version will include five pairs of glasses that you can keep as spares or give to your chums. The Minoru transmits its image in 3D, so that people you chat with on the internet can view your image in 3D as long as they've got their own set of glasses. The manual provides straightforward instructions for using the Minoru with a number of popular video-messaging programs, including Skype and Microsoft Messenger, although it's incompatible with Yahoo! Messenger. We had it up and running with Skype in just a few seconds.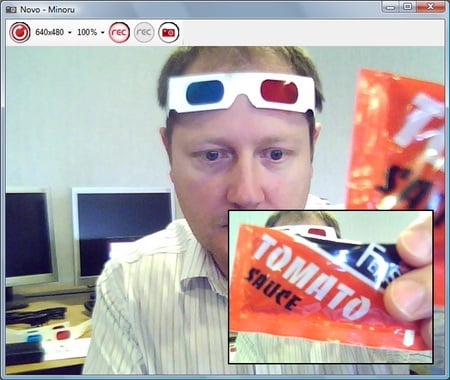 Or go back to 2D and use the second lens for picture-in-picture close-ups
The 3D effect does work quite well – although watching your pals pointing their fingers straight at the camera isn't quite as much fun as watching a shark leap out at you in Jaws 3D. We don't suppose it will take long before some people start to point other protuberances at the poor, unsuspecting Minoru too. Ahem.
You can also switch the Minoru back into 2D mode and use it as a conventional webcam whenever you want. The 2D system includes a handy picture-in-picture option that allows you to hold objects up to the right-hand lens and then display the image from that lens as a close-up in a picture-in-picture insert.
As well as using the Minoru for live video-chat sessions, you can also use it to record 3D video clips that you can store on your hard disk or even upload to YouTube, thereby saving the global economy from recession by prompting unprecedented consumer demand for silly cardboard spectacles.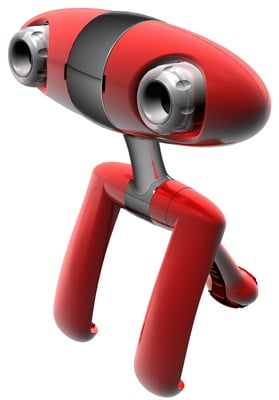 If Alessi designed webcams, they'd look like this
The Minoru Video Capture program is very easy to use, as the controls simply consist of pull-down menus for resolution and magnification along with a big red 'Record' button. The Minoru has a maximum resolution of 800 x 600 and can capture frame rates of up to 30f/s, given a sufficiently fast PC. When you hit Record, you're asked to choose either uncompressed .AVI format or compressed .ASF format. The .AVI files were generally about ten times the size of .ASF – about 500MB per minute at 800 x 600, compared to about 50MB for similar recordings in .ASF format. Switching between 2D and 3D modes made very little difference to file sizes at all.
The software did prove a bit erratic at times, though, and would occasionally insist that the Minoru was already being used by another video capture program, even when we checked Task Manager to ensure that this wasn't the case. Sometimes we could fix this simply by unplugging the Minoru and then plugging it back in, but on other occasions we had to restart our PC completely. We can't help thinking that the installer and Video Capture programs could still do with a bit more testing.
Verdict
There are dozens of low-cost webcams available these days, and it's easy to dismiss the Minoru's 3D effect as a mere novelty that will quickly lose its appeal. However, a head teacher of our acquaintance did sound quite intrigued by the ability to record video clips of science projects where you could hold models or other objects up to the lens and examine them in 3D. We wouldn't describe it as a 'must-have' gadget by any means, but it's not expensive, making the Minoru is an affordable indulgence. ®
More Gagdet Reviews...
| | | | |
| --- | --- | --- | --- |
| Sony Rolly | Rovio Wowee | Motorola Tlkr T7 | Vuzix AV320X |