Original URL: https://www.theregister.co.uk/2008/12/26/review_phone_sony_ericsson_c905/
Sony Ericsson Cyber-shot C905 eight-megapixel cameraphone
Sony's best cameraphone yet
Posted in Personal Tech, 26th December 2008 09:02 GMT
Review With Sony Ericsson's Cyber-shot cameraphone pedigree, it's no surprise that the firm's been swift to join the ranks of eight-megapixel mobile makers. Its new flagship, the C905, not only ups the pixel count but it's comfortably the most feature-laden Cyber-shot yet.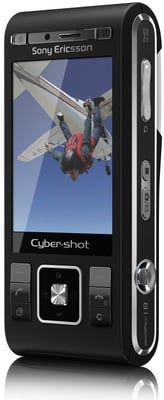 Sony Ericsson's Cyber-shot C905: digicam styling
Unlike the first wave of eight-megapixel hot shots, including the LG Renoir, Samsung Pixon and Samsung i8510, the C905 sliderphone doesn't have touchscreen control or smartphone functionality, but it does work its Cyber-shot credentials hard.
This HSDPA-enabled 3G phone certainly doesn't vie with the slimline Renoir and Pixon to be the leanest eight-megapixel cameraphone in town. It's a decidedly chunky handful, packing it in at 104 x 49 x 18-19.5mm, and weighing a pocket-sagging 136g – a distinct contrast to its svelte C902 five-megapixel stablemate. And that's without any fancy optical zoom to bulk it out.
The flip side of the stocky build is that it gives a solid, weighty feeling in the hand, which makes it well-balanced and stable for taking pictures when held on its side. The mix of rubberized plastic and brushed metal on the back and sides looks and feels high quality, and gives a sound grip for camerawork.
The lens and xenon flash on the back is protected by a classy-looking sliding rectangular metal cover. As well as looking after the optics, slipping it down activates the camera. Nicely, this happens even when the keypad lock is on.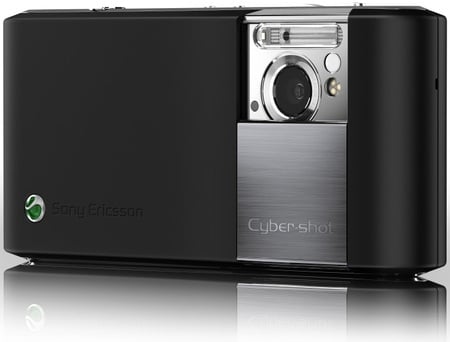 Snap happy
Protective scratch-resistant glass on the front panel protects the display too. It's a 2.4in, 240 x 320, 262,144-colour display - bigger than we normally see on Sony Ericsson phones, but not huge compared to the touchscreen cameraphones like the Renoir (3in) and Pixon (3.2in). Still, it's decent enough for a clear and bright viewfinder screen, and fine for general phone usage. A built-in accelerometer automatically flips the screen between portrait and landscape mode in certain functions, depending on how the device is being held.
The slider on our sample C905 felt solidly engineered, with a reliable, smoothly sprung motion. While the keys appear large, the numberpad does have some foibles. It has a slightly spongy action, which can feel heavy when trying rapid-fire texting. Keys on each row are on a single piece of plastic with only slightly raised bumps to define them, making for the possibility of mis-hits in low-light conditions.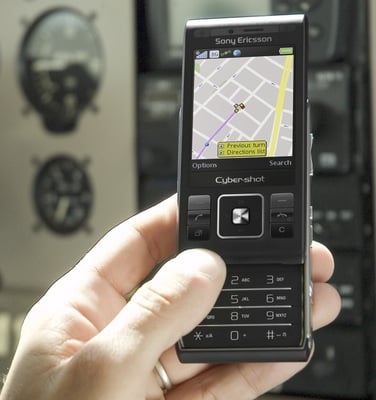 Tricky for texting?
The balance with the slide out isn't particularly comfortable for one-handed texting. The tiny metal lanyard loop on the bottom corner of the phone has the potential to rub right-handers up the wrong way by catching on fingers when texting.
The main control buttonry on the closed slider is conventional Sony Ericsson stuff: a central navpad flanked by a bank of buttons. Individual keys are separated but aren't particularly well defined for their proximity, and the action again feels a touch stodgy. Two additional tiny keys for photo gallery access - they double up as gaming buttons - sit above the display.
The Sony Ericsson user interface conventions have been maintained, so it's easy to find your way around the phone using the menu grid and tabbed sub-menus. Out-of-the-box navigation key shortcuts can be easily swapped for others, and additional Activity Menu shortcuts added for fast access to your most-wanted features.

Solidly engineered slider
At the top of that list will surely be the camera. It only takes a couple of seconds to fire up, and its control buttons, marked with icons, make it easy to adjust its settings and to activate features without having to enter the menus. The Cyber-shot interface is intuitive, with each button calling up a set of icons you can scroll through to select. Unlike the C902, the C905 has no touch controls around the display, though.
There are numerous settings to fiddle with if you don't want to rely on the very able auto mode. There are a selection of modes for different types of lighting and conditions, while the autofocus system is complemented by face detection and macro functionality. The face-detection system works well within a reasonable range, and can automatically identify up to three faces in a shot to help you get focus right. Within the shooting modes, there's a Smart Contrast option that can automatically balance dark and light levels to improve images in tricky lighting conditions, processing the image as soon as you press the shutter.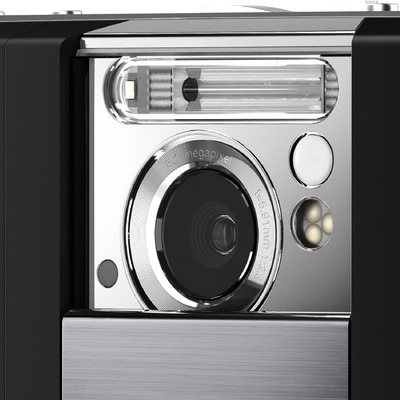 Autofocus and xenon flash present and correct
Another Cyber-shot trick we really like is the BestPic shooting mode. This clever feature helps you get the ideal image by capturing a spread of seven shots in a burst, snapped as you touch the shutter button and grabbed fractions of a second before and after you click. You can then select the best, hopefully free of annoying blinks or blur. It's particularly good for capturing images where there might be some random movement.
Some of the gadgetry seen on its rival eight-megapixel phone shooters, such as blink detection, smile shot options and touch focus, aren't included here, but the C905 does offers a pretty good range of image adjustments. Exposure levels and white balanced can be changed, though not the ISO level. The xenon flash can be enabled or disabled, and there's a red-eye reduction setting. There's a timer too.
In addition, you can stamp exactly where a picture was taken thanks to the on-board GPS receiver, which also works with Google Maps. While other Sony Ericssons use approximated cellsite-based geo-tagging, the C905 can nail precisely where the shot was taken.
Improving imaging performance isn't solely about upping the megapixel count, but the C905's shooter looks to have raised the bar for the Cyber-shot line-up. It produces exceptional levels of detail for a cameraphone, making possible crisp, precise shots.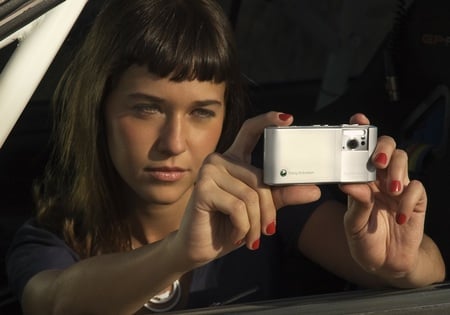 Watch the birdie
Colour rendition is generally well balanced and vivid, though some redder tones can occasionally come across a smidge too vibrant. Macro close-ups are well handled, while dynamic range boosting using the Smart contrast option doesn't add excessive noise.
Indoors shooting is impressive too, with the xenon flash adding some welcome punch to illumination. It's powerful, capable of working over a room-sized area and providing better-defined shots than an LED photo lamp. The result is possibly the best low-light shooting ability we've seen in a cameraphone.

Not exactly skinny
Images can be given a spruce up after shooting, using Photo Fix or PhotoDJ, while pics and videos can be uploaded straight to a Blogger account or another website. The Wi-Fi option is a big plus for this sort of thing, speeding uploads and potentially reducing costs too.
Video capture hasn't had the same upgrade treatment as the photo facilities, and doesn't match the Renoir or Pixon. Like the C902, it shoots at maximum 320 x 240 resolution at 30f/s, so produces average cameraphone quality, but it does look OK on the phone's screen.
The C905 arrives with a 2GB Memory Stick Micro card, so there's sufficient room for large image files, music and other content even with the phone's 160MB of internal storage. Usefully, a USB card reader is supplied too, providing another alternative for copying content.
Although this isn't a Walkman-branded phone, the handset does have a decent quality music player on board. The user interface is as neat and tidy as the one on mid-tier Walkman phones, albeit with fewer listing categories. Unfortunately, the earphones are average mobile phone fare, and not a patch on the ones you get with up-range Walkman handsets.

Groan - another side-mounted multi-connector...
Sony Ericsson still hasn't grasped that a standard 3.5mm headphone socket on the bodywork is best - the C905's earphones plug straight into a standard Sony Ericsson multi-connector on the side. The typical Sony Ericsson plug positioning means its standard squat connector is awkward in the pocket and can get easily caught up - it would've been better on the top or bottom. There's no 3.5mm headphone adaptor cable supplied with the headset either.
We mentioned the C905's GPS pick-up, and Sony Ericsson has included a three-month trial version of Wayfinder Navigator 7 voice-guided satnav software. This uses over-the-air map and info updates. The A-GPS set-up seemed to get our positions rapidly – usually under a minute in our tests, though tested side-by-side with an N96 it didn't appear to be quite as sensitive as the Nokia.
While the Wayfinder app is welcome, it's far from being as slick or refined a system as an in-car satnav, or the best smartphone satnav packages. It's limited, and we found that the GPS receiver wasn't always as responsive as we'd have liked when using it in-car. You'll also find that having the A-GPS on, particularly with onscreen guidance lighting up the display, saps battery life remarkably quickly.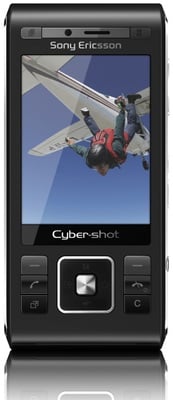 Wi-Fi and HSDPA included
Sony Ericsson's NearMe location-based service is included too, providing information on local entertainment, services and amenities, based on your current location - though we found that its definition of 'Near Me' somewhat curious, with some entertainment listings over 50 miles away.
The full web browser is a zippy way of checking out sites, with Wi-Fi providing a speedy alternative to HSDPA. It's reasonably straightforward to operate and functionally effective. The C905 has plenty of regular apps too. All the usual organiser functionality is accounted for, plus there's a sound recorder and a spread of standard apps including a world clock, an AccuWeather.com weather forecast app, VideoDJ, PhotoDJ, MusicDJ, Bluetooth remote control, and TrackID song identfication. An FM radio function is included, and three games come pre-loaded.
On the fundamentals of voice calling, the C905 was absolutely fine, with consistently good-quality audio performance and reception. Battery life was a concern, though. Sony Ericsson estimates that optimum battery life can run to nine hours' talktime on GSM networks or four hours in 3G coverage, with a standby time of up to 380 hours on GSM networks or 360 hours on 3G. These figures are broadly in line with other recent mid-tier 3Gers, but in our real-life usage tests, we found ourselves charging up every day if we indulged in some of the power-hungry features like Wi-Fi and A-GPS. If kept on constantly, the satnav app can run-down power in a few hours. We'd recommend judicious monitoring of app usage if you don't want to find yourself with low power at inopportune moments.
Verdict
The C905 is certainly the best Cyber-shot handset we've seen for picture quality and overall functionality. It's no waif, and its heayweight build may put off some buyers. There are some handling issues, too, and battery life could be a problem if you want to make heavy of the on-board gadgetry. But the presence of Wi-Fi and A-GPS, combined with a fine camera, make the C905 a very attractive cameraphone. ®
More 8Mp Cameraphone Reviews...
| | | |
| --- | --- | --- |
| Samsung Pixon | LG Renoir | Samsung i8510 |