Original URL: https://www.theregister.co.uk/2008/12/23/review_mobile_phone_lg_kp500_cookie/
LG Cookie budget touchscreen phone
Crumbs! It's a low-cost iPhone alternative
Posted in Personal Tech, 23rd December 2008 09:02 GMT
Review Just because it's a touchscreen phone, it doesn't have to be wallet-stingingly expensive. Following on from its high-end eight-megapixel touch-controlled Renoir, LG is now bringing the joys of finger tapping and thumb stroking to the masses with the Cookie KP500.
Initially available in the UK on various pay-as-you-go packages from Carphone Warehouse for a touch over £100 - or from free on contract deals - this model is the most affordable touchscreen model yet, offering a reasonable set of features for the phone buyer on a credit-crunched budget.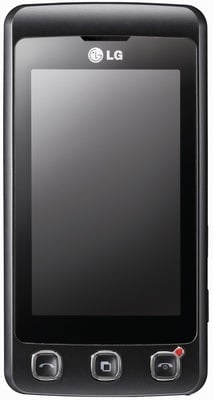 LG's Cookie: does a touchscreen phone have to be top-end? No!
Despite the price, the Cookie ticks the sharp-looker box. It has an 11.9mm-thick profile, and its large, 3in touchscreen display is the centrepiece of a minimalist front panel that's very similar to the Renoir - and other touchscreen phones we could mention.
At this price level, it's not going toe-to-toe with the big hitting touch phones. There's no 3G or Wi-Fi on the Cookie, just quad-band GSM/GPRS/Edge connectivity. You won't find GPS either, and there's no smartphone operating system under the bonnet. But there is a three-megapixel camera, music and video players, an FM radio, support for Micro SD cards and that attention-grabbing touchscreen UI.
LG has settled on a user interface that's similar to the set up on the Renoir. The Cookie is predominantly touchscreen operated, with only three physical buttons ranged under the 240 x 400, 262,000-colour display – regular Call and End keys, plus a central key that calls up lists of favourite and currently running apps. Around the sides are a camera key, a lock button and volume controls.
The large screen suggests a sizeable footprint, but the 106.5 x 55.4 mm bodywork is skinny enough and, at 89g, light enough to be comfortably handled and pocketed. The rubber-like matte black casing provides a fashionably smooth feel to the phone that you might not expect at this sort of price.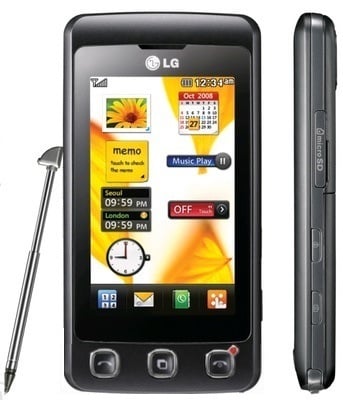 Ticks the sharp-looker box
A small telescopic stylus is slipped unobtrusively into the bottom of the casing, running horizontally beneath the controls. But the user interface is a mostly finger-friendly affair.
From the standby screen, you can tap one of four on-screen buttons along the bottom of the display to access essential mobile functions: a voice-capable numberpad, the contacts list, messaging options and the main menu.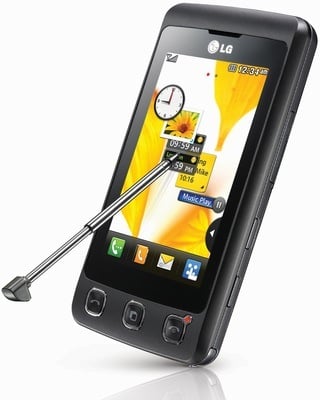 There's a stylus for that retro feel
If you tap the top of the screen, a useful status panel appears, with details of memory, coverage and quick access buttons for Bluetooth and the music player.
On the side of the display, just above the main row of control icons is an arrowed tab, which brings into play the widgets - mini applications for fast access to useful functions. The widget selection is limited compared to the Renoir's, but does include calendar, world clock, memo, analogue alarm clock, music player, image viewer and FM radio.
Tap one of the icons in the toolbar - or drag with your finger - and it pops up in expanded form on the main part of the screen. You can select or drag and drop as many as you like wherever you like on the screen, and for those who like order, a quick shake of the phone will reorder them neatly into grid formation. You can change widgets around as much as you like, dragging and dropping ones you no longer want back onto the open toolbar.
It's not just app widgets you can pull up onscreen. Swipe your finger sideways across the display and a transition takes you to an alternative home page, similar in look to the first but with a toolbar for speed-dialling up to eight favourite contacts. You can place contacts from your phonebook - with or without associated images - on screen. Pressing the contact enables you to quickly call, send a message or edit the contact details.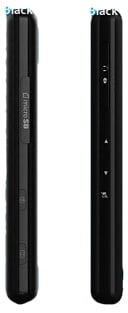 The side-facing Micro SD card slot is hot-swappable
The main menu structure is generally familiar from previous touchscreen LGs. When you press the menu icon from the standby screen, a grid of function icons appears along with a vertical sidebar of four control category icons. As you press these category tabs – Communicate, Entertainment, Utilities and Settings – the icons on the main part of the screen change accordingly.
Some application sub-menus are set up as conventional lists of options, while others utilise the touchscreen interface with simple to follow on-screen graphics. The built-in accelerometer automatically flips the screen between portrait and landscape modes in some functions to match how you're viewing. In the image gallery, you can flip between pics with your finger. It's a straightforward, intuitive navigation system that's easy to get familiar with, and mostly pleasant on the eye.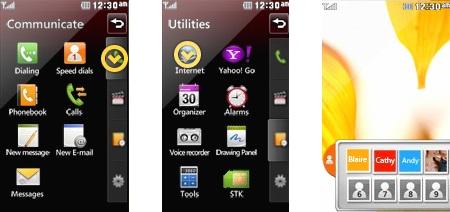 The UI's based on Flash
The touch action, though, is not as smoothly fluid as the iPhone's standard-setting multi-touch screen, and you can swipe through only a few entries at a time. But it does react quite promptly to what your fingers are doing, and there's generally sufficient screen room for pressing without too many slips. That said, when pressing options, the transitions to the next screen can sometimes seem a touch languid.
One area which isn't so good is text input. In text-tapping functions, the Cookie displays a numberpad screen in portrait mode, which automatically transforms into a Qwerty keyboard when the phone's rotated sideways.
We had problems with both methods. The numberpad's keys are bunched close together and relatively small for the screen size, which is fine if you're a small-fingered, tidy texter. But with the Clear and various option keys ranged down the right of the screen, stray fingers can brush you into the wrong mode or input option, which can be frustrating if you're trying to text quickly.
We found the Qwerty keyboard's keys too small and unforgiving for flawless typing, and we frequently had to correct mistakes. It takes a bit of familiarisation to make sure you select the correct buttons and don't stray to the adjacent keys – though you could always reach for the stylus.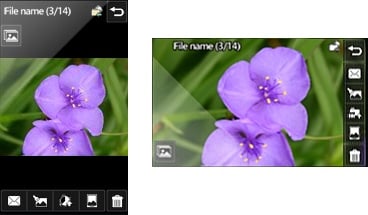 Flip the screen to trip the obligatory accelerometer
Another option is to slip the phone into handwriting recognition mode for inputting text. This works pretty well with the stylus, but you will need practice to get perfect, and we'd tend to stick to the other options.
The three-megapixel snapper appears a reasonable effort at this price point. It's limited, though: it's fixed focus and there's no flash. Pressing the camera button auto-flips the screen into landscape viewfinder mode. The touchscreen user interface offers a decent set of standard cameraphone pre- and post-shooting adjustment tools with icons flanking the viewfinder for calling up key features.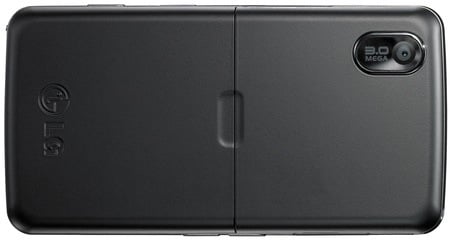 The 3Mp camera kit is limited
Results are average - we've seen better in this class of handset. Snaps can be reasonably pleasant and colourful in good light conditions, but washed out and softer in more subdued lighting. Without a flash, its low-light shooting performance is poor.
There are better-than-average editing tools for captured video clips too – though the quality of footage isn't particularly good. Capturing MPEG 4 video at 320 x 240 resolution and 12 f/s, video is grainy and a stuttery.
With 48MB of internal storage, you'll not be stacking the phone with videos or your music collection unless you add a Micro SD card. None is supplied, but the phone supports cards of up to 8GB capacity, with an easy-access side slot for slipping them in and out.
A USB cable is supplied, so you can copy tracks over from your PC using LG's PC Suite software, sync with Windows Media Player, or drag and drop tracks over in mass-storage mode. The music player supports MP3, AAC, AAC+, WMA and RA files, and will automatically sift music files on a memory card into the tracks folder.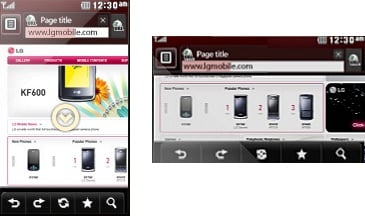 The browser's not bad - but with no Wi-Fi or 3G, it's slow
A set of entry-level quality earphones are boxed with the Cookie. These plug into an LG multi-connector to the side of the phone, which is not the best position. There's no 3.5mm headphone socket or adaptor, so audio quality is pretty ordinary. The earphones are toppy and can be a tad harsh when the volume's raised, though overall it's acceptable if you just want to listen to a few tunes and aren't particularly worried about great sound. Alternatively, you could connect a pair of stereo Bluetooth headphones.
The music player can play in the background, while you multi-task, and be controlled via the standby screen widgets, as can the FM radio. This works effectively and is simple to operate.
LG has included a decent set of organiser functions and productivity tools in the Cookie's Utilities section. All the usual app suspects are in place, including a calendar, to do lists, memo reminder, date calculator, convertor, world time function, stopwatch, voice recorder, alarms. There's also a drawing panel option, so you can scrawl on the touchscreen to create sketches you can save or send as messages to others, and three basic acceleromter-controlled games.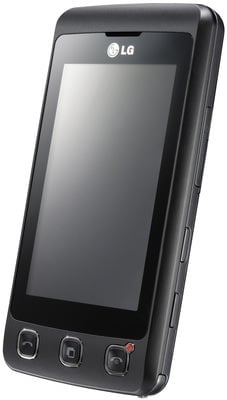 iPhone tech for the credit-crunched?
Email support is included, and there's a fine document reader inside that can be used to view regular Microsoft Office documents and PDFs received as attachments or copied over to the phone.
This mobile does the phone business pretty well. The numberpad works well enough for tapping in new numbers, and the contacts list is easily scrollable. Call quality is certainly up to scratch, too - we experienced no irregularities with calls we made or took.
With potentially power withering features like 3G, Wi-Fi and GPS absent, the Cookie can run for up to 350 hours on standby or provide 3.5 hours of talktime, LG claims, but they're not exceptional numbers for a 2.5G handset. In our tests, we managed over two days of standby time with average amounts of calls and feature usage - not as long as we'd hoped for.
Verdict
The Cookie has great off-the-shelf appeal, with its smart-looking design and touchsceen UI real draws at this price point. Compared to higher-end touchscreen handsets, compromises have to have been made on functionality and connectivity. If you're a fast texter, this phone could take a bit of getting used to, though generally the user interface is finger-friendly.
More Touchscreen Phone Reviews...
| | | | |
| --- | --- | --- | --- |
| BlackBerry Storm | HTC Touch HD | Samsung Omnia | iPhone 3G |