Original URL: https://www.theregister.co.uk/2008/12/22/review_laptop_mac_macbook_air/
Apple MacBook Air Late 2008
Still sexy, but rather faster now
Posted in Personal Tech, 22nd December 2008 12:16 GMT
Review The MacBook Air is a quintessential Apple product, one that demonstrates both the company's strengths and weaknesses. When it was launched at the beginning of 2008, the Air was admired – nay, drooled over – because of its elegant, ultra-portable design.
But while some people lusted after it, others pointed to its limitations and argued that this was just one more example of Apple trying to sell style over substance.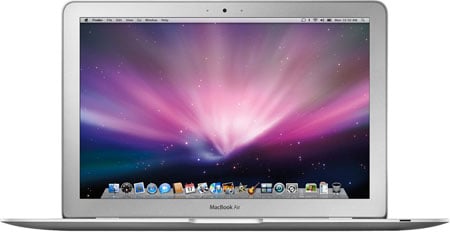 MacBook Air: quintessential Apple laptop
The main criticism aimed at the Air was that it was over-priced and under-powered. Certainly, with a starting price of around £1200 for a mere 1.6GHz processor, the Air didn't provide a lot of bang for your buck. To be fair, though, ultra-portable laptops such as this always come at a premium, and the Air did actually compare well with similar ultra-portables from big-name brands such as Sony and Toshiba.
There were, however, other aspects of the Air that were harder to overlook. The single USB port and complete lack of Ethernet were puzzling – after all, they wouldn't exactly add a lot to the weight and size of the unit. The non-upgradable 2GB of RAM was more disappointing, while the absence of a built-in DVD drive simply left some people scratching their heads - although it did give Apple the chance to sell an expensive external drive as an optional extra.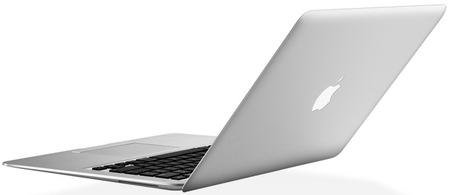 Same design, new internals
And the decision to seal the laptop's battery inside the unit so that there was no way to swap an empty battery for a full one – well that just seemed plain daft.
None of those features – or missing features – have changed in this new, updated model, so if the non-replaceable battery or non-existent DVD drive put you off the first time around then you're not going to change your mind now. However, improved processor, memory and graphics performance do mean that this new model is noticeably faster than its predecessor - as you'll see from our benchmark tests in due course.

Not over-endowed with ports
Like the first Air, the new version is available in two configurations. There's a model with 1.6GHz Intel Core 2 Duo processor and 120GB hard drive that costs £1271, or you can opt for a 1.86GHz processor and 128GB of solid-state storage for £1761. Both prices are lower than the original Air, which went on sale less than a year ago, would have set you back.
Both models have 2GB RAM - still non-upgradeable, unfortunately - a 13.3in, 1280 x 800 widescreen display, this time driven by an Nvidia GeForce 9400M integrated graphics core.
There's still that single USB 2.0 port, along with 802.11n wireless networking, a built-in webcam and microphone, but no Ethernet or Firewire. The dimensions and weight remain the same too: a mere 19mm at the thickest point, 320mm wide and 224mm deep, and a very well-balanced 1.36kg in weight.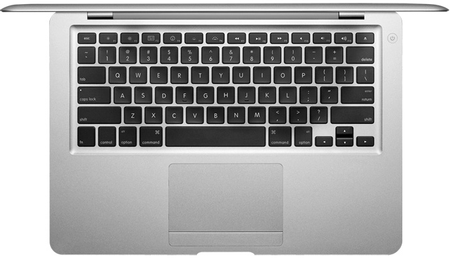 The lid's thin, but tough
The original Air was also available in 1.6GHz and 1.8GHz models, so the processor speeds have barely changed. However, Apple has used a different processor for this model, one of the newer Core 2 Duo processors equipped with 1067MHz frontside bus, up from 800MHz on the original model. The memory has been upgraded to 1066MHz DDR 3, which provides a little extra performance too.
We'd estimate that performance for routine tasks such as running Microsoft Office apps is 10-20 per cent higher on this model. Battery life for this sort of task seems unchanged – a little under four hours when typing away in Word, although you can stretch this quite a bit longer if you turn the screen brightness down low.
XBench 1.3 Results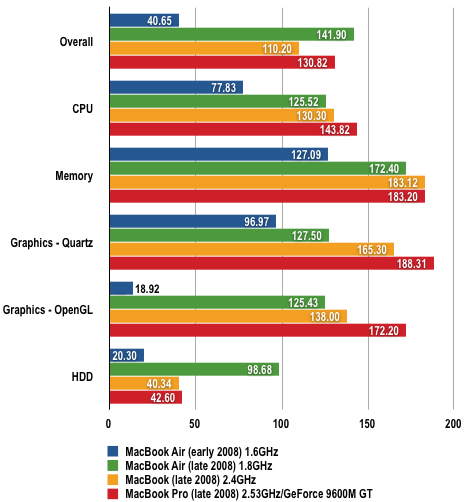 Longer bars are better
You can see from the XBench results that - even allowing for the fact we tested a 1.6GHz early Air and a 1.8GHz new one - the machine's had a big performance boost. We wouldn't take the Overall rating too seriously - it's way beyond faster machines thanks to the very high HDD score, a result of the test machine's SSD. Our real-world experience of SSDs tells is they're not that much quicker than HDDs.
But you can see the improvement in Memory, thanks to the higher frontside bus speed and the use of DDR 3 technology.
However, the most welcome improvement is the Nvidia GPU, replacing the feeble Intel GMA X3100 in the original Air. Apple says that the GeForce 9400M provides four times the graphics performance of the X3100, and we certainly noticed that video playback and tasks such as scrolling through album artwork in iTunes were much smoother. An H.264 standard-definition download of Iron Man from the iTunes Store looked rather splendid running in full-screen mode on the Air's glossy display.
However, it's games that show the greatest improvement. The 1.86GHz model managed a respectable 36 frames per second when running Doom 3, whereas the previous model could barely run the game at all. Of course, no one buys a Mac only to play games, but the Mac OS and programs like iTunes involve a lot of graphical trickery, so the improved graphics performance helps make the machine feel much more responsive in day-to-day use.
There are a few other changes in this model as well, the main one being Apple's decision to ditch the mini DVI interface for connecting the computer to external monitors, and to replace it with the newer DisplayPort interface. Apple has already launched a new 24in LED-backlit monitor that uses DisplayPort and is specifically designed as a companion for the MacBook range, so this is clearly flavour of the month at Apple right now.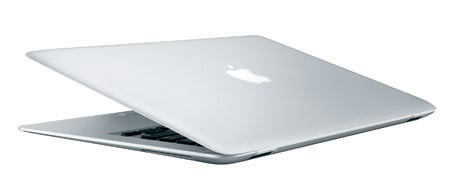 Desirable
Unfortunately, the DVI and VGA adaptors that used to be included with the MacBook Air are no longer to be found in the box. This means that if you want to connect the MacBook Air to an existing monitor you'll need to buy a suitable adaptor for around £20 a shot. It just seems a bit tight-fisted of Apple to cut corners like this on what is already a pretty expensive machine. By the time you've paid £20 for a video adaptor, £64 for the external DVD drive and £19 for the USB-to-Ethernet adaptor, you've spent another £100 for some fairly basic features that are standard on other, equally slim and light laptops.
Apple has updated the trackpad too, so that it works with a wider range of 'multi-touch' gestures, such as the 'four-finger swipe' for switching between open applications. It's odd, though, that having a separate click-button just beneath the trackpad now looks rather old-fashioned and clunky compared to the buttonless trackpads that Apple uses on the rest of the MacBook range.
Verdict
We still have reservations about the MacBook Air. The improved graphics performance does make it feel a lot smoother and more responsive than before. However, it's still very expensive, and design decisions such as the non-replaceable battery just seem extremely short-sighted.

Still very thin
Yet, for all its limitations, the sheer quality of the design shines through. It's not just the look of the machine that matters – the feel of it is important too. Being able to balance the laptop lightly in the palm of one hand, or to simply snap the lid shut and pick it up the way you would with an ordinary A4 notepad really does make it enormously convenient and comfortable to use - and we did not, as one of our esteemed colleagues suggests, feel like a tit while doing so.
We'll concede that the recently updated MacBook represents much better value for money, and it's hard to imagine that the MacBook Air will sell well in these credit-crunch days. And yet – we still want one. That's how good the design is. ®
More Apple Laptop Reviews...
| | | |
| --- | --- | --- |
| MacBook Pro Late 2008 | MacBook Late 2008 | MacBook Air Early 2008 |