Original URL: http://www.theregister.co.uk/2008/12/20/review_dvr_freeview_tvonics_dtr_z500/
TVonics DTR-Z500 500GB Freeview+ DVR
Doddle-to-use recorder that can store 11 days' telly
Posted in Personal Tech, 20th December 2008 08:30 GMT
Review We rather like TVonics here at Vulture Central because its kit is British designed and made, and rather stylish. More to the point, for the large number of people who don't understand all this digital switchover malarkey, its devices work right out of the box.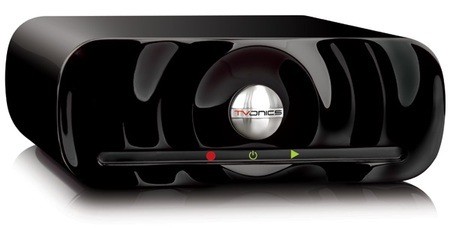 TVonics' DTR-500: foolproof
The DTR-Z500 is essentially an update of the DVR-250 we looked at – and liked – back in June 2007. In fact, the steel casing is identical in size and the only exterior difference being the rather curious 'wavy' front panel. As with the DVR-250, the DTR-Z500 is wholly devoid of controls or displays, that large silver knob being purely decorative. There isn't even an on/off switch - you just plug it in and away you go. It even sets itself up.
Round the back the Z500 has two Scart sockets, one with RGB and composite-vido and s-video compatibility, the other with just composite, which means that outputing to a DVD recorder will involve swapping cables around and crossing your fingers. As well as the two Scarts you also get a 3.5mm stereo line-out jack and co-axial aerial in and out sockets.
Since the Z500 lacks an RF modulator, that co-axial out doesn't mean you can use the Z500 with an old pre-Scart telly.
About now, some of you will be howling about the lack of an HDMI output, the presence of which - along with its ability to upscale standard-definition content to HD - is one of the main attractions of top-end DVR's like the Humax 9300T.
To be fair, TVonics make no claim to any sort of HD compatibility and we suspect that the vast majority of the Z500's potential customers will not be put off by its resolutely SD credentials.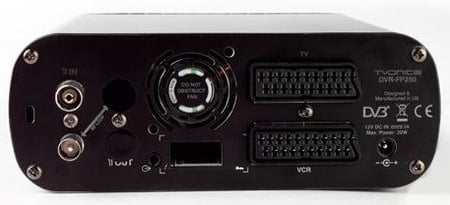 RGB Scarts - but no HDMI
For the remote control, TVonics has stayed with its tried and trusted Sky-style device, and a good thing too because as far as remote controls go it's almost faultless. And it works with other kit too - setting the remote up to control both the Sony TV and LG DVD player we had rigged alongside the Z500 was the work of mere moments.
Having two tuners, the Z500 will let you record one channel while you watch another or record two channels and watch either one of them. Or you can record two channels while watching something you previously recorded. For the record, that 500GB hard drive is good for 268 hours - more than 11 days - of MPEG 2-encoded off-air content.

The remote's top notch
The Z500 adds two significant features not found on previous generation TVonics DVR machines. The first is picture-in-picture, which lets you view a small screen rendering of one channel while watching another. You can move the small screen into any desired corner of the main screen, which we found handy.
The second is Alternate Instance Recording (AIR), which uses the eight-day Electronic Programme Guide to find another broadcast of your chosen planned recording if the first clashes with other recordings.
Beyond this you also get all the current Freeview+ goodies such as series link, schedule tracking, digital text and interactive support. Howver, the Z500 lacks the Audio Description function found on cheaper TVonics devices such as the MFR-300.
User-friendly touches abound on the Z500. To start with, it maintains a two-hour buffer from the last time you changed channels, allowing you to rewind live telly without having to record it in the first place.
When you access the recording library, you're told how much free space you have in terms of hours rather than the percentage figure beloved by Sky. It also tells you much space you've used and how much is allocated to scheduled recordings, again in hours.
The clear and well laid out EPG eschews the more common approach of a favourites list, instead letting you re-order all the channels and then hide the ones you don't want too see, allowing you to tailor the EPG to show exactly the channels you want in the order you want. Radio and TV listings are kept separate, making EPG navigation even easier.
A useful red line hovers over planned recording time slots at the top of the EPG so you can see that something is being recorded even if the programme itself is on another page of the EPG. A small touch, but useful nonetheless.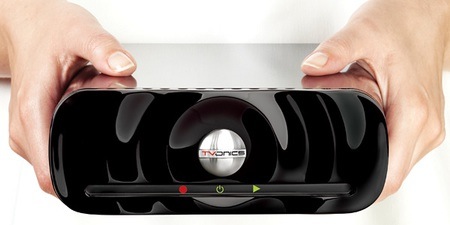 Almost faultless operation
In day-to-day use, the Z500 proved nearly faultless, never stalling, crashing or suffering from any other sort of technical hiccup or brain fade.
On a couple of occasions, we experienced a few moments lag between hitting a control on the remote and anything happening but it never amounted to a serious annoyance, the same being true of the have dozen seconds it takes to get its act together when coming off stand-by.
Playback quality was top notch - it was impossible to tell if we were watching content live off air or played back from the hard drive. In use the Z500 is to all intents and purposes silent.
If £195 is too steep for you then TVonics will happily sell you a 250GB version of the Z500 called the Z250 for £175.
As for the competition, the problem for TVonics is that the aforementioned Humax 9300T is only £20 more and comes with an HDMI output and HD upscaling. It has a less attractive EPG, a smaller, 320GB capacity, and is not as easy to use for the less technically minded, but it appears a better bet if you have an HD TV.

All you need is in the box
The 500GB Topfield TF5810 is a whole £100 more and though it comes with 1080i HD upscaling and a USB port, it also comes with firmware that, from what we hear, can drive a man to drink and around the bend, at the same time.
Verdict
If you're not concerned about matters HD and have no intention of shifting content between your DVR and PC then the Z500 is not a bad buy. It's very easy to set up and use, has one of the best EPGs we have come across, has an excellent remote control and, at £195 for 500GB of storage, represents pretty good value for money. ®
More Digital TV Recorder Reviews...
| | | | |
| --- | --- | --- | --- |
| TVonics MFR-300 | Pinnacle Video Transfer | Hauppauge Freeview PMP | EyeTV Deluxe |