Original URL: https://www.theregister.co.uk/2008/12/18/review_media_player_wd_tv/
Western Digital WD TV HDD-to-HDTV adaptor
Connect your telly to your USB HDD
Posted in Personal Tech, 18th December 2008 09:02 GMT
Review Streaming media players were all the rage a couple of years ago. They were a nice idea, allowing you to stream music and video files stored on your computer over your home network to a TV or music system. However, most of them were expensive and fiddly to set up, so they never really caught on.
The next step was the 'multimedia hard disk', drives equipped with video ports that allow you to connect them to a TV. Instead of streaming files across a network, you copy files from your computer to the hard disk and then plug the drive into the TV to play them. It's a simpler way of doing things, as you don't have to keep the computer turned on all the time or worry about the networking side of things.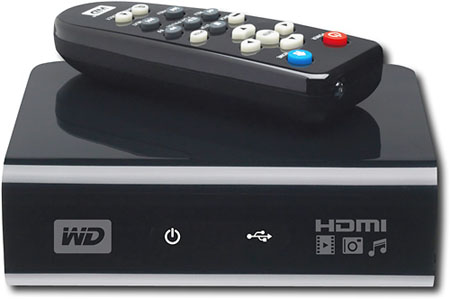 WD's WD TV: bridge between TVs and HDDs
At first glance, Western Digital's WD TV looks like yet another multimedia hard disk, but in fact it's a clever variation on the theme that's both technically efficient and cost-effective too. WD realised that anyone with a big collection of music and video files would probably have those files backed up already.
So instead of trying to sell people another expensive hard disk, it designed the WD TV as an adaptor that will allow you to connect any existing USB hard disk to your TV.
Setting up the WD TV is extremely straightforward. It's a compact little black box measuring 12.5 x 10 x 4cm so it will sit neatly beside your TV. The WD TV doesn't have any built-in storage at all, just two USB ports, which allow you to connect your hard drive or memory stick. You can use both USB ports at the same time, so you could have a permanent library of music and video files stored on a big fat hard drive connected to one port, while using the second port to plug in a friend's memory stick to check out their holiday photos or home movies.

Ports for SD and HD TVs
An HDMI interface at the back of the unit allows you to connect the WD TV to an HD TV, and there's composite-video output for use with older standard-definition sets too. Audio buffs also get a Toslink digital optical audio connector.
There's a potential problem here: these connectors are all crammed closely together, and the rather chunky HDMI cable that we used to connect the WD TV to our Samsung HD TV had to be jammed quite tightly into the narrow space at the back of the unit before it sat properly in the HDMI slot.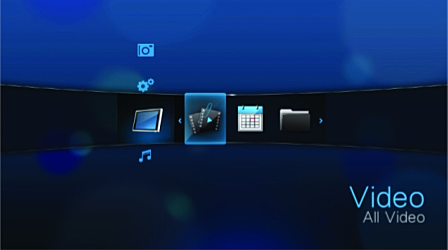 The WD TV has its own Media Library UI
Even then, the HDMI cable encroached on the adjacent USB port, so some people might end up having to buy new cables simply to get everything plugged in properly. There's no HDMI cable supplied with the WD TV, though you do get a set of composite-video leads.
That HDMI interface can output video at full 1080p resolution, producing very good image quality on an HD television – provided the video files stored on your hard disk are of that order of resolution too.
When you connect the WD TV to your TV set it displays its own Media Library menu system on the TV screen, with all your files automatically organised under separate headings for music, video and photos. The Media Library also allows you to browse in other ways, perhaps looking at the most recently played files, browsing photos by date, or music by genre or artist.
There's also a Settings menu that allows you to quickly switch resolution from 1080p right down to 480i, select 16:9 or 4:3 resolution, or switch to digital audio output through the Toslink connector.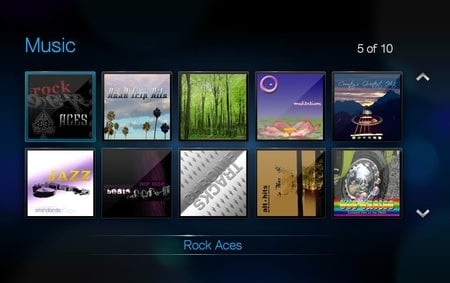 Access your backed-up content
The WD TV can play most common file formats, and it coped easily with an assortment of MP3, AAC, AVI, MP4, M4V, and WMV files that we threw at it. The only obvious omission here is that it doesn't support DivX video for the BitTorrent brigade. However, WD does include a copy of ArcSoft's MediaConverter software - for PC only - to deal with file formats that aren't supported by the WD TV itself.
Unfortunately, there is one big hurdle that the WD TV can't entirely overcome – a hurdle of Apple's making. The WD TV works perfectly well with hard disks formatted using Windows' NTFS and FAT/FAT32 disk formats. It also works fine with the Mac's HFS Extended format. However, there's a variation of this format called 'HFS Extended Journaled', which is used by many Mac hard disks, including WD's own Passport portable drives. When you plug a 'journaled' hard disk into the WD TV you get a message saying that the Media Library doesn't work properly with this type of disk.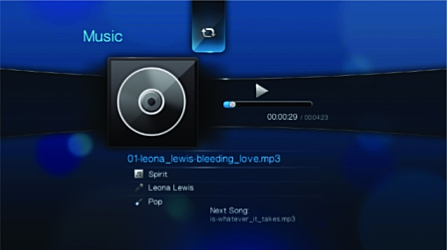 Play your songs...
Now, when we plugged one HFS Extended Journaled hard disk into the WD TV it worked properly and organized our files correctly in the on-screen menu. However, things got a bit messy when we plugged in a second journaled device: some of the files didn't appear in the correct places in the Media Library menu.
There's a work-round here, as the Media Library can simply list the contents of each disk separately, but Mac users that want to use a hard disk with the WD TV on a regular basis will be better off reformatting the disk in the HFS Extended format or FAT 32 - which is easily done using the Disk Utility program pre-installed on all Macs.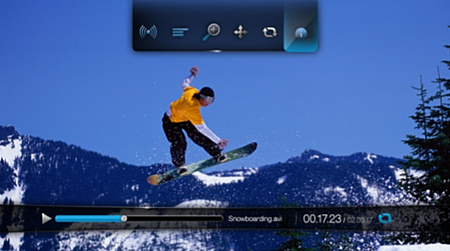 ...and view your videos
However, the real show-stopper comes when using an iPod with the WD TV. Apple's FairPlay DRM system prevents the WD TV from playing copy-protected files purchased from the iTunes Store. It can play unprotected files, but the file system that Apple uses on the iPod - either a Windows-formatted one, or one used with a Mac - means that the WD TV can't display the file names correctly. You end up with unintelligible names like 'XyZabc.mp3' that make it virtually impossible to locate the files you need.
Verdict
The iPod issue is disappointing, but the WD TV is still an excellent option for anyone that has a collection of music, ripped DVDs or video downloads stored on a USB hard disk that they want to play on their TV. Its 1080p output provides very good image quality on HD TV sets, and its menu system is nice and easy to use. And, best of all, the fact that it works with any existing USB hard disk means that it comes in at well under £100, while still leaving you the option of buying larger, inexpensive hard disks in the future.