Original URL: http://www.theregister.co.uk/2008/12/17/mmo_games_in_2008/
How Warcraft reigned supreme in 2008
Due a Jedi ass kickin'?
Posted in Policy, 17th December 2008 17:02 GMT
Another year gone, and Blizzard's World of Warcraft remains the unrivaled champion of the massive multiplayer online (MMO) genre, and - in many ways - PC gaming in general.
At its feet lay 2008's pile of would-be "WoW-killers" left charred, battered, and wondering what Blizzard's four-year-old creation has that they lack.
"WoW-killer" is the marketing kiss of death in this town. Just as sure as "iPod-killer," or "Google-killer" is for digital music players and internet search. But the money's too good in the MMO genre for there not to be a constant stream of challengers. And there's profits to be had by owning the number two - hell, the twenty-second-best selling MMO out there.
But why can't anybody beat WoW after all this time?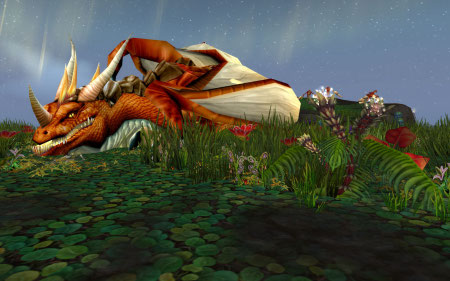 Wrath saw off Conan and Warhammer Online
The two biggest challengers to WoW this year were Funcom's Age of Conan and Electronic Arts' Warhammer Online. Both games are modeled on fictional universes preceding WoW mythos by many years, and with built-in fan bases similar to what WoW enjoyed back at its 2004 debut.
Measuring accurately who's really winning this market is difficult because solid information on how many people are playing any given MMO is hard to come by. Companies tout subscription numbers that are - at best - vague in making a distinction between free trial, actual paying accounts and uncanceled subscriptions.
Fully-conscious of the smoke blown up our arses, let's go with what we have and compare 2008's challengers. In October, before Blizzard released the astronomically successful WoW expansion Wrath of the Lich King, EA claimed to have 800,000 Warhammer subscribers. Funcom's latest count in November for Age of Conan was 700,000 subscribers. Blizzard, meanwhile, said it had more than 11 million.
With numbers like these it's not hard to see why everyone wants a stake in the gold rush. Next year, therefore, will see even more MMO releases on the market. There will be superhero MMOs like Champions Online, and DC Universe Online, sci-fi MMOs like Star Trek Online and Star Wars: The Old Republic - there's even a Lego MMO scheduled for 2009.
But what happened to this year's new entrants and why did WoW come out on top? Age of Conan had an extremely rough start, with plenty of bugs and incomplete content for higher level characters when it was pushed out. Warhammer seemed to have a smoother launch but as the year closes it already appears to be losing its audience in the face of WoW's latest expansion.
The real killer, though, seemed to be simply that everyone plays WoW because that's what everyone is playing. Why?
The game's success certainly isn't based on innovation. WoW adds very few tricks to the MMO genre as a whole. Almost everything it does, other MMOs have done before. The types of quests the player is assigned, the way players battle, the classes of characters to choose from, the game's setting, commerce, transportation - it's all been done before.
But WoW does it all with grace. The game has refined - arguably homogenized - the formula of an extremely complicated and intimidating genre, and made it approachable to everyone - including women - rather than the usual serious male-gaming audience.
That not everyone is a masochist is the hardest lesson the MMO genre has come to terms with in recent years. For those who don't play MMOs, I'll give an example of how developers historically have terrorized their customers with what's probably the biggest bugbear of MMOs: the penalty for a character dying.
In the godfather of MMOs, Everquest, when a player died they came back to life naked - minus armor, weapons or other items - and several minutes', sometimes hours', distance away from where they had fallen in battle. The player not only was penalized by losing what could be a day's worth of experience points each time they died, but also had to run back to their corpse naked and defenseless in order to recover the gear from their corpse.
This, in a world where nearly every living creature will attack you on sight - offering plenty more opportunities to die and lose even more experience points while streaking back to your corpse. If the player didn't make the trek within seven days, the body, along with everything on it would disappear forever.
And Everquest's system was a mercy over the great-grandfather of MMOs, Ultima Online, where other players could loot every single hard-earned item off your corpse upon death. Oh yes - and other players could (and did) jump you nearly any time they wanted.
Simply put, the extent to which MMOs and its players can screw a person over is a thing of legends.
Kids have it too easy these days. WoW is downright forgiving. When a character dies, the player simply strolls back to their corpse in the form of a completely invulnerable ghost. The only real penalty for death is armor damage, which can be repaired for a bit of gold.
Players are placed in one of two clearly defined teams, and little to no communication is allowed between the two factions to reduce griefing. Not that it doesn't happen of course - this the internet, after all.
Blizzard also continues to simplify and merge character stats, making it easier for players to receive, understand and allocate loot and gear. For instance, before the latest expansion, there were separate types of stats on items to add bonuses to healing magic and to damaging magic. Now both have been combined simply into a "magic" bonus.
I see your eyes glazing over, so we shall speak no more of stats. Let's look at something more obvious. But bear in mind this was a pretty big change done four years into the game's life. It shows WoW is constantly evolving.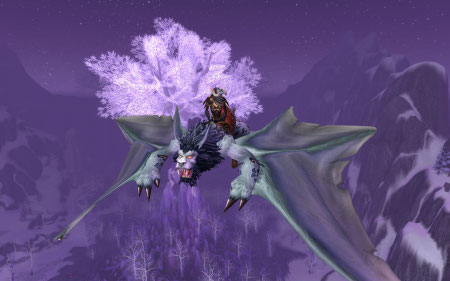 WoW has a low polygon count, but oozes style
Another strength for WoW is it's easy on the eyes despite the fact it's becoming long-in-the-tooth. It all comes down to Blizzard's amazing world design and style. Also Blizzard made a game with hardware requirements achievable in the decade it was created in - something PC game developers will almost never consider. It's stunning how game makers tailor their creations only to a tiny niche of folks running bleeding-edge systems and wonder why they're losing audience to game consoles.
So yes, WoW has a lot of things going for it. But how long can it stay on top? This year it manged to send Conan back to Cimmeria, and Warhammer - the very universe from which Blizzard aped most of WoW's ideas - back to the drawing board. But in 2009 when the powerful Superman and Jedi franchises jump into the fight backed by their massive marketing and development machines, WoW may finally meet its match.®